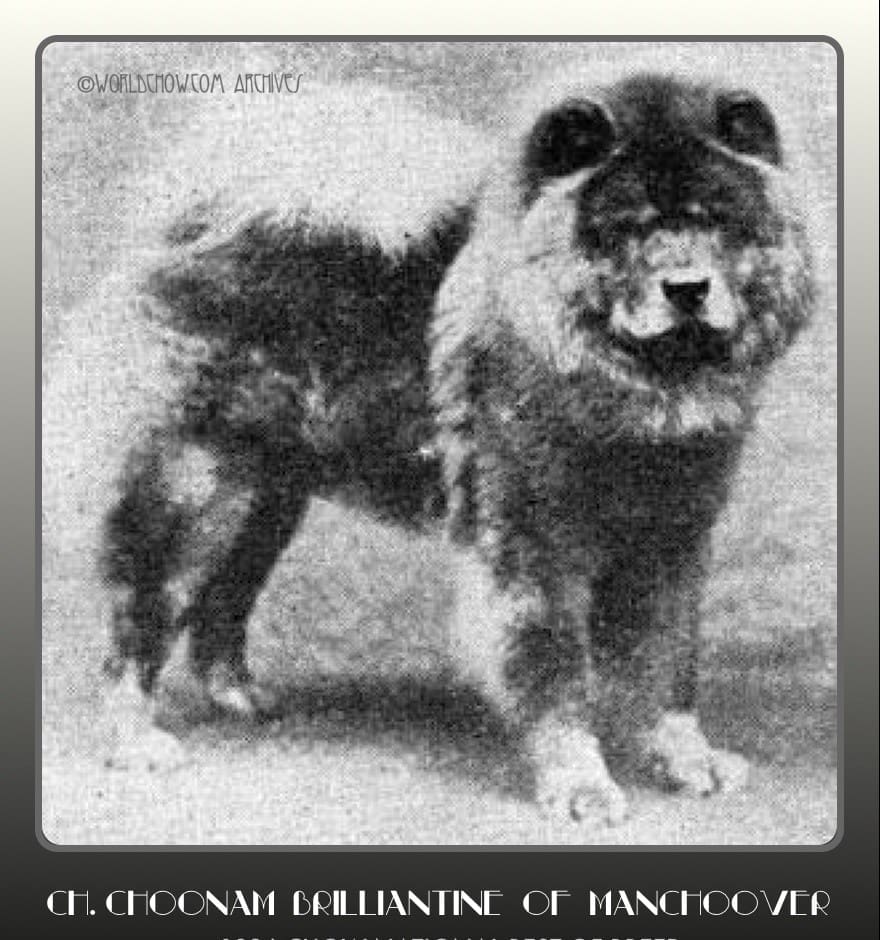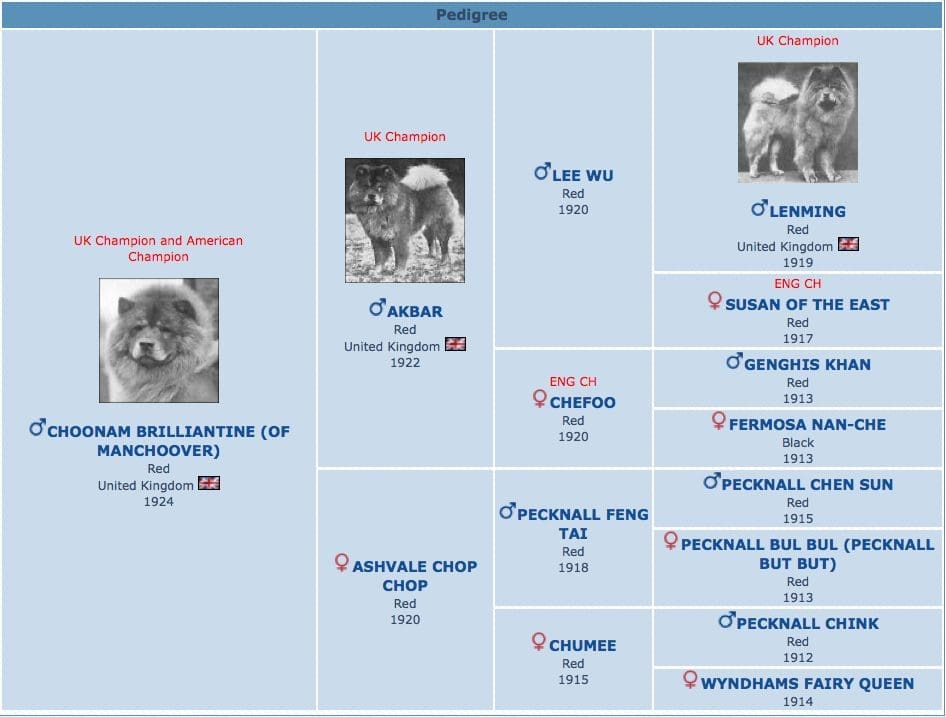 ---
CH. CHOONAM BRILLIANTINE OF MANCHOOVER  HISTORICAL INFO
---
As reported by the Kennel Gazette September 1925
Eng. And Am. Ch. Choonam Brilliantine   Call name was "George"
Bred by Mrs. Mannooch and was born in March 1924
Sire: Akbar
Dam: Ashvale Chop Chop
---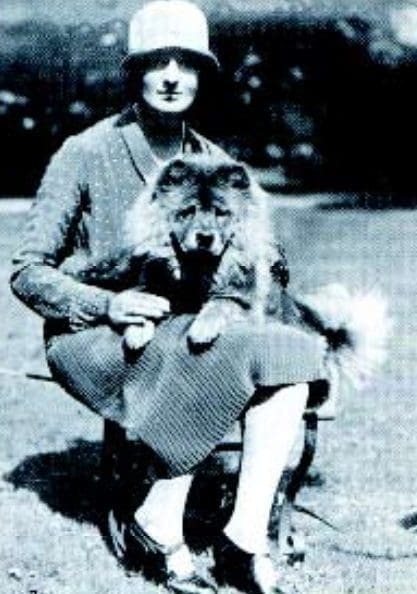 BELOW again is Brilliantines famous sister "Brilliantina"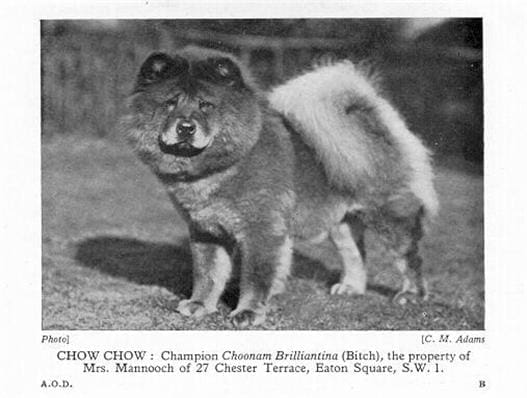 ---
CHOONAM BRILLIANTINE'S CAREER IN ENGLAND
His first appearance in the show ring was 11 months of age at Crufts,  taking his first Challenge Certificate
In only eight Championship shows in succession he was a sterling winner.  At 7 consecutive Championship shows he was awarded the Grand Challenge Prize for Best dog in show
The whole of his winning career in England occupied less than five months and was  completed before he was sixteen months old
Shortly before being exported from  England, Choonam Brilliantine won the first recorded Ladies Kennel Association All Breed   Best in Show in 1925
Mrs. Mannooch received many  offers for Brilliantine the first day he was exhibited at Crufts,  but turned them down. Even higher sums were offered for his sister, Ch. Choonam Brilliantina, but her owner could not be induced to part with her.
Finally an offer of almost $10,0000  USD (over half a million dollars in todays market ) was accepted from Mrs. Earl Hoover of the USA.    Mrs. Hoover was wife of the multimillionaire Howard Earl Hoover of Chicago,  chairman of the Hoover vacuum company.  Her father the president of the Chicago Board of Trade
On July 17th, 1925 Brilliantine sailed to America on the USS Aquitania. This ship was being built when the Titanic sank
ABOVE FIND RARE FOOTAGE VIDEO OF THE CHOONAM KENNEL IN ENGLAND WHERE CH. CHOONAM  BRILIANTINE OF MANCHOOVER  WAS BORN.  HE IS EVEN MENTIONED IN THIS WONDERFUL NEWSREEL AS BEING EXPORTED TO AMERICA
---
ANOTHER PHOTO BELOW IN MY COLLECTION ,  STATES THAT BRILLIANTINE WAS ACCOMPANIED NOT BY A MAID AS NOTED ABOVE, BUT BY MRS WILLIAM S. BAER WHO WAS THE WIFE OF PROMINENT DOCTOR LEADING THE ORTHOPAEDIC CLINIC  AT  JOHNS HOPKINS HOSPITAL IN MARYLAND.  THEIR FAMOUS CHOW KENNEL WAS MOOSILAUKE CHOWS.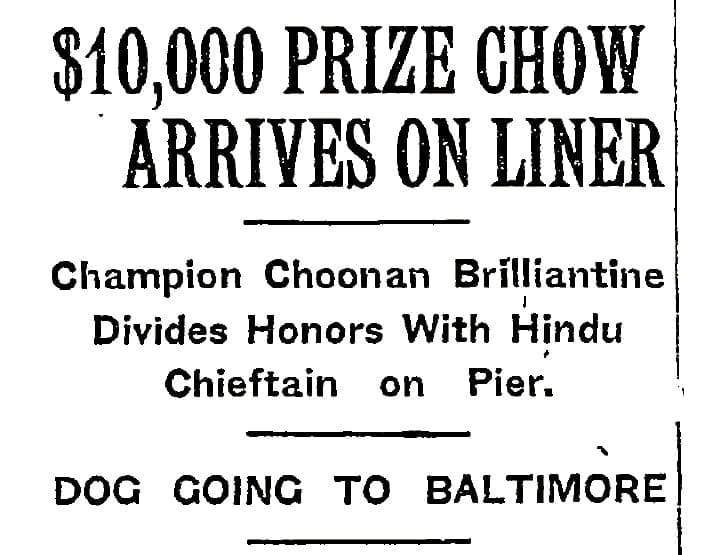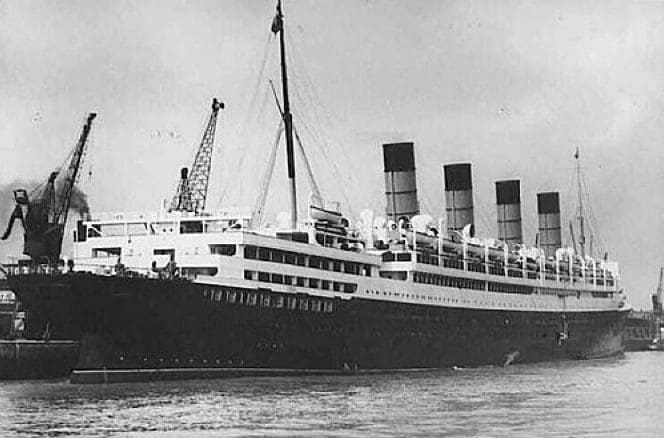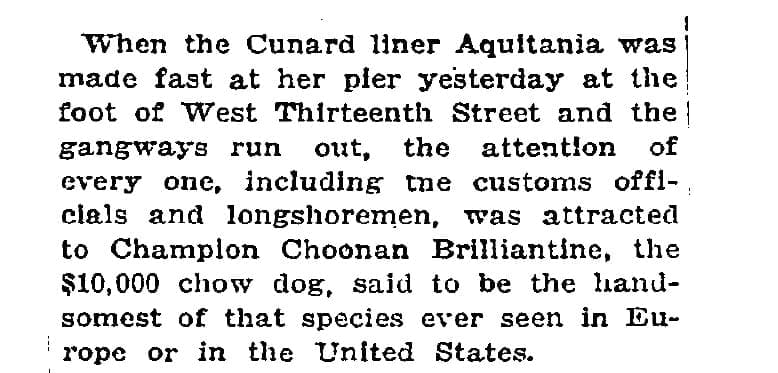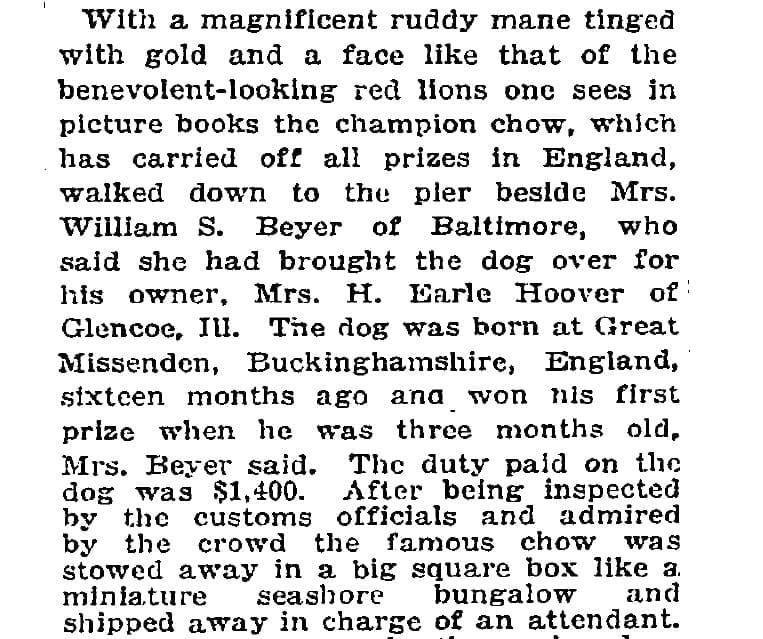 ---
CHOONAM BRILLIANTINE'S CAREER IN AMERICA
Brilliantine arrived to America with much press and fanfare on July 17, 1925
1925 Chow Club of America National Specialty Best of Breed    JUDGE- Mrs William L. Fitzgerald
1926 Chow Club of America National Specialty Best of Breed   JUDGE- Alva Rosenberg
I will be adding his extensive show record in America soon.
KNOWN OFFSPRING AS LISTED ON INGRUS.NET PEDIGREE SITE- THERE ARE MANY MORE I NEED TO FIND

CHIA-WAN'S BLUE MONARCH
CHIA-WAN'S RED MONARCH
CHOONAM JEZ-E-BEL
CHOONAM LIM T'SONG
CHOONAM PRUNELLA
MING OF VENTNOR
MU LI YEN OF MANCHOOVER
PAGAN RED ROUGE
YANG FU KING-sire to another history maker       Ch. Yang Fu Tang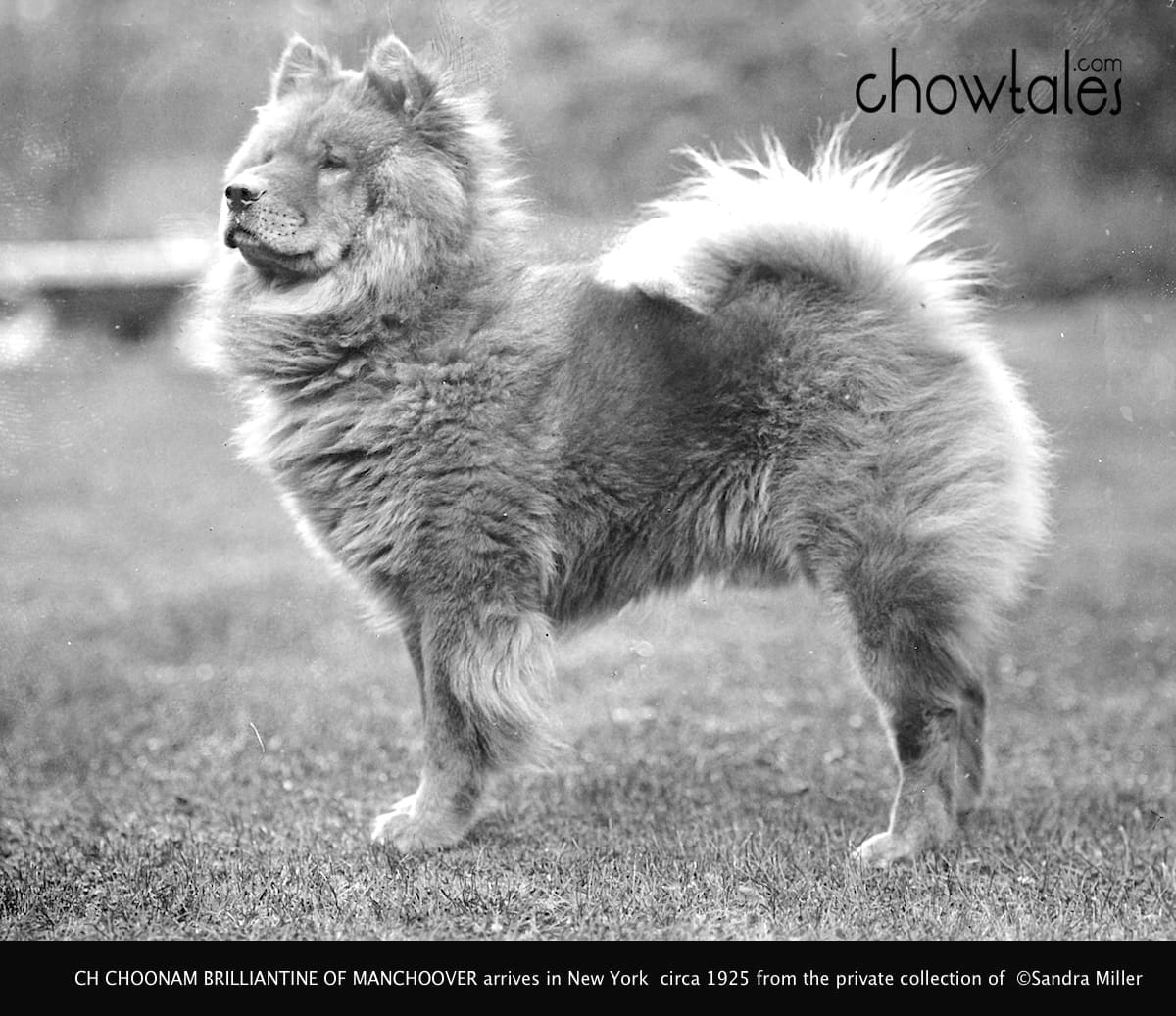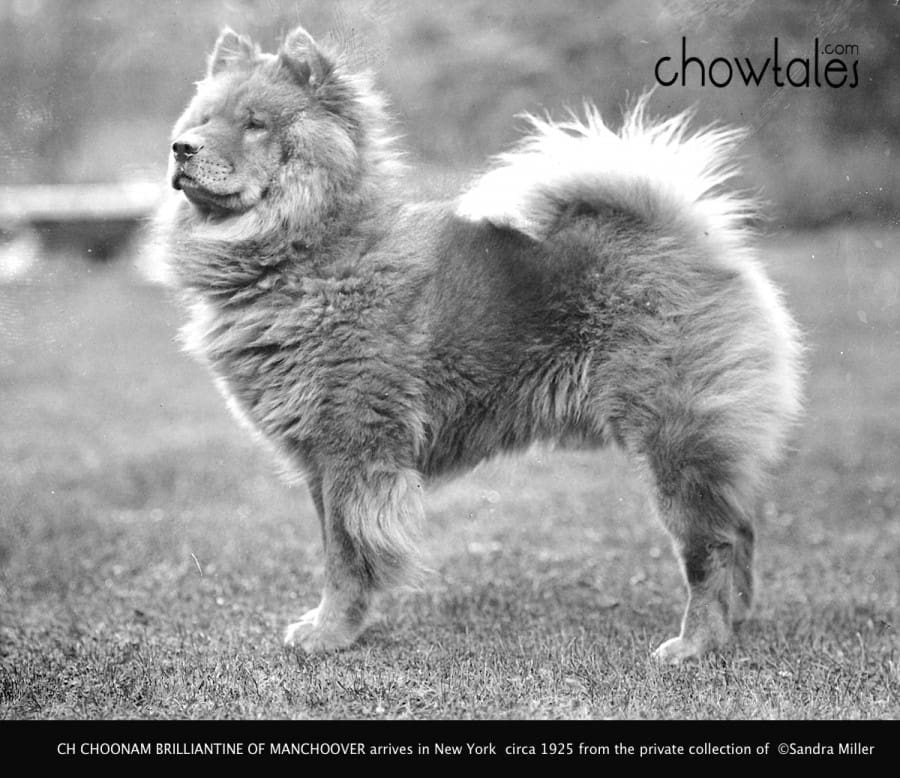 ABOVE AND BELOW ARE THE FRONT AND BACK OF THE SAME PHOTO  DEPICTING "GEORGE" AS HE ARRIVED IN NEW YORK CITY

To my knowledge, this crisp gorgeous image, and the photo below are previously unpublished   (other than by the press of the day) of the famous $10,000.00 dog upon his celebrated arrival to America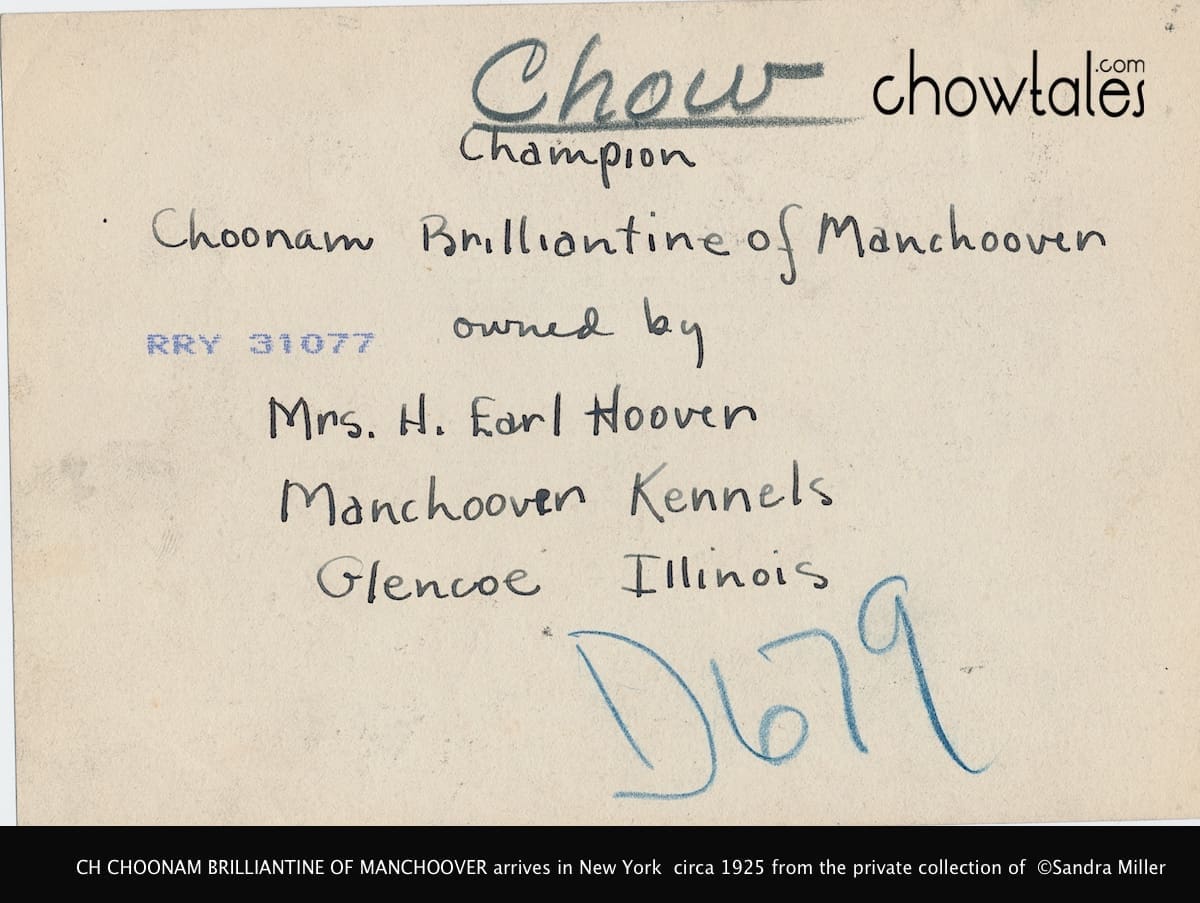 ---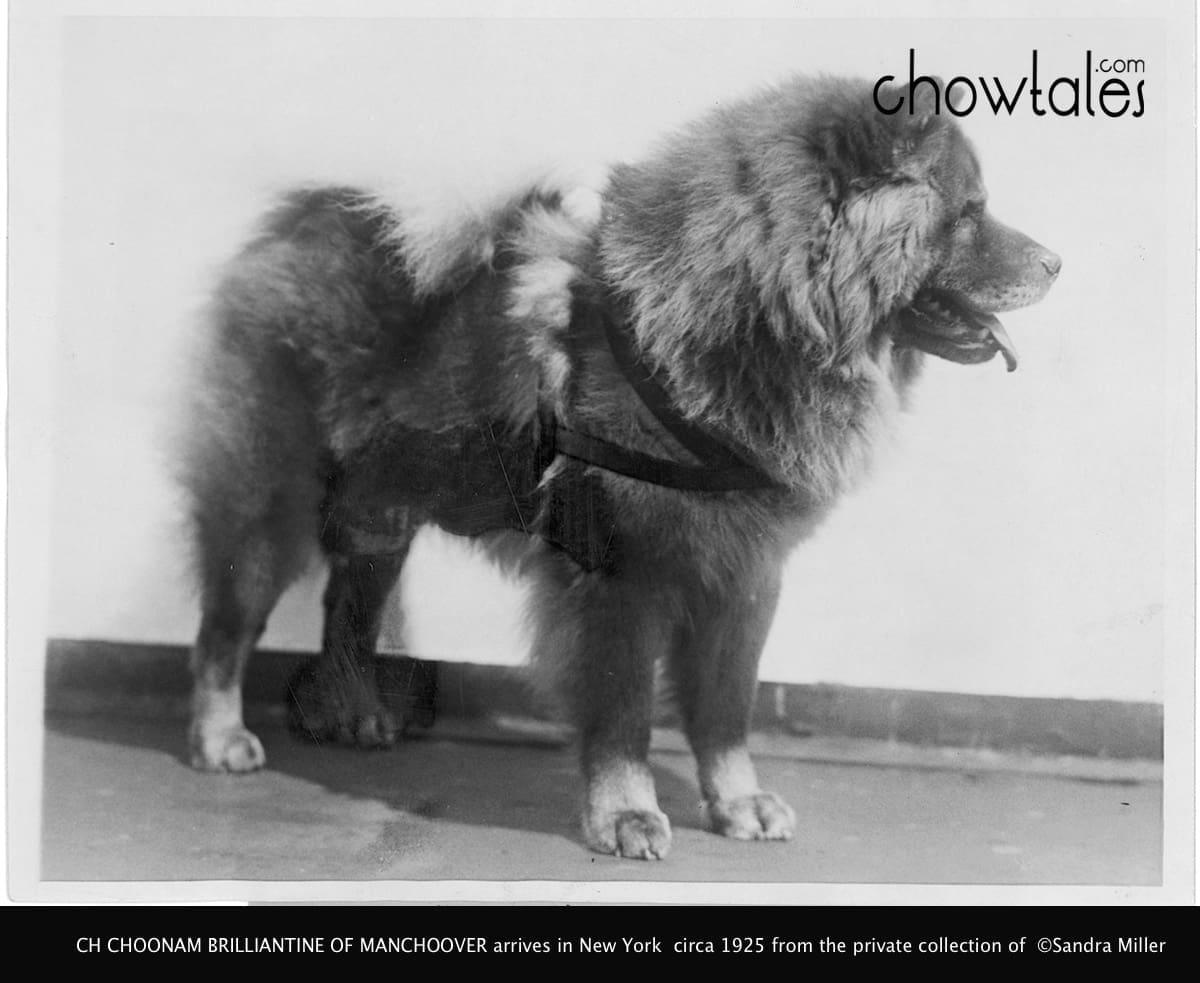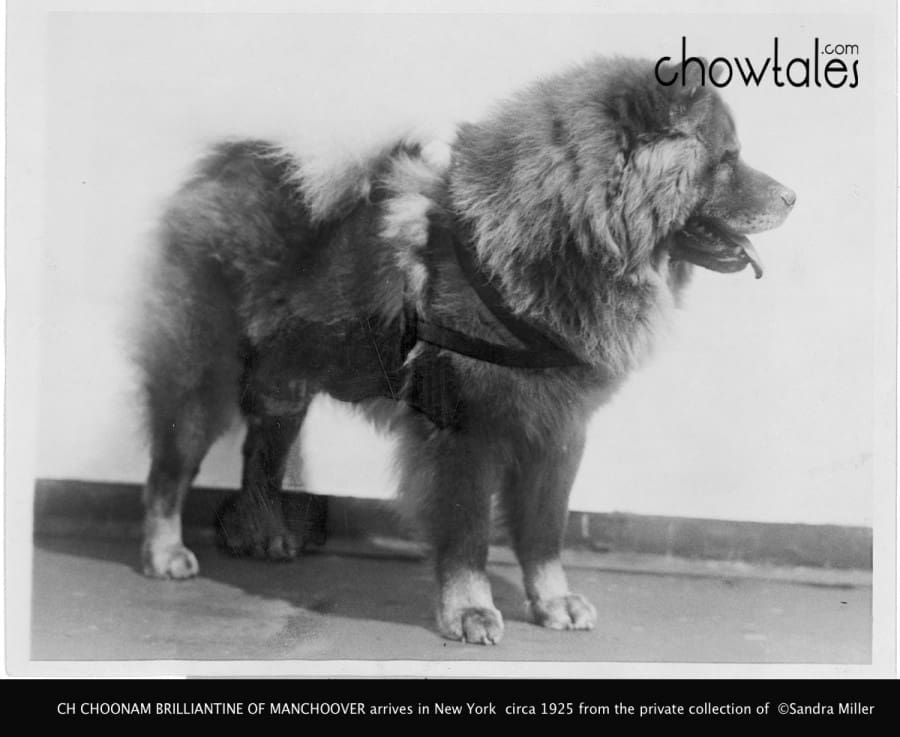 THE ABOVE AND BELOW IMAGES ARE THE FRONT AND BACK OF THE SAME PHOTO IN MY PERSONAL COLLECTION
Brilliantine was a very young dog when he arrived in America,  at 16 months and in a transitional coat.  2 months following his importation,  "George" would  take the continent by storm to win the  1925 Chow Club of America's National Specialty in heavy competition
---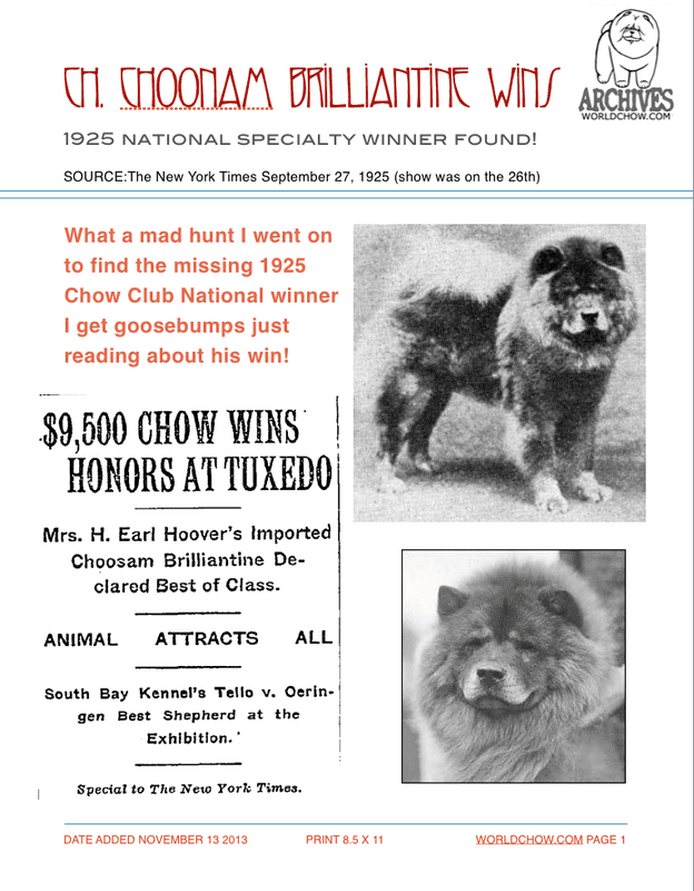 ---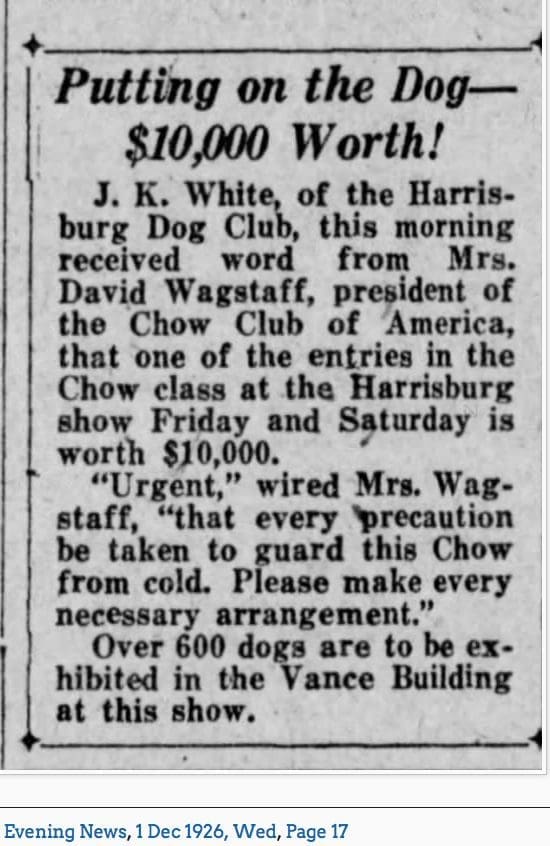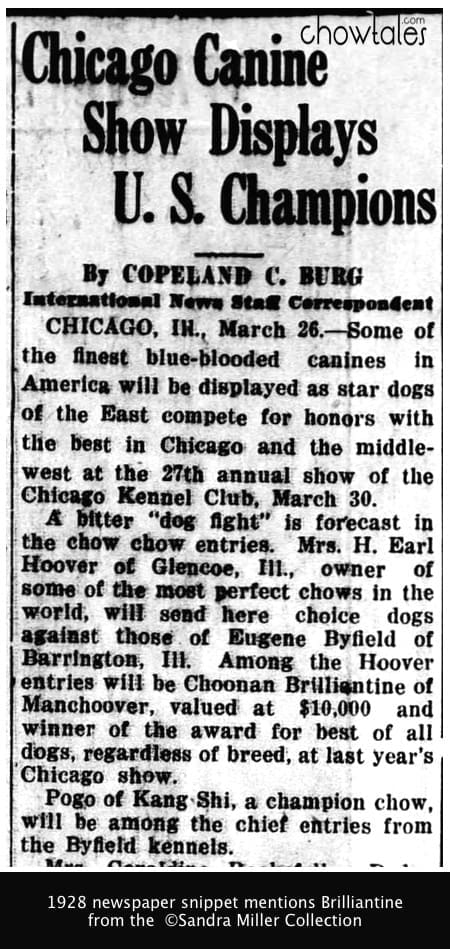 CLICK SNIPPET BELOW TO READ LARGER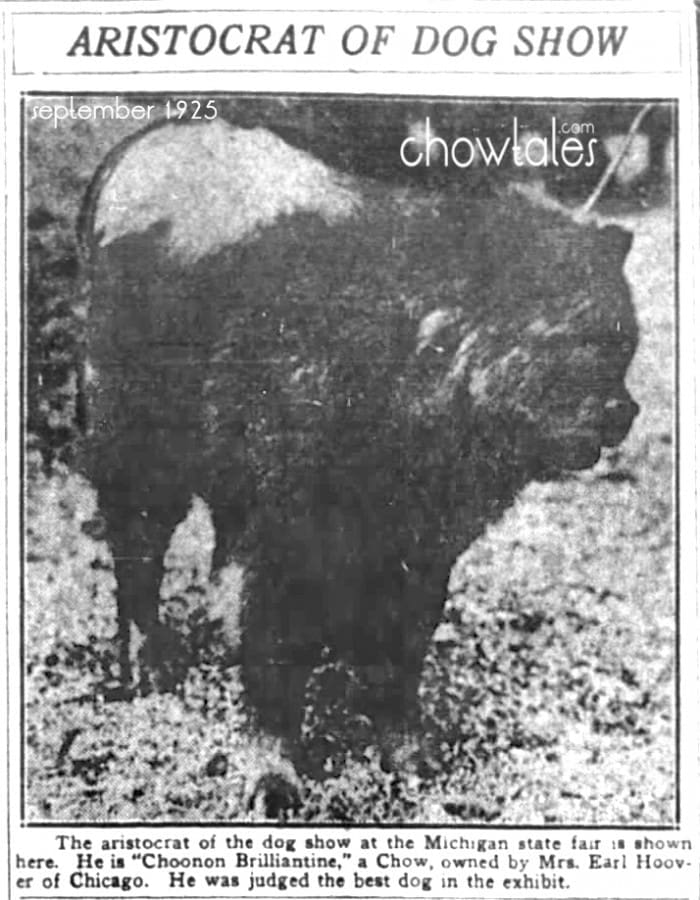 ---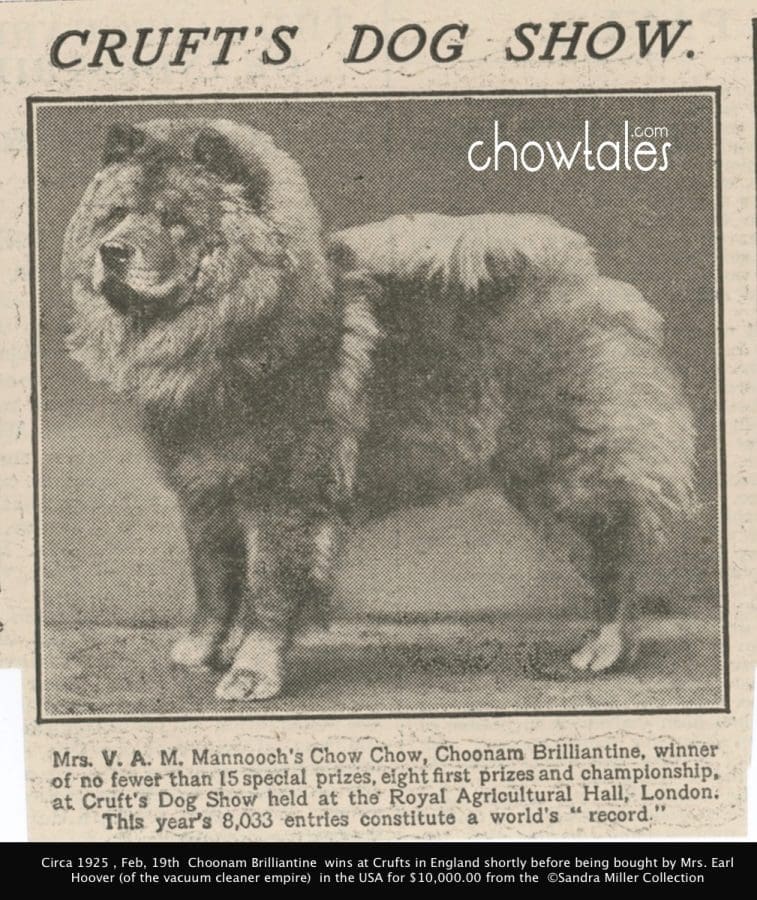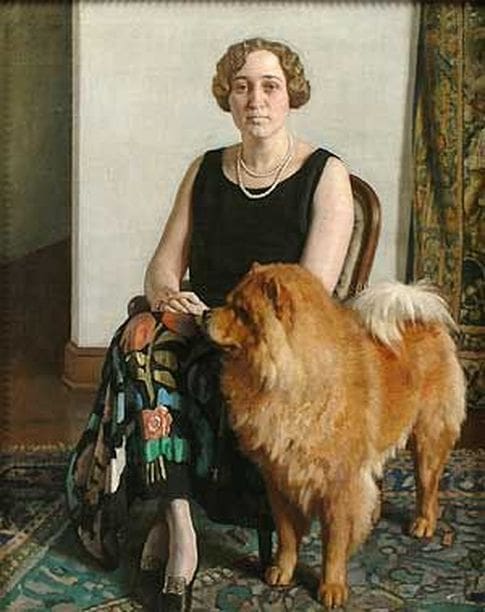 ---
CLICK HERE FOR A FASCINATING ARTICLE I WROTE  WHICH HIGHLIGHTS A SET OF 11 CHOONAM HOME/KENNEL  SNAPSHOTS I PURCHASED DIRECTLY FROM A HOOVER FAMILY ALBUM FOUND IN A FLORIDA HOARDER'S HOME.  THIS IS AN AMAZING STORY AND POSSIBLY MY BEST FIND TO DATE!!
---