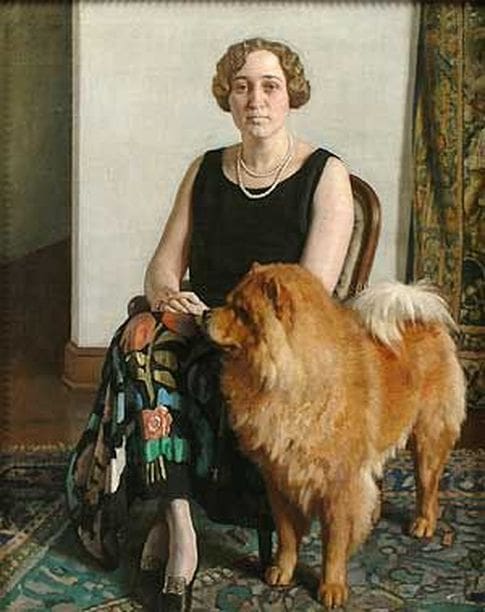 Many of you may recognize this artwork above, as it graces the cover of Rose Estes' book chronicling the Chow Chow Club Inc.'s first 100 years
CLICK HERE TO see more at The Woof Gang website
I wanted to highlight this piece of chow art history and found the perfect article below for your reading pleasure.  Enjoy!!
The Chow, the painter and the socialite by Nick Waters
SOURCE:  DOG WORLD  Created: 19/03/2009
This week's Dog in Art features a picture of a famous Chow with his US socialite owner.  It was painted in 1927 by Harold Knight RA (1874-1961) a Nottingham born artist, son of an architect, who studied at Nottingham School of Art.
Said to have been a quiet character, largely remembered, unfairly, as an adept but unexciting painter, he was overshadowed by his artist wife, Dame Laura Knight, who was flamboyant in both her life and art.
In 1907 the Knights moved to Newlyn in Cornwall and became key figures in the Lamora group of artists and they remained in Cornwall until 1918. During the First World War, he was a conscientious objector, which earned him the rebuke of many of his colleagues and former friends.
The socialite is Dorothy May Hoover who was married to the US multi-millionaire, Howard Earl Hoover, chairman of the Hoover company, a name familiar to anyone who has ever attempted housework.
Mrs. Hoover was a great Chow enthusiast and her Ch Victorious of Tien won the non-sporting group at Westminster in 1926.
The dog is Ch Choonam Brilliantine, born on March 15, 1924, by Ch Akbar ex Ashvale Chop Chop. He was one of two puppies that put Mrs. Mannooch on the road to fame in the breed. She brought them out at Crufts in 1925 and Brilliantine won the CC.
Arthur Croxton Smith described the dog as 'The sort that gladdens the heart of a judge who realizes instinctively that there is going to be neither hesitation nor doubt in the destination of the challenge certificate'. His sister, Brilliantina also went on to become a champion.
Brilliantine won seven CCs before being sold to Mrs. Hoover – and here it depends on which of the authorities one is reading – for £1,800 or £2,000, the latter figure being the one most often quoted. This was the highest price ever paid for a dog at the time and he traveled to New York by liner, and the arrival of a '$10,000 dollar prize Chow' made the headlines in many of the East Coast papers.
He continued to win in the States, including best in show at Chicago and best in show at the Chow Chow Club Inc national specialty in 1926 under Alva Rosenberg.
Before leaving these shores he sired four champions, including Ch Choonam Brilliancy, and was the grandsire of Ch Choonam Moon Beam, winner of 25 CCs, at the time the breed record holder and Ch Choonam Hung Kwong,  (Sandra's note: don't miss rare footage of this dog by clicking the red text) the first, and to date, only Chow to win best in show at Crufts which he did in 1936. He had been reserve best in show in 1935 and repeated that success in 1939.
In the 17 years between the acquisition of Ashvale Chop Chop in 1922 and the cessation of shows in 1939, there were 19 champions from Mrs. Mannooch's kennel, 16 of them homebred.
The painting is currently with Peter Nahum at the Leicester Galleries, 5 Ryder Street, London, SW1Y 6PY, telephone 02079 306059.