BELOW IS AN AMAZING VIDEO FEATURING THE CHOWS OF MRS. MANNOOCH, THE BREEDER OF CHAMPIONS CHOONAM BRILLIANTINE AND HUNG KWONG
Chalfont St Peter, Buckinghamshire.
Various shots of chow dogs at Mrs. Mannooch's kennels. The adult dogs are seen in cages. Some little puppy Chow Chows are seen walking about the grass and posing for the camera with two women – very cute! The puppies feed from some little bowls.
Several dogs are walked across the lawn on leads. Various shots of a chow being groomed. M/S of numerous silver cups won by one of the dogs from the kennel – Champion Choonam Hung Kwong. Several shots of this prize-winning pooch.

RARE -CIRCA 10-21 1929- RETIRED PRESIDENT CALVIN COOLIDGE AND WIFE GRACE WITH THEIR TWO CHOWS BLACKBERRY AND TINY TIM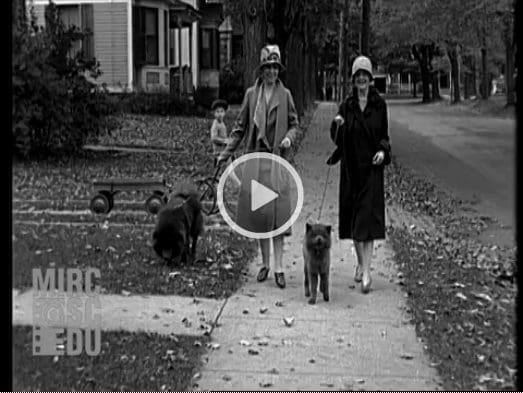 AN ABSOLUTE TREASURE FROM THE SOUTH CAROLINA UNIVERSITY ARCHIVES. 
POSSIBLY THE ONLY IMAGES OF BOTH COOLIDGE CHOWS TOGETHER
CLICK ARROW TO TAKE YOU TO THE ARCHIVED FOOTAGE IN A NEW WINDOW-NO AUDIO
 Twentieth Century Fox News interviews Ex-President Coolidge–outtakes. An intimate study of the former executive in his law office. Scenes include a sign printed "Calvin Coolidge, Law Office," Coolidge reading a letter and dictating to his stenographer, Coolidge walking out of his office building and into his chauffeured car, Mr. and Mrs. Coolidge go on a walk with their dogs Beans (Bosten Terrier), Robin (Rob Roy the White Collie), Chows Blackberry and Tiny Tim, and the Coolidges' with Miss R. B. Hills.

CHOWS FEATURED IN FILM CLIPS AND NEWSREELS
Primo footage of a circa 1930's dog show features a large chow entry.

Find the chows in the 1930's video below at time marker 33. This is fantastic

This circa 1940's flick features "chowtime" in true chow fashion at marker 18-46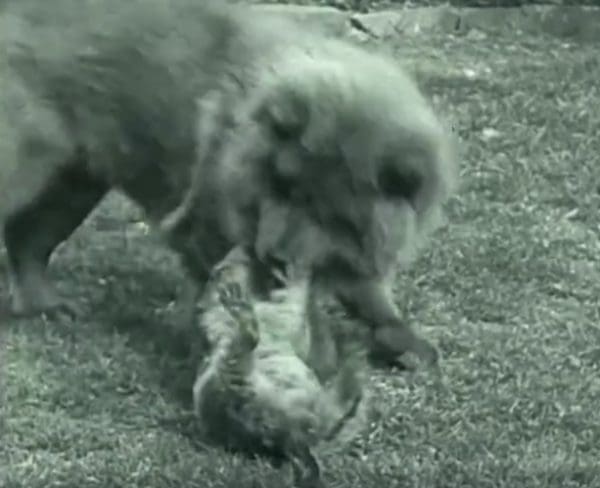 CLICK PHOTO ABOVE TO VIEW THIS CHARMING 1958 VIDEO
Below is Westminster Kennel Club 1960's Non-Sporting Group with Ch. Loy Jean's China Boy owned by Floyd and Jean Messer of Redmond WA. USA

A Celebrity we all knew and loved, Joel Marston with Betty White on the Merv Griffin show with Ch. Starcrest Lemon Drop Kid

At the 2 minute mark you will find two lovely chows at this Russia dog show 1957
Save