Above photo is an original press photo in my collection for comparison to images below,  and not from the Hoover family album
To catch up on the history of this early celebrity of the Chow breed, you will want to first read the TIME CAPSULE on Ch. Choonam Brilliantine of Manchoover
Now to continue this Brilliantine Saga ….in 2014 I was contacted through ChowTales archive by a reader who was researching some photos she discovered in an album. She was a "picker", kind of like you see on the tv show "American Pickers"…..discovering  treasures in other peoples collections and cast offs.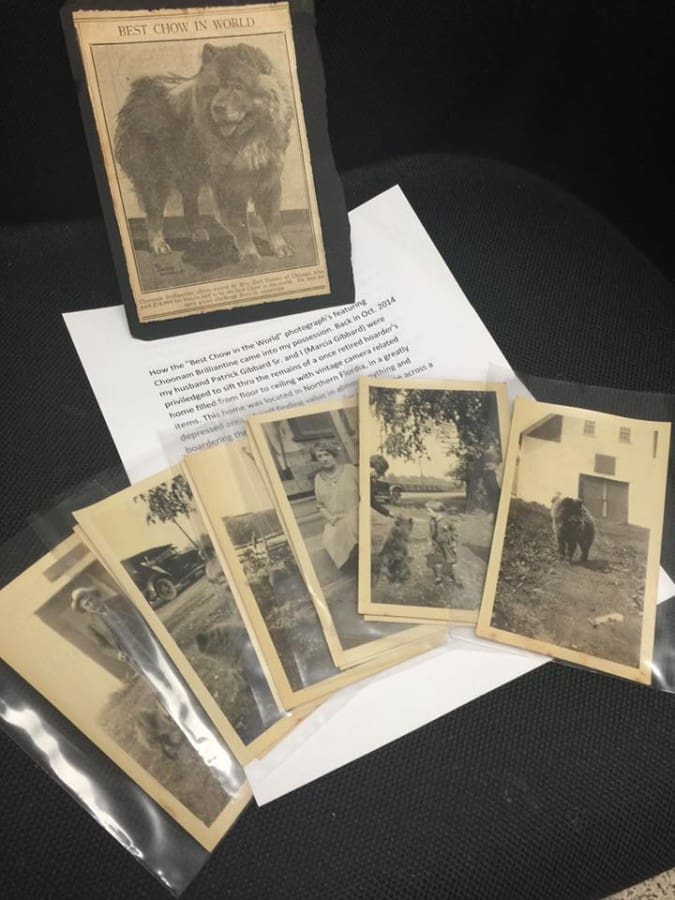 ABOVE ARE THE PHOTOS AND LETTER BEFORE I SCANNED AND RESTORED THE IMAGES
She asked if I was interested in purchasing the photos, and after corresponding for months , Marcia and I agreed on a fair  price for these images below. She was just as concerned about them being preserved as she was in making a living.   I appreciate her negotiating with me on the pricing,   as even at a discount they were still  more than I could afford at the time.
SEE MARCIA'S DOCUMENTATION OF HER FIND BELOW AND EACH OF THE INCREDIBLE 1920'S PHOTOS TO FOLLOW
ABOVE:  A NEWS CLIPPING FROM THE HOOVER FAMILY ALBUM OF NONE OTHER THAN CH. CHOONAM BRILLIANTINE
---
BELOW IS MARCIA GIBBARD'S LETTER DOCUMENTING HER DISCOVERY OF THIS ALBUM.  I WOULD LOVE HER JOB!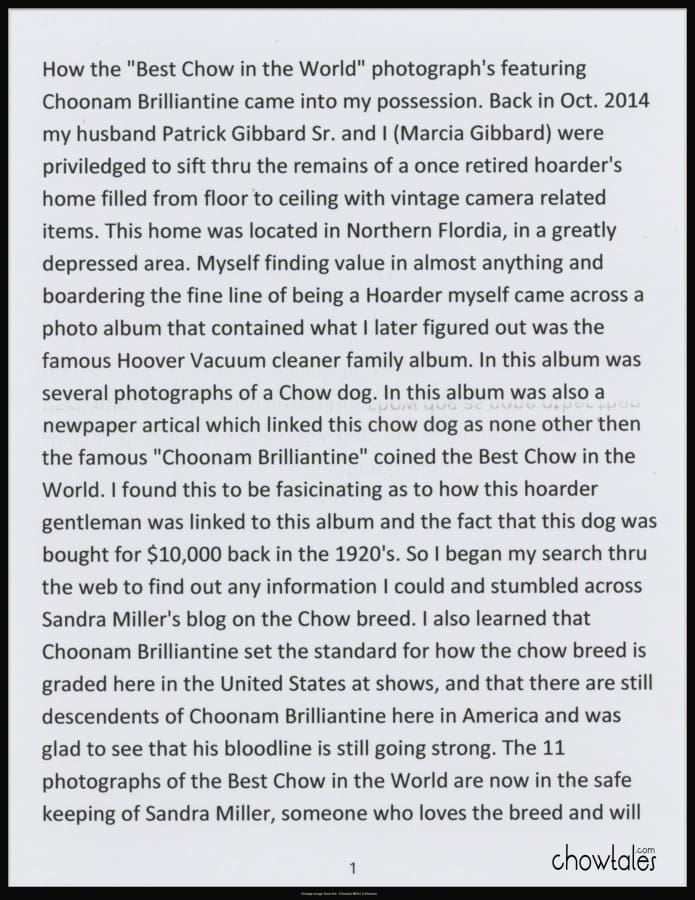 AS A SIDE NOTE TO THE "FLORIDA CONNECTION" ON THIS ALBUM…. , I RESEARCHED THAT THE  HOOVER FAMILY AT SOME POINT IN TIME HAD A WINTER HOME IN FLORIDA AS WELL AS THEIR REGULAR RESIDENCE IN GLENCOE ILLINOIS. THIS EXPLAINS HOW THE PHOTOS COULD HAVE ENDED UP  WHERE MARCIA FOUND THEM.

---
UPON SCANNING, ENLARGING AND EXAMINING THE 11 TINY PHOTOS CLOSER WHEN THEY ARRIVED  I REALIZED MOST OF THE CHOWS IN THE PHOTOS WERE MOST LIKELY NOT CH. CHOONAM BRILLIANTINE BUT WERE CERTAINLY THE HOOVERS AND THEIR DOGS.  A FANTASTIC 100 YEAR OLD TREASURE UNEARTHED JUST ON THOSE IMAGES ALONE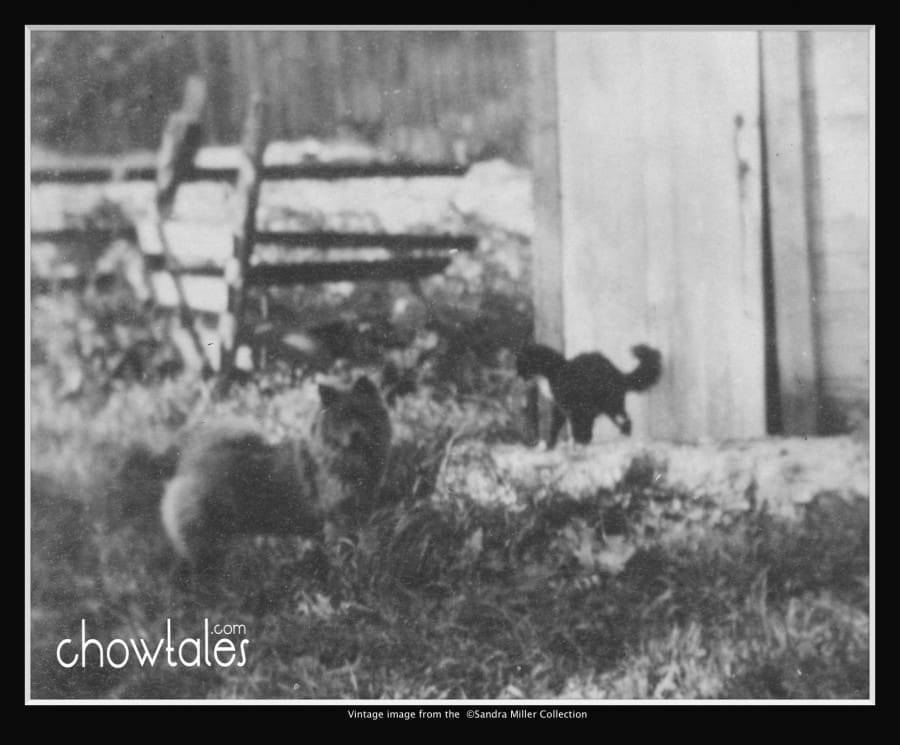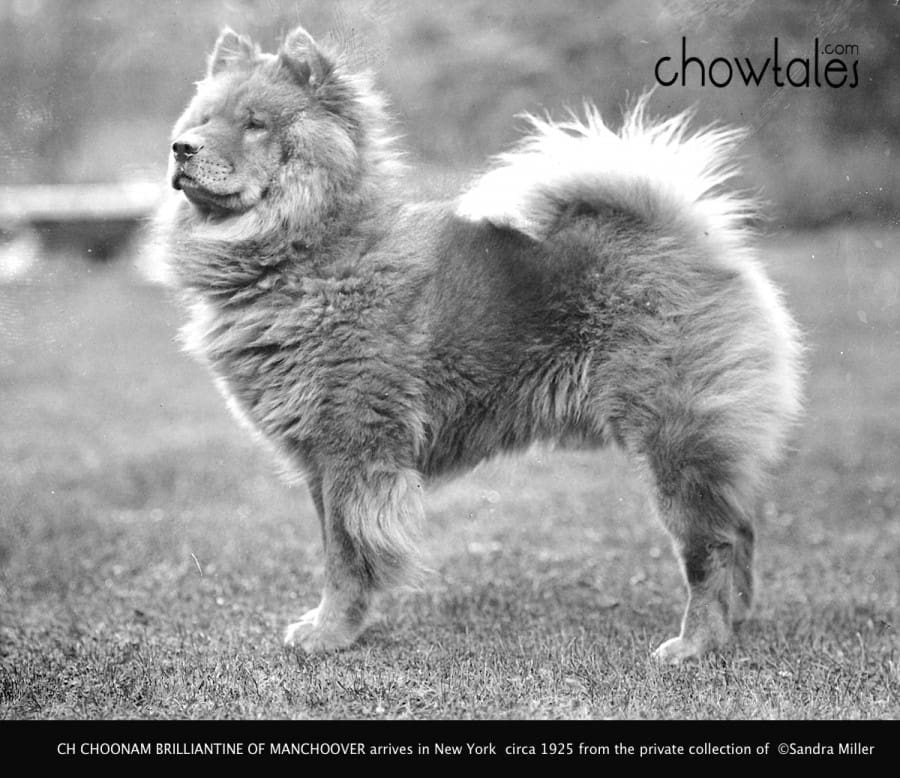 I COULD BE READING MORE INTO THE PHOTOS THAN NEED BE, BUT IT "SEEMS" MOST OF THEM WERE TAKEN CLOSE TO THE SAME TIMEFRAME. COULD THIS BE THE DAY BRILLIANTINE ARRIVED IN ILLINOIS.  MY RESEARCH SHOWS MORE THAN ONE CHOW WAS IMPORTED BY MRS. HOOVER WHEN BRILLIANTINE CAME OVER  BY SHIP.  THIS WOULD CERTAINLY BE AN OCCASION TO TAKE OUT THE CAMERA TO DOCUMENT THE HISTORIC ARRIVAL OF THE FAMOUS  $10,000.00 CHOW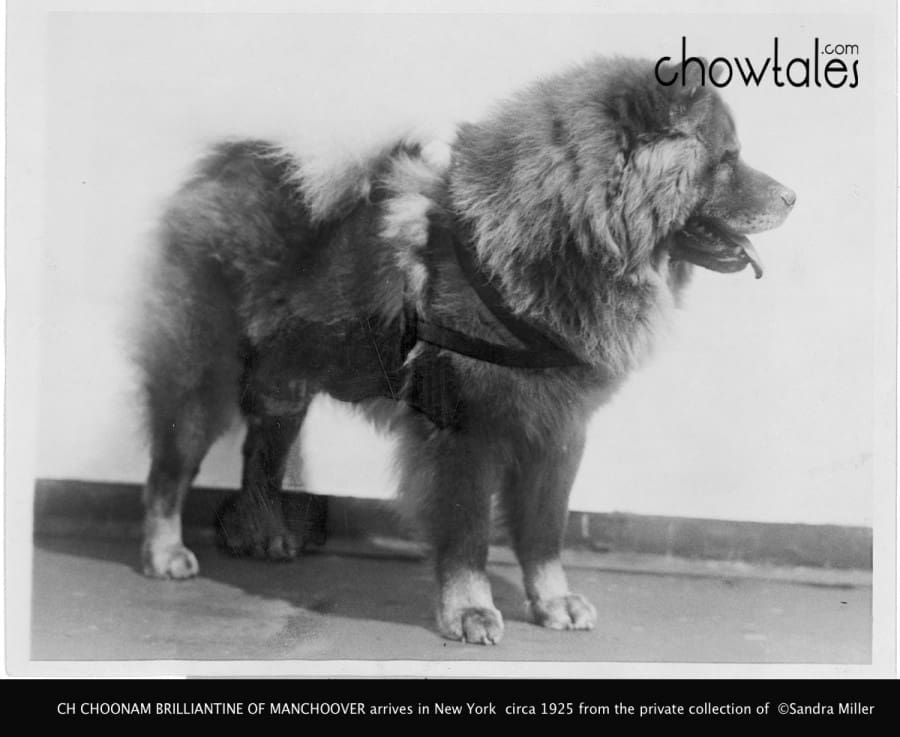 THE APPEARANCE OF THE TRUNK/CRATE IN ONE OF THE ALBUM PHOTOS MAKES ME CURIOUS WHY IT IS OUTSIDE. 
A CAR IS PRESENT AND DIRECTLY ABOVE IS  A PRESS PHOTO I HAVE OF BRILLIANTINE ARRIVING IN NEW YORK  ON THE BOAT WEARING  THE SAME STYLE OF  HARNESS I SEE ON THE YOUNGER PUP IN THESE HOOVER ALBUM IMAGES.
ABOVE:  A BEAUTIFUL PHOTO FROM THE ALBUM  OF MRS. DOROTHY MAY HOOVER AT HOME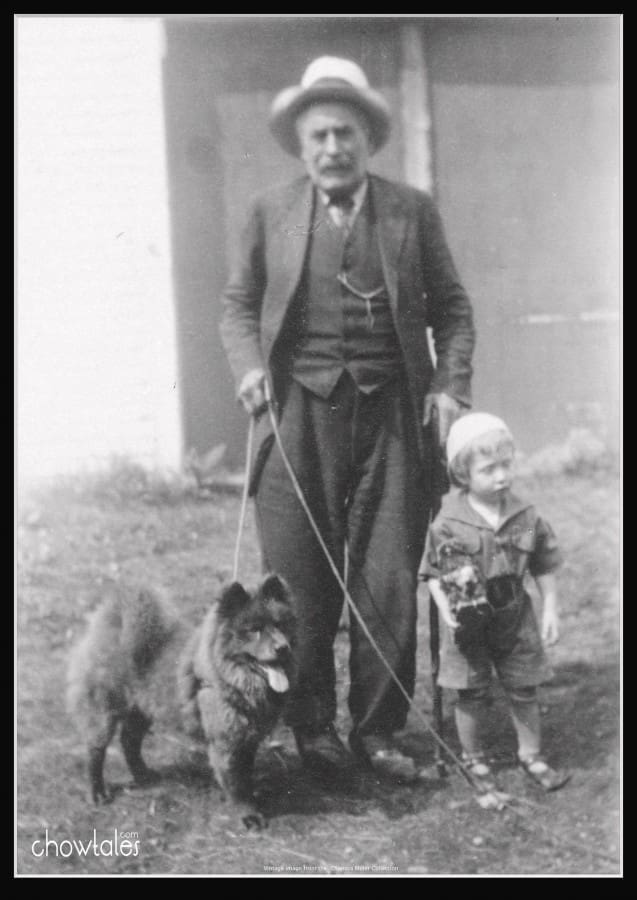 ABOVE:  GRANDPA WITH THE YOUNG CHOW AND GRANDSON GORDON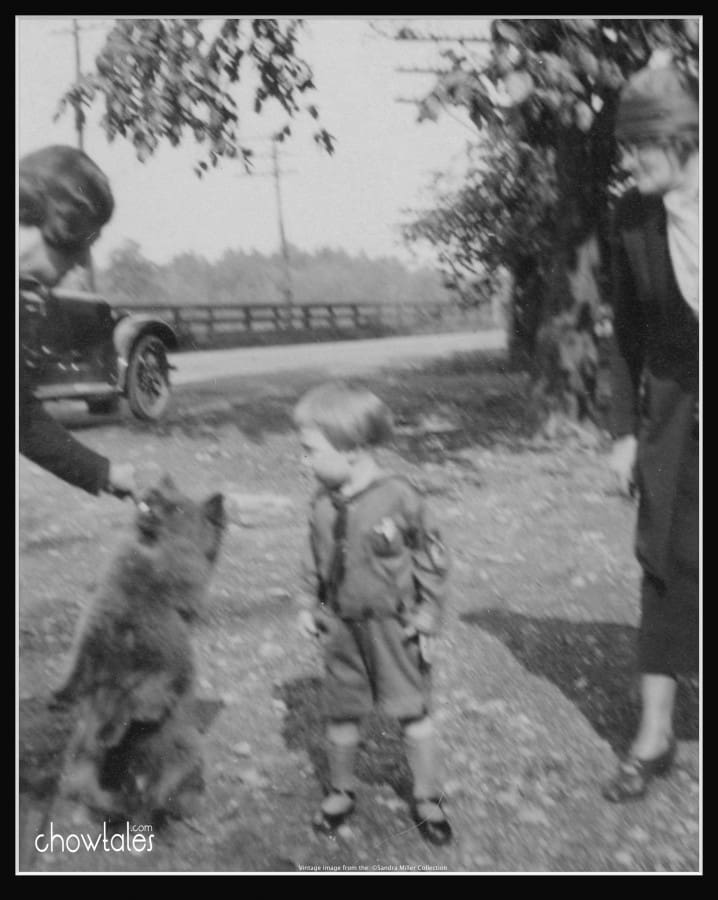 POSSIBLY DOROTHY HOOVER LEFT, CHOW, SON GORDON AND ANOTHER WOMAN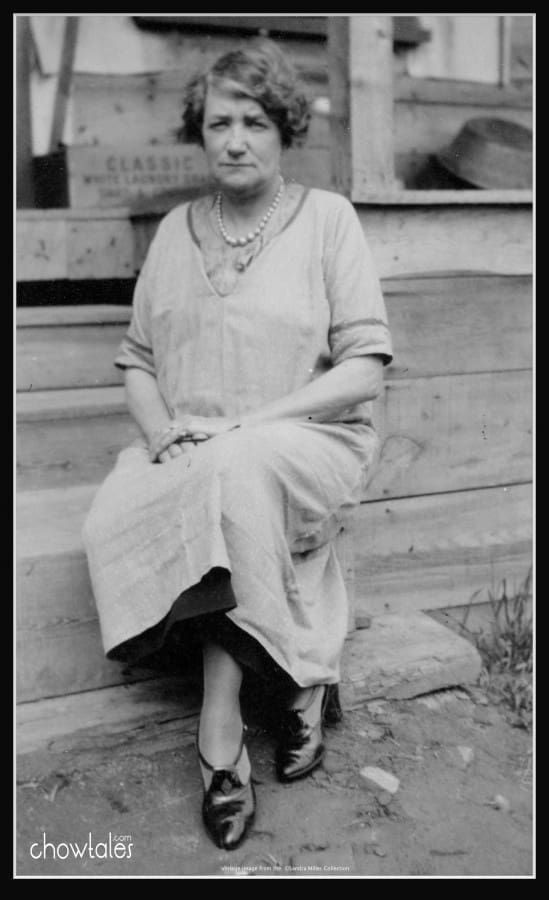 I'M NOT SURE WHO THIS IS.  COULD IT BE THE WOMAN BELOW,  MRS. WILLIAM S. BAER WHO BROUGHT THE  CHOWS FROM ENGLAND ON A  SHIP FOR MRS HOOVER?  MRS BAER WAS THE WIFE OF DR.  WILLIAM S. BAER, A HEAD FIGURE AT JOHNS HOPKINS HOSPITAL AND OWNERS OF MOOSILAUKE CHOW KENNELS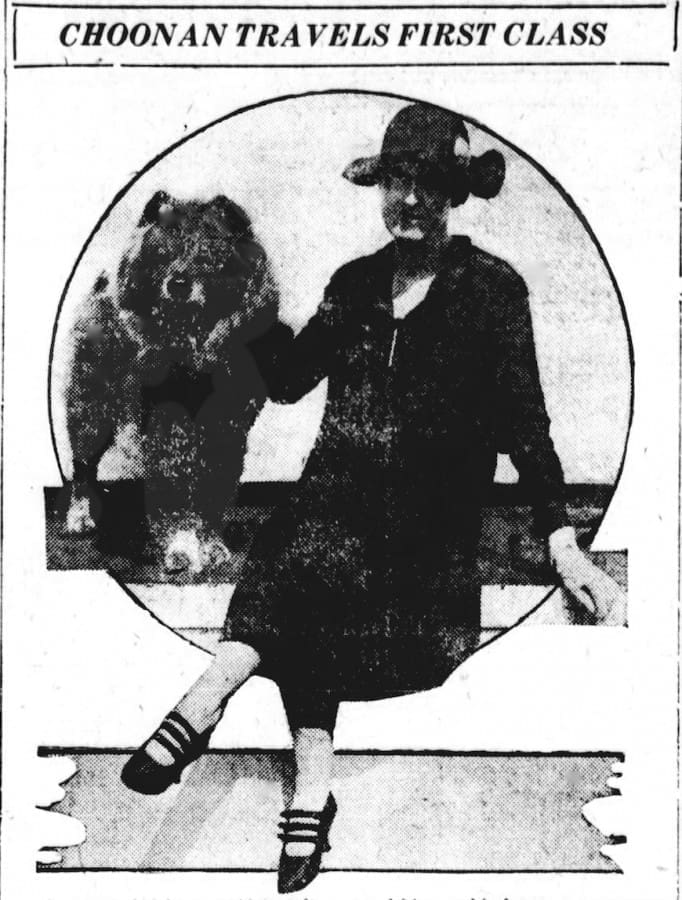 ---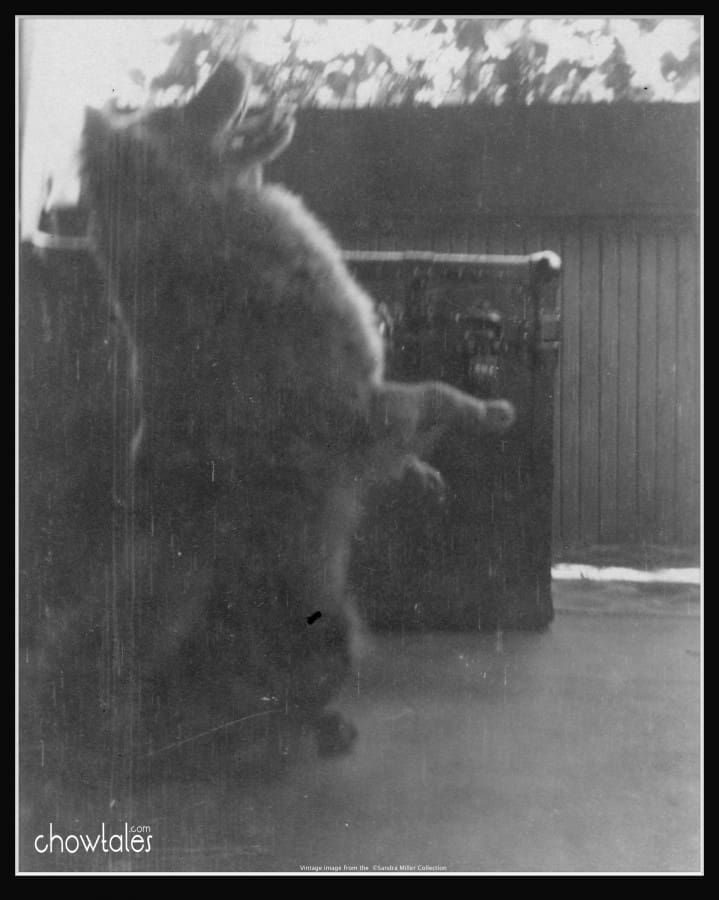 CHOW DOING TRICKS. THIS LOOKS A LOT LIKE THE TRUNK/CRATE BRILLIANTINE TRAVELED IN FROM A DESCRIPTION IN ANOTHER ARTICLE I WAS READING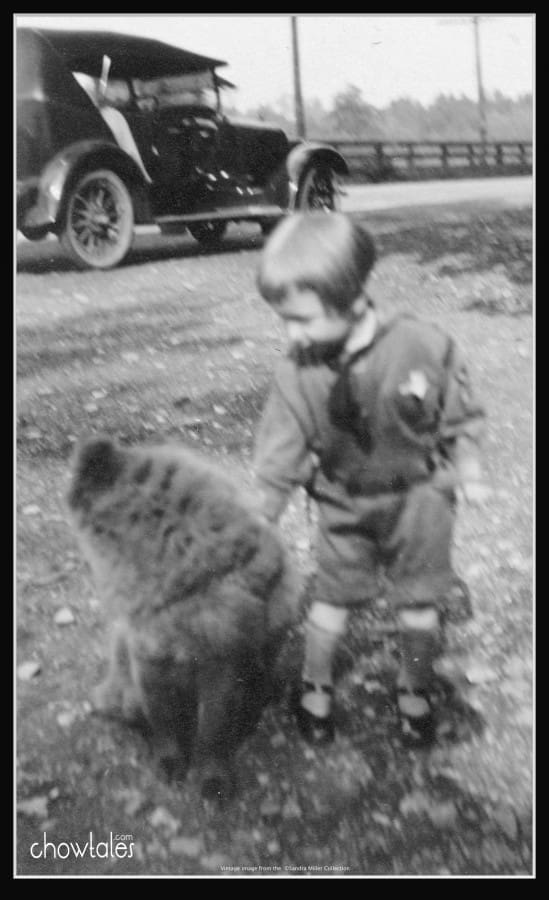 A VERY SWEET PHOTO OF THE PUP, SON GORDON, AND BEAUTIFUL CAR AS WELL.  IT LOOKS AS IF THAT IS THE MYSTERY  WOMAN IN WHITE FROM A PREVIOUS PHOTO GETTING OUT OF THE CAR.

MRS HOOVER AND  CHOW.  THIS COULD BE  VERY WELL BE THE DOG PICTURED BELOW ON THE LEFT WHO I AM NOW CONVINCED IS THE FAMOUS CH. LU CHENG. THE DOG TO THE RIGHT I'M FAIRLY CERTAIN IS BRILLIANTINE.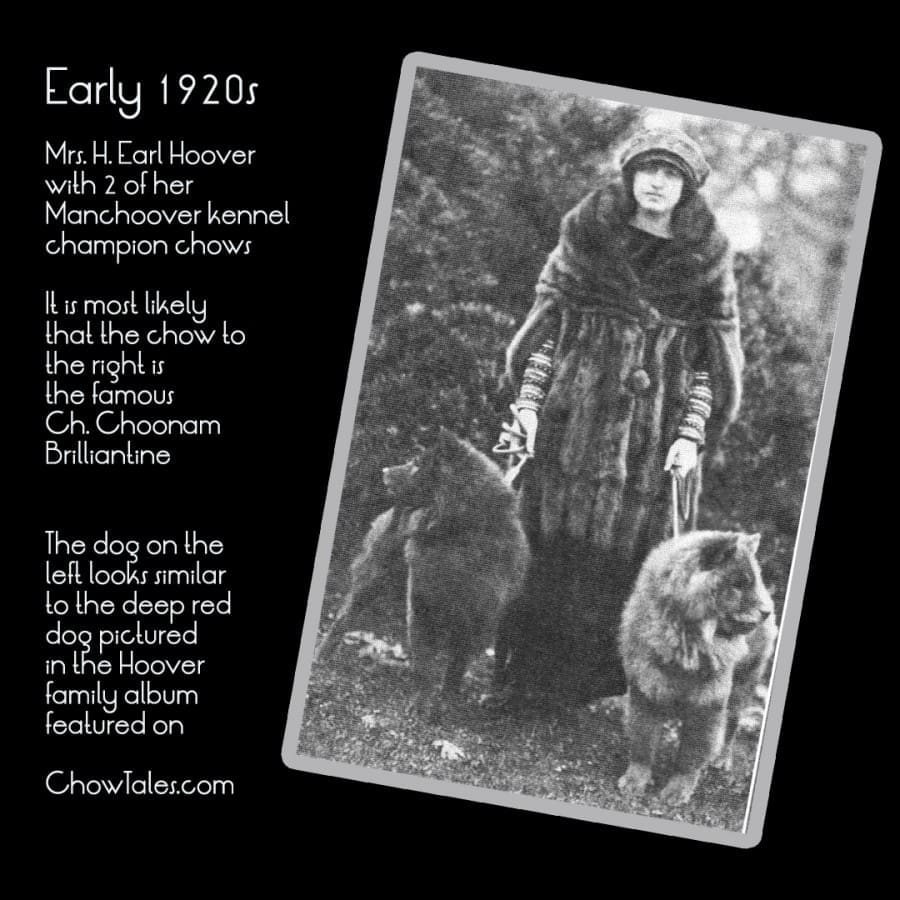 MR H. EARL HOOVER, OF HOOVER VACUUM FAME WITH THE YOUNG CHOW. THIS IS THE SAME MAN AS IN THE FIRST PRESS PHOTO. IT SEEMS THE WHOLE FAMILY CAME OUT OF THE WOODWORK TO HAVE PHOTOS TAKEN WITH THESE DOGS.  AGAIN MAKING ME THINK THIS COULD HAVE BEEN THE IMPORTANT DAY OF ARRIVAL TO THE USA FOR THESE CHOWS. ESPECIALLY WITH THE NEWS CLIPPING BEING INCLUDED IN THE ALBUM

ONE OF THE CHOWS WITH SOMETHING IN HIS MOUTH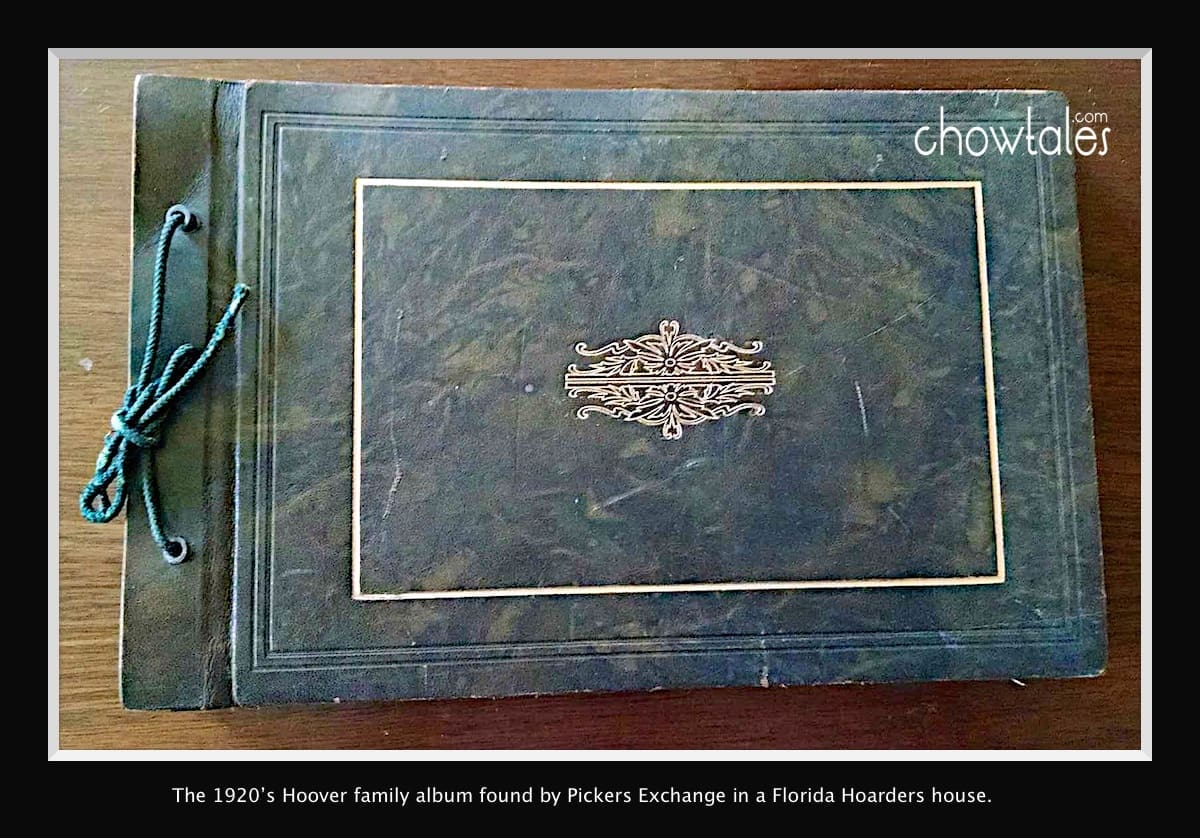 ---
CLICK HERE TO READ ABOUT THE HOOVER/ BRILLIANTINE PAINTING
CLICK HERE TO READ  CHOONAM BRILLIANTINES HISTORIC BIO
---
Save