In 1927, The Chow Chow Club of America National Specialty was most certainly a show that goes down in history as one of the clubs' most well attended and extravagant events,  due to the invitation of the first Chow specialist judge to be invited from England; esteemed breeder of the celebrated Mulfra Chows, Mr. William Scriven.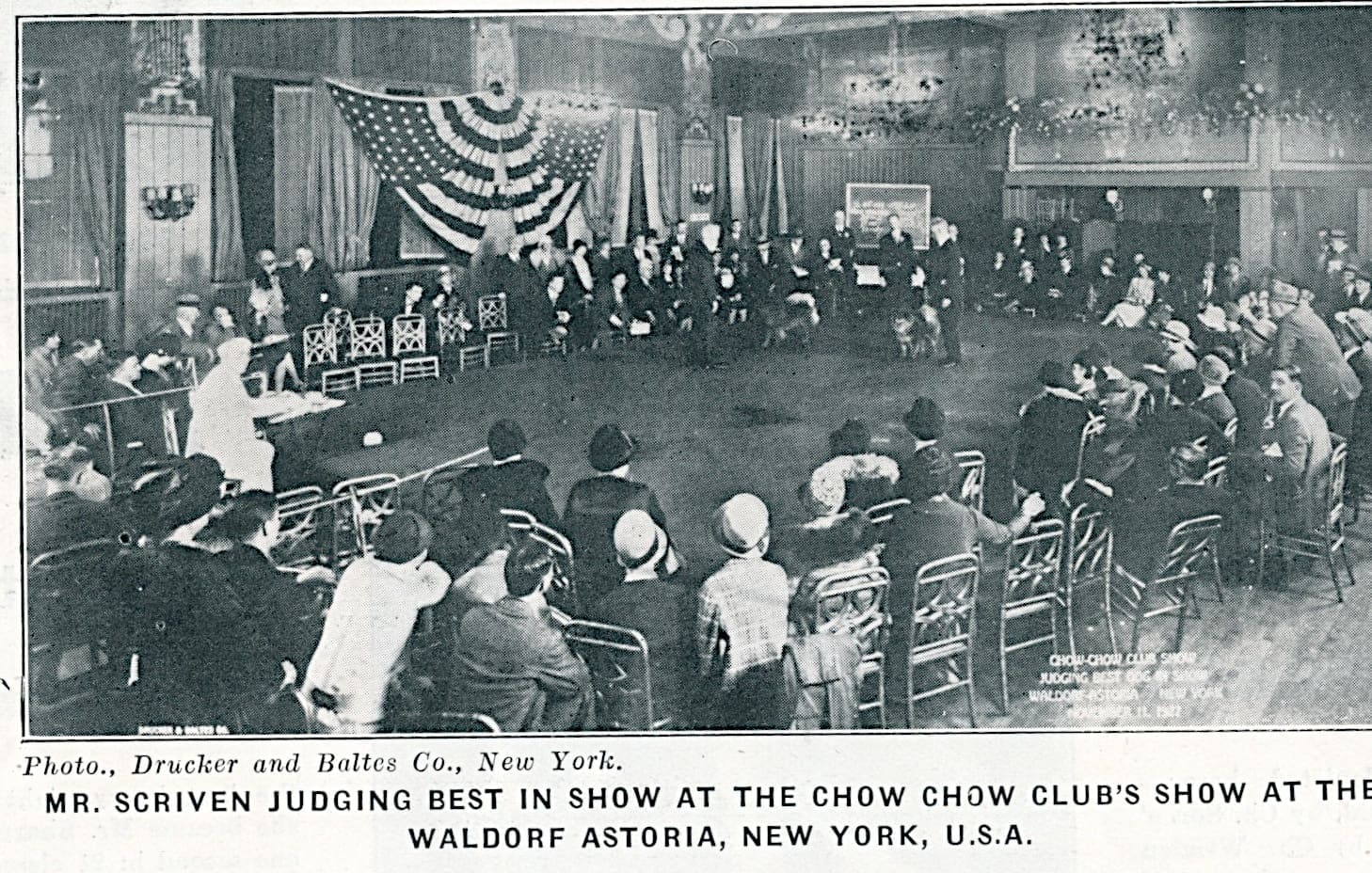 ---
 The good fortune of the Celestial Chows must have been shining down upon the archive this week!!!!   This article which I have been working on for months , began with only the photo above, discovered in an old dog magazine along with a couple of newspaper snippets below.  A few days ago I received an email from Yvette Ferguson of The Chow Chow Club Inc., asking if I could assist the great grandson of the judge Mr. William Scriven , in  identifying some of the people in his original photos from this same 1927 National Specialty!
---
THE FOLLOWING CHOW CLUB BANQUET AND SPECIALTY SHOW PHOTOS ARE FROM WOHLERT WOHLERS PRIVATE COLLECTION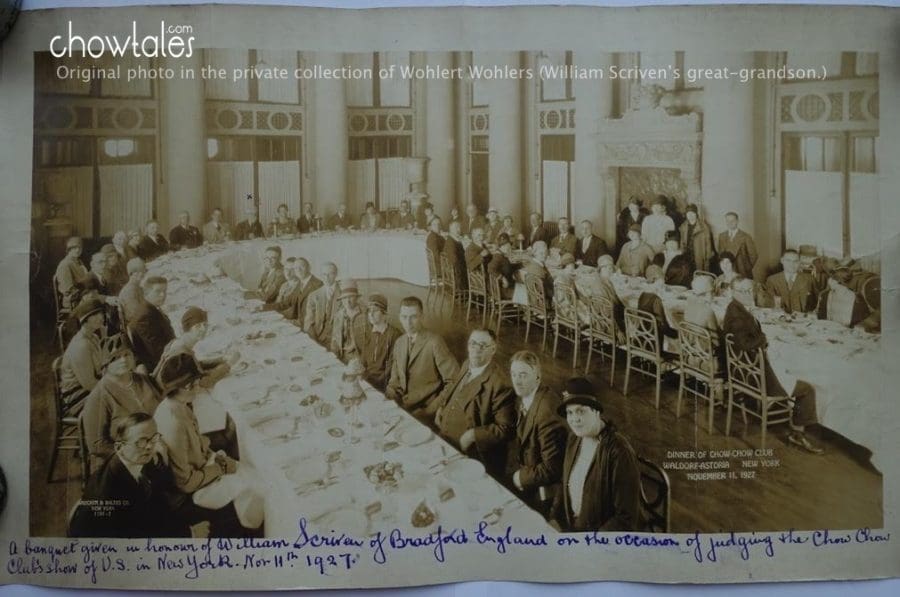 CLICK IMAGE BELOW TO VIEW MUCH LARGER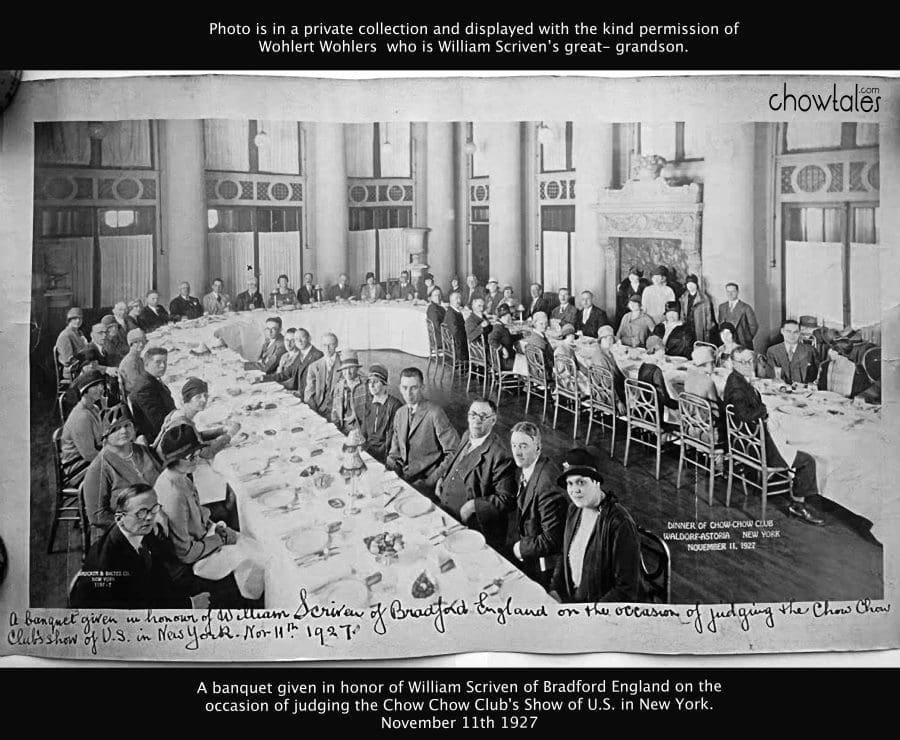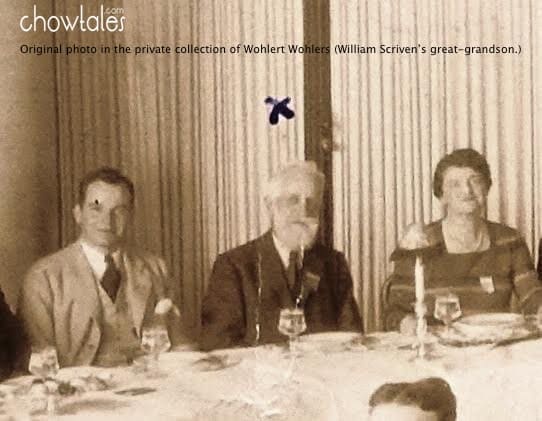 ---
Anxiously, I contacted the great-grandson Wohlert Wohlers for his kind permission to use these images in the archive and to find out any more details…..The rest is…..well…..HISTORY.   Wohlert tells me that if it weren't for the X placed above his great grandfather's image in the banquet photo, he may never have recognized him.  The photos reveal many details about the show and Mr. Scriven that were previously unknown…… and all those familiar faces I feel I know personally through my research….this literally gave me goosebumps!  I am working on identifying the people at the banquet and will update with my findings in another post.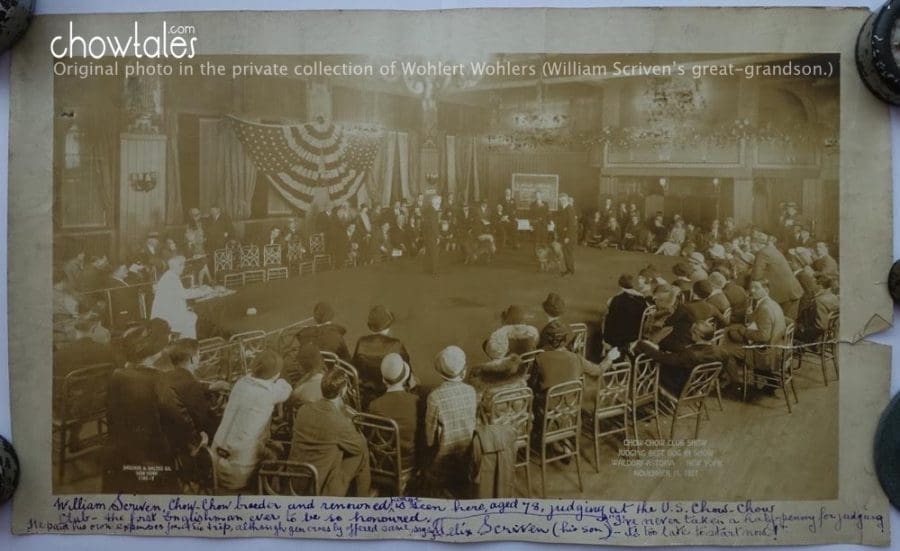 ---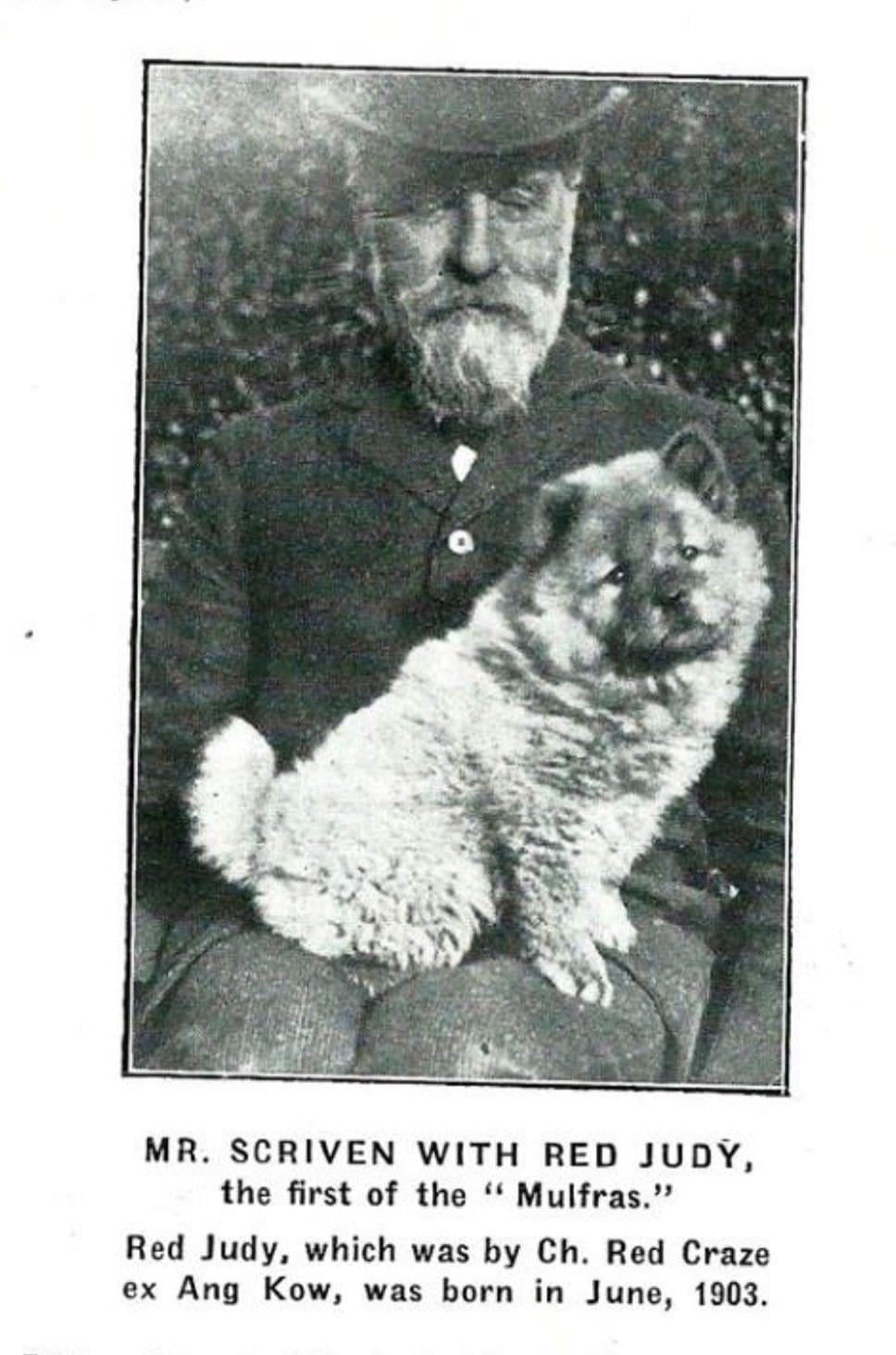 ---
BELOW IS A WONDERFUL ACCOUNT OF THE SPECIALTY ENTRY AND JUDGING, FROM AN ARTICLE IN DOG WORLD, MARCH 1935
Click highlighted names to see corresponding photos
---
"Mr. Scriven was invited to come to America and judge the Chow Chow Club of America Specialty Show which was held in New York on Armistice Day.  He was given an entry of 147 (233 total entries).  In the classes were many champions of record and many that later became champions.
In the Open Red class, were Ch. Hong Kong King, Ch Son of Min T'sing, Ch. Heathen Chee Kee and Ch Ledgland's War Risk Insurance and they were placed by Scriven in the order here named.
There was a Champion class and Ch. Hop Toy, grandson of Ch. Carissa won that class.  Mrs. Neyhart showed several other descendants of Carissa, among them Sunny Jim II, a son of Ch Yuey.
But the highlight of the show was the senior puppy, Wendi Loo Sunlegh, a great-great-great grandson of Carissa who had been bred by Scriven 20 years earlier, in what was his first litter.  This puppy, after great deliberation, was given the winner's ribbon over such acknowledged champions as Hong Kong King, Son of Min T'sing, Heathen Chee Kee, Ledgeland's War Risk Insurance and many more than twelve champions of equal note.
Those who saw the show that day later commented that Ch. Hong Kong King made a great bid for Supreme Honors.  The scene was not new to him.  He had been nosed out by Ch. Brilliantine there once before.  He played the role in grand opera style, faultlessly shown by handler A.W. Brockway.
On the opposite end of the spectrum, the puppy Wendi Loo Sunlegh chose the low road, He played, he lay down, he tried to shake hands iwth the judge and did everything imaginable to defeat himself, but Scriven saw through it all and so the splendid pup took Winner, Best of Winners and Best of Breed.
George Ratcliffe, the novice, went home with a load of trophies, ribbons, gold and glory.  And, as though to prove that he was no one-shot wonder, Ch. Wendi Loo Sunlegh came back otthe Armistice Day Show in November, 1934 and again carried away the Supreme Honors of the show."
---
BELOW IS THE YOUNG DOG MR. SCRIVEN GAVE BEST OF BREED TO OVER TOP RANKED CHAMPIONS AT THE 1927 CHOW CLUB OF AMERICA NATIONAL SPECIALTY WITH THE LARGEST ENTRY RECORDED OF 233 CHOWS.  CH. WENDI LOO SUNLEIGH ALSO WON THIS COVETED HONOR AGAIN AS A SENIOR IN 1934 UNDER EQUALLY RESPECTED JUDGE CHARLES G. HOPTON WITH AN ENTRY OF 101
---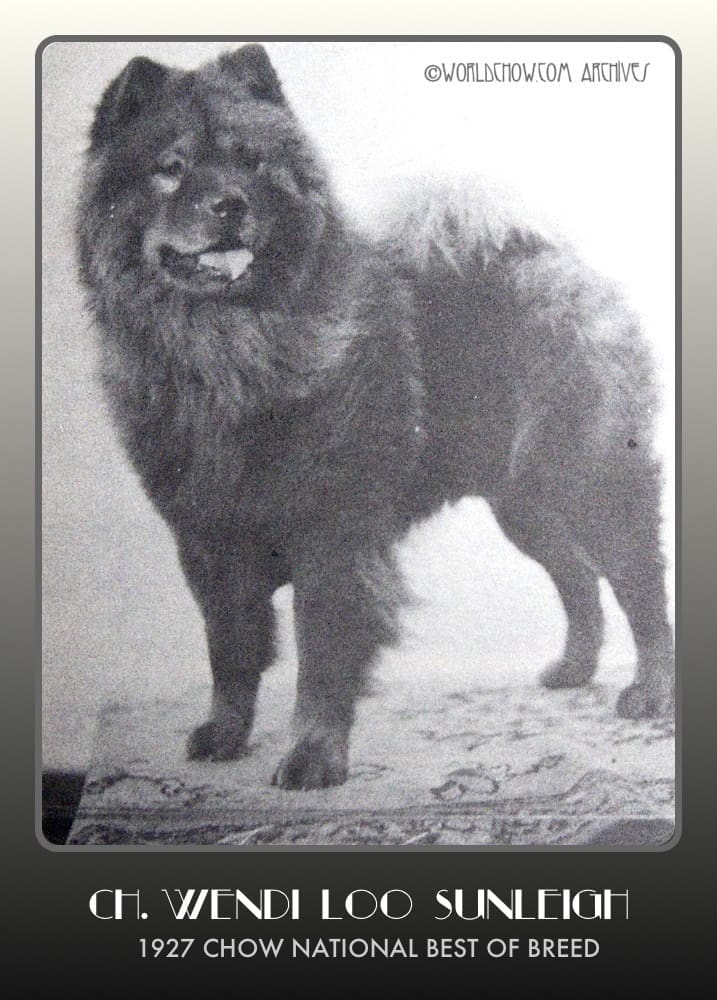 ---
BELOW IS THE ANNOUNCEMENT OF WILLIAM SCRIVEN'S UPCOMING  JUDGING ASSIGNMENT FOR THE CHOW SPECIALTY IN AMERICA
---

---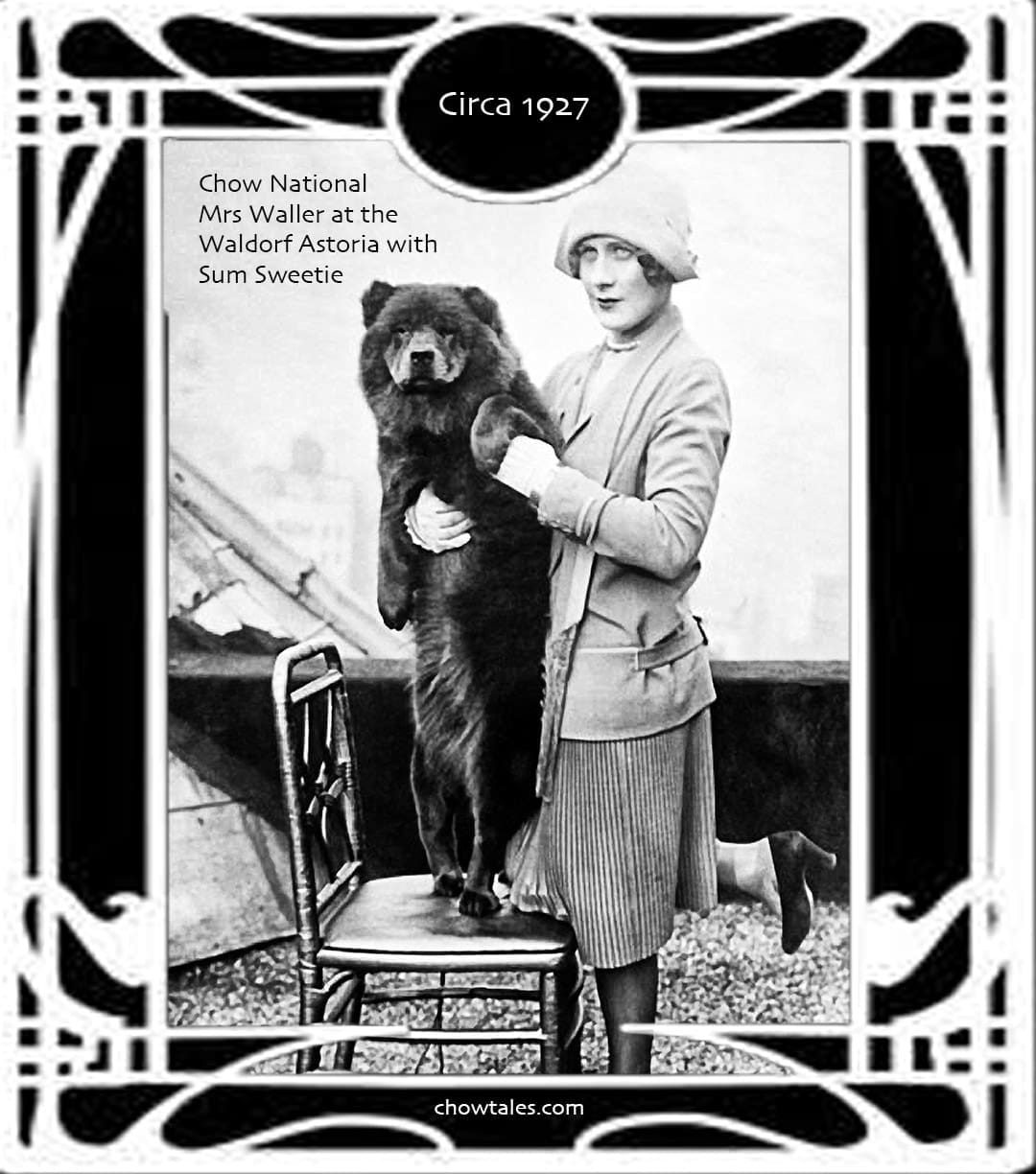 The ever stunning Mrs Virginia Waller (Messmore) with her equally lovely bitch "Sum Sweetie", photographed at this same Specialty Show
---
BELOW ARE LINKS TO A FEW ARTICLES IN THE ARCHIVES FEATURING WILLIAM SCRIVEN'S "MULFRA" CHOWS  .  HIS DOGS WERE CONSISTENTLY BEAUTIFUL WITH OUTSTANDING BREED TYPE, BALANCE AND CORRECT EXPRESSION ACCORDING TO TOP BREEDERS AND WRITERS  OF THE DAY.  HIS BITCH CHAMPIONS WERE CONSIDERED SOME THE BEST IN THE WORLD.  AN UPDATED ARTICLE COMING  SOON ON THE MULFRA CHOW HISTORY.

---
Save