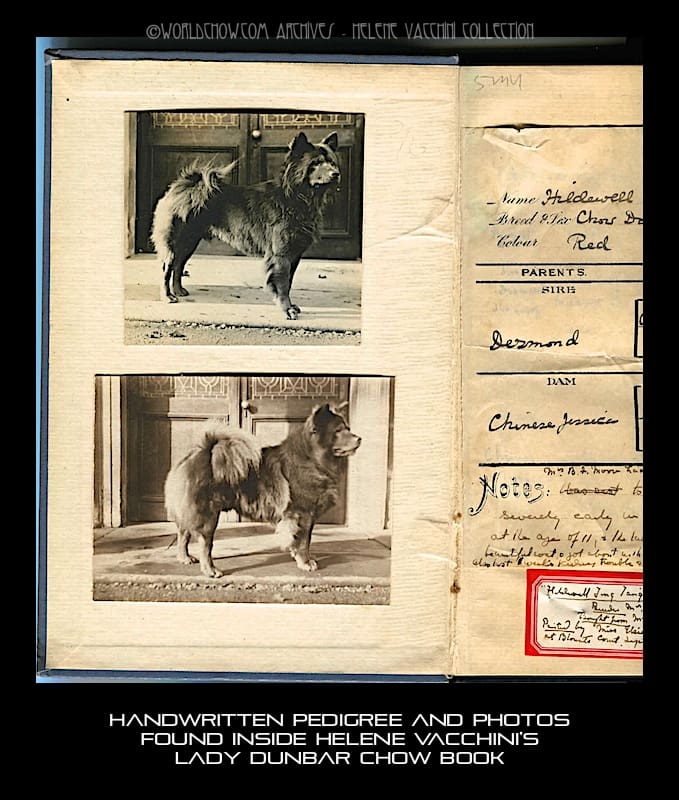 The single most fascinating chow item that shifted my focus in the Worldchow archives from displaying just my own collection on a website… to curating a full fledged archive, was sent to me by a dear friend I met in Italy a few years ago, Helene Vacchini.
In her search for a book to find more info about her rescued chow Shirin, she somehow managed to luck into this treasure trove of very important chow history. Below is her first correspondence with me regarding her find and the quest for more information on this dog "Hildewell Ting Tang"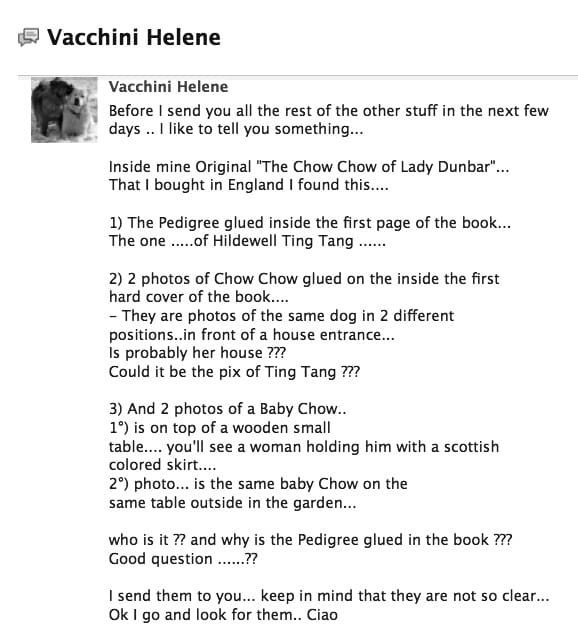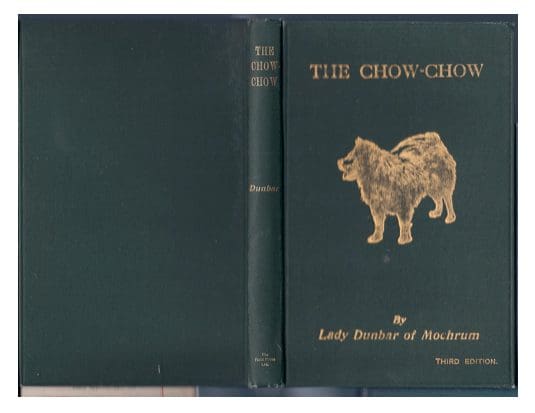 These are OLD photos of what we are pretty sure is the dog in the  pedigree,  HILDEWELL TING TANG Born May 18, 1911 in England. Mrs. Garrett Botfield  herself signed the document and had handwritten notes throughout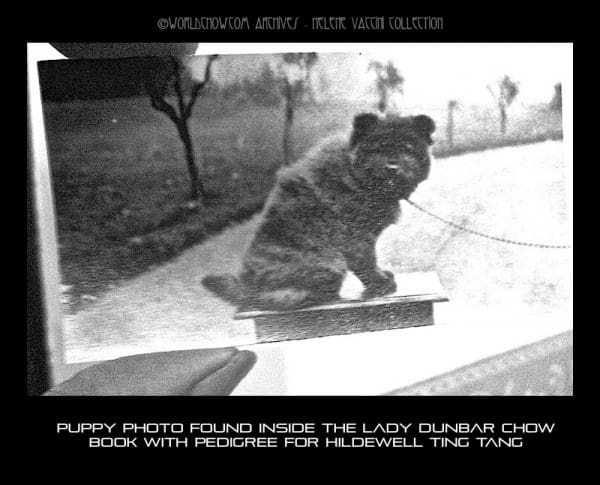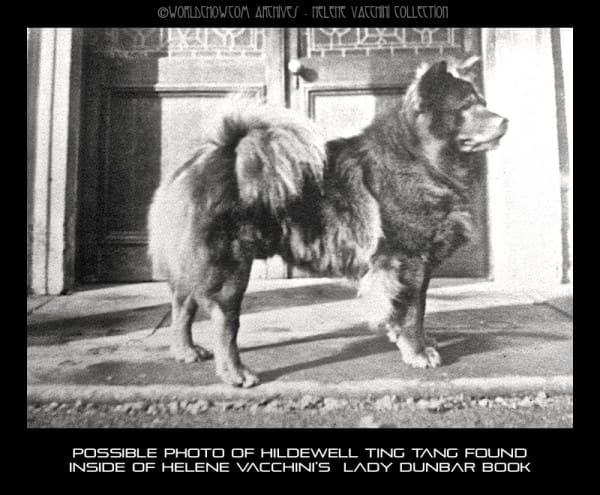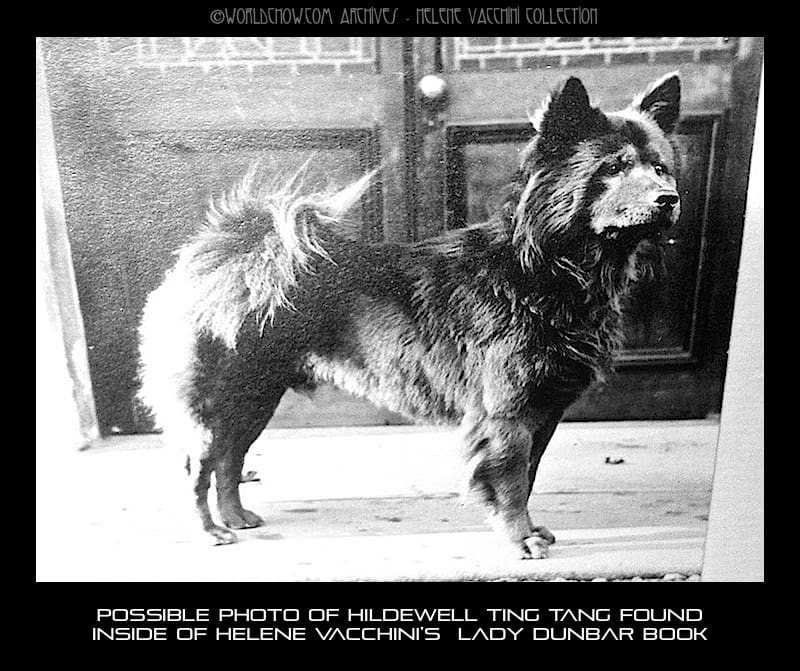 The chows in this pedigree are the WHOS WHO of the top players in the history of our breed.  My goal is to find photos and more information on every dog in this pedigree to fill next to their names below. The breeder Mrs. Garnett–Botfield has always been noted for the largest kennels of the DARKEST RED CHOWS IN ENGLAND and has sent some very fine dogs abroad..(Bluebook of Dogdom 1912)  She was also very involved in a number of garden societies with a fair number of plants I'm finding named by her in the "alpine" varieties.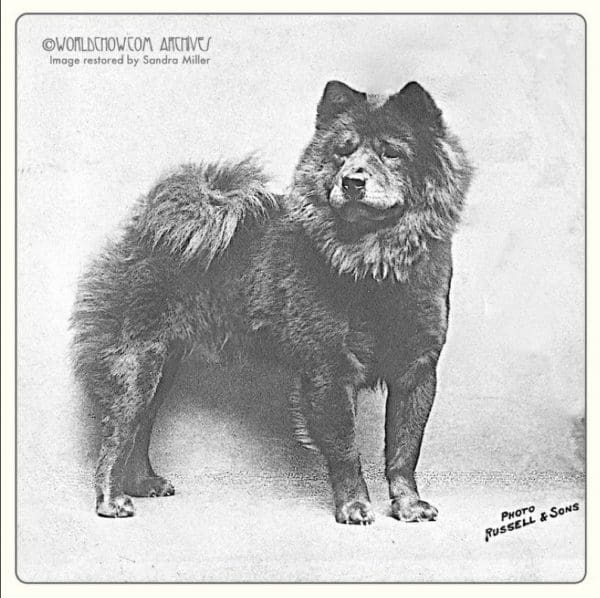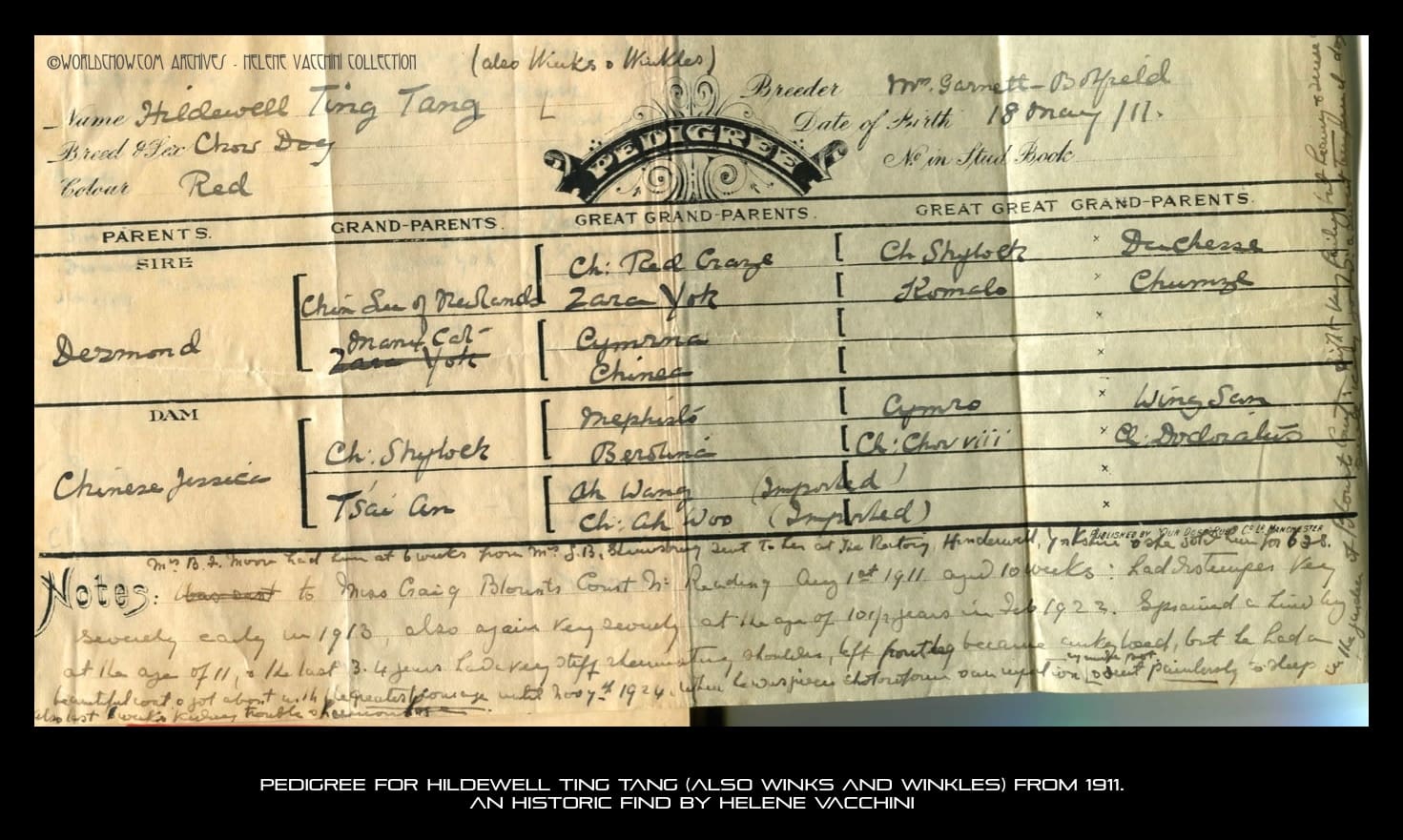 HELENE AND I HAVE  TRANSCRIBED THE NOTES FROM ABOVE  AS WELL AS WE COULD
Mrs BF Moore [HILDEWELL CHOWS] had him at 6 weeks from Mrs. LB Bloomsburg ? sent to her at The Rectory Hinderwell Yorkshire and she sold him for 62 £ to Miss Craig Blorents Court No Reading Aug 1st 1911 aged 10 weeks: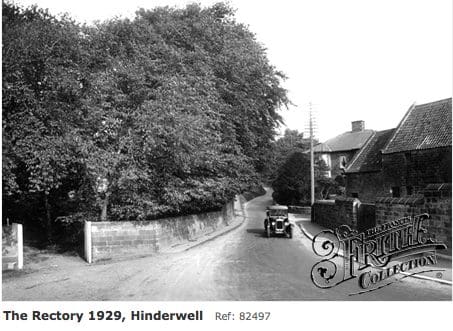 Had distemper very severely  early in 1913, also again very severely at the age of 10 1/2 years in February 1923.
Sprained a hind leg at the age of 11, and the last 3-4 years had a very stiff rheumatus, shoulders, left front leg became , but he had a beautiful coat about with the greatest brown eye until November 7, 1924 when he was given chloroform injection and put painlessly to sleep in the garden of Blounts Court.  Eight very lovely but HEAVY and ???? of ?????.  A very good and sweet tempered dog!!!

MY MESSY NOTES REGARDING THE DOGS IN THIS PEDIGREE ARE BELOW.
SO FAR A FEW NAMES ARE CLICKABLE  TO THEIR OWN PAGE.    I'LL GET THEM ORGANIZED SOON WITH THE PHOTOS I HAVE. PLEASE LET ME KNOW IF YOU HAVE ACCESS TO ANY IMAGES OR INFO ON  DOGS IN THIS PEDIGREE. IT WOULD BE GREATLY APPRECIATED. ~Sandra
DESMOND
CHINESE JESSICA
CHIN LU OF NEWLANDS  DOB 1904  MALE RED
*CH. SHYLOCK- DOB 1899  Red    Top producer  (SAME SIRE AS FAMOUS HILDEWELL POOH BAH AND RED CRAZE)
T'SAI AN- DOB March 21, 1899  black bitch (SAME MOTHER AS FAMOUS HILDEWELL POOH BAH)
CH. RED CRAZE–  DOB 1901   Red    Top producer and winner
CH. CHOW VIII-this is the chow who the first USA Chow standard was designed around  DOB OCT. 1890   BORN IN CHINA     DIED 1905   RED  (SIRE OF BEROLINA)
WING SAN- (finding "O LING SAN" AS MEPHISTOS DAM IN DATABASE )
ZARA YOK-  DOB 1899  RED
CHUMZE-   DAM TO ZARA YOK
MEPHISTO-Top producer  DOB NOV. 9 1896  -RED  (RED CRAZE SIRE)
BEROLINA- (or BAROLINA)  DOB July 24 1897 (RED CRAZE DAM)
DUCHESSE- DOB 1899   (Sire is CHOW III red dog) ( DAM  is Carrot red bitch) – (CARROT parents are POOBAH sire AND MOURME dam)

CYMRNA-
CYMRO-  SIRE OF MEPHISTO  Cymro's father is "Chang"  and dam "Pechili" in database
CHINEE-
DODIATUS (OR DODVIATUS)-  RED FEMALE  DOB JULY 24, 1897 (MOTHER OF BEROLINA)
KOMALO- DOB 1898   RED -SIRE TO ZARA YOK
AH WANG- (imported from China most likely) DOB JULY 1 1894  BLACK
CH. AH WOO- (Imported from China most likely)

BELOW YOU WILL FIND  THE FIRST DOG  WAS AN EXPORT TO THE USA BY MRS BOTFIELD AND CLOSELY RELATED TO TING TANG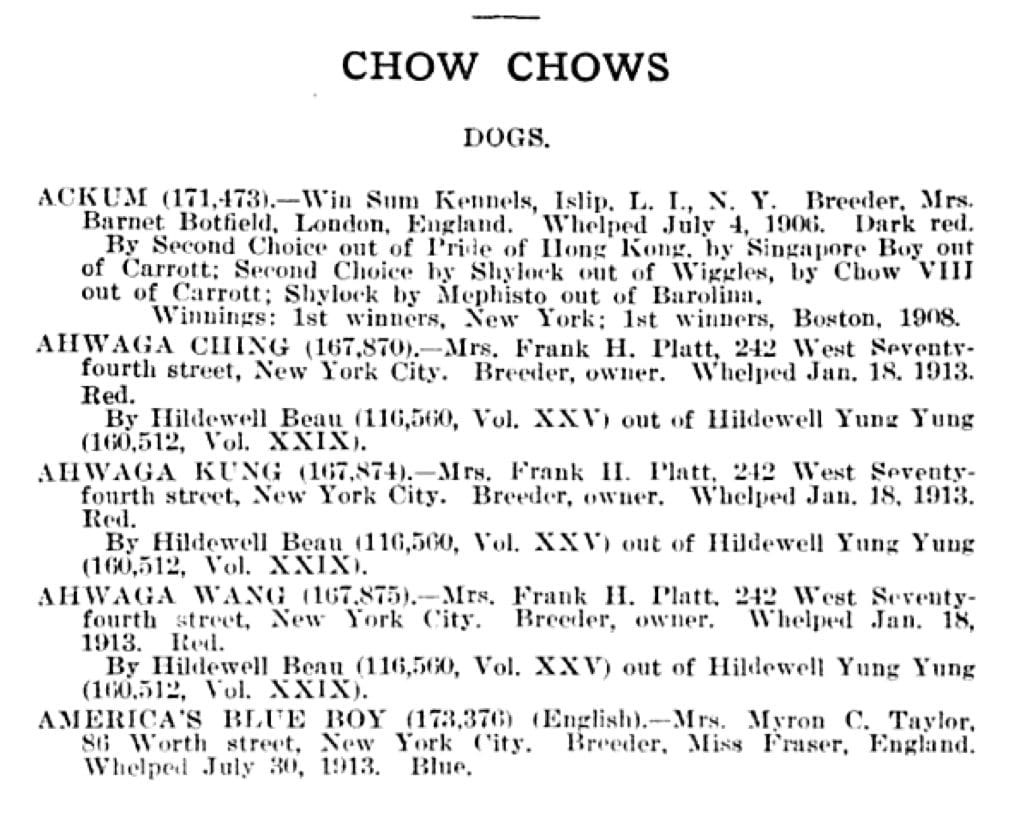 Thank you so much Helene for offering to share such a rare and important find with the archive!