The History of the Chow Chow in Canada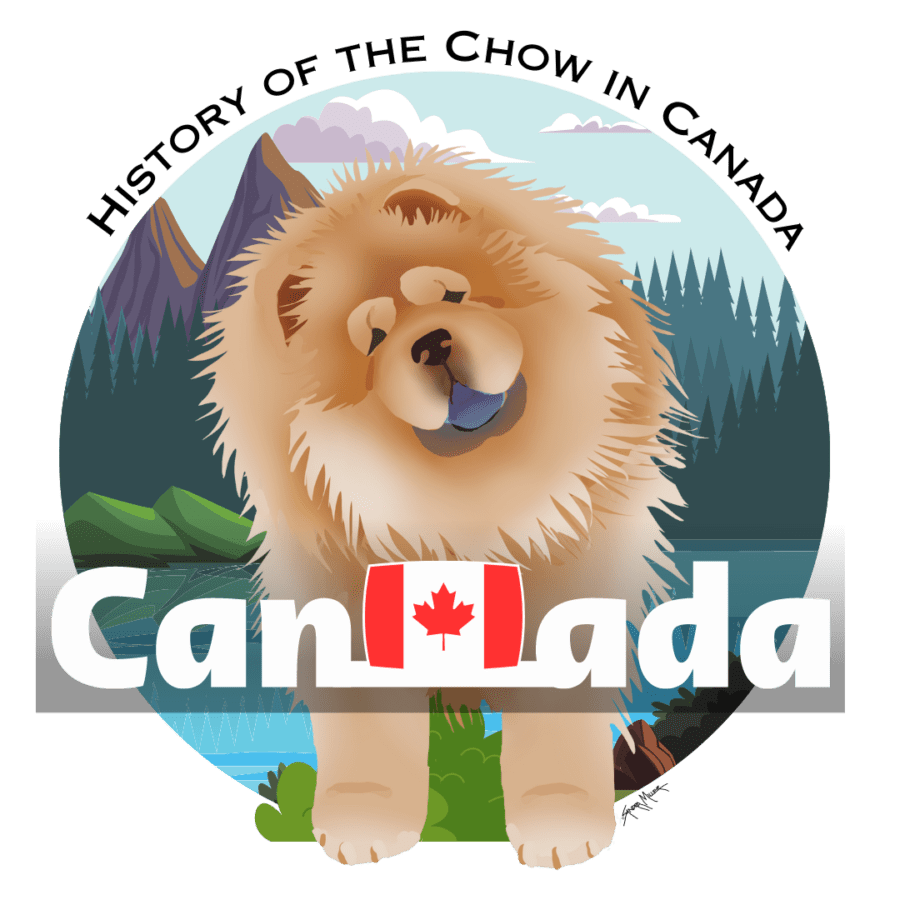 A little background on how this article came to light. My wonderful chow friend Michelle Sept in Canada was writing the newsletter for her Chow Club and asked for some photos from ChowTales to add some "visuals" to the text. Of course, I was thrilled to oblige. Michelle retyped the entire article to put it into the newsletter format. A labor of love!
When I read the finished newsletter with this gorgeous Canadian Chow History article written by Marguerite (Joey Nattrass), I asked if I could obtain permission to reprint it here in the ChowTales Archives. Thank you from the bottom of my heart, Joey and Michelle, and all who contributed to this very well-written and documented article! It is truly a treasure for the Chow , highlighting the breed in Canada through the 1980s

---
By Marguerite (Joey) Nattrass, as compiled and written in 2019
The original article was completed and submitted in three sections for a newsletter for the Chow Chow Club in England. The first segment was published in December 2018, the next in the summer of 2019, and the last segment was in the December 2019 newsletter.
---
The Very Early Years
---
Starting at the beginning, the first record of the breed in Canada was in 1916, a black imported from England by Air Marshall Billy Bishop (World War 1 fame). He owned many Chows during his life, and his love of the breed is beyond question. Full tribute must be paid to him as the early pioneer of the breed in Canada.

In 1944, when the original Chow Chow Club of Canada was organized, Billy Bishop consented to be the Honorary President.

The ancient but new breed to Canada, owned by Canada's war hero, attracted considerable interest in prominent Ottawa circles during the 1920s.

To back it up a bit, in Halifax, NS, in the late 1890s and early 20th century, based on the Dog License Registry in Halifax, there was a "China Dog" owned by a Major Smith in 1893, which was probably a Chow. At that time, some British military were still posted in Halifax, so the dog may have been imported from China.
The first registration for the Chow Chow in Canada is found in the Canadian Kennel Club studbook for the years 1911 and 1912: A red dog called Chang, owned by Mr. A.D. MacTier, Montreal, QC, and a black bitch called Fankee 111, owned by Wm. R. Manniere, Falls View, ON.

From the archives of the Canadian Kennel Club, registration for Chows notes the following numbers: 1912 – 2; 1913 – 1; 1914 – 1; 1915 – 3

In 1922, 11 were registered, and there was a huge jump 10 years later to 63, with the high point in registrations being in 1938, with 103 Chows registered.

In the 1926 edition of the Canadian Kennel Club Stud book, four Chows are listed that obtained championship status in Canada:

1920 – Ch. Chun Chin (B) bred by Mrs. Worthy, Toronto, owned by G. McFadden. Believed to be the first Canadian-bred and owned Chow to gain a championship.

1922 – Fang Foo Hi (D) bred by Mrs. T. Worthy, Toronto, owned by Miss M. Candee, Toronto.

1924 – Yorkville's Red Tee Kow (B) bred by C. Valentine Huf, USA owned by Woodbine Kennels, Toronto.

1925 – Ch. Tinky Poo (D) bred by Mr. J.T. Hartwell, England, owned by W. A. Bishop.

---
The 1930s and 1940s
---

Later in the 1930s, there were between 10 – 15 Chows licensed, two of which were owned by the Roman Catholic Archbishop of the day. Judith Tulloch (Halifax, NS) talked to people who remembered this pair of Chows, not favorably because they were apparently quite bad-tempered.

Two of the earliest kennels were the Ku Kennels, owned by Mrs. Fielden, and the Yan-Kee Kennels, owned by Mr. and Mrs. Walter Ormond. Both kennels were situated just west of Toronto. Mrs. Fielden's Ch. Upon his death, Yang Fu Red Riot 2nd was stuffed and presented to the Royal Ontario Museum in Toronto for their "Rare Species Display," where he stayed for many years. Upon my (Joey Nattrass) arrival in Toronto in the 1940s and my first visit to the museum, I saw this Chow. Mrs. Fielden's bloodlines went back to Int. Ch. Yang Fu Tang on the sire's side and to Ch. Farland Thunderstorm on the dam's.

The Yank-Kee Kennels had dogs from El Cher, owned by Mrs. Hugo Prinz, USA. Later dogs were purchased from the Chia Wan Kennels of Mr. and Mrs. Ralph Spike, Michigan, USA. When Mrs. Earl Hoover disbanded her Manchoover Kennels in the 1930s, Mrs. Spike purchased several Chows from her. With the earlier pioneer effort of the two Ontario Kennels, the Chia Wan Kennels began to exhibit in Central and Southwestern Ontario.

In Winnipeg, Manitoba, the Winnitoba Kennels, owned by Mr. and Mrs. H.W. Fitchett, began to breed Chows. Their stock came from Tohiio Kennels, USA. New enthusiasts in Ontario were Mrs. Yan Paul and Mrs. Wm. Lewis. Mrs. Paul was an established breeder of Pekingese under the prefix "Suyan". When Chows joined her kennel, Mrs. Paul was a respected judge of several groups.

In Quebec, Mr. and Mrs. Jean Paul Therrien became active in the breed as well as Mr. J. St. Onge.

In 1939, Mrs. Gwendolin Kenyon imported from Mrs. V.A.M. Mannooch, Chooname Che Yen for her Chalont Kennels in Ontario.

In 1944, the Chow Chow Club of Canada was formed and held their first Championship specialty that same year. It was held at Birchwood Hall, Bronte, ON at the home of Mr. and Mrs. Gudeon. Entry was 28, judged by Mrs. R. Spike, Chia Wan Kennels. Best of Breed was Ch. Lu Tang's Carbon Copy, owned by Mr. and Mrs. Therrien, QC. Best Opposite Sex was Ch. Nana of Chalfont, owned by Mr. and Mrs. McIllwainl, Toronto, ON.

In the 1940s, Mrs. Pearl Currie, Mr. and Mrs. H. Hosach and Mrs. Bessie Vann Dusen began to show in Canada. Unfortunately, the club fell by the wayside, and the breed had no official representation until 1959 (this will be covered later).

In the 1940s, Chow entries increased considerably at championship shows resulting in several Best in Shows for our breed. In Quebec in the spring of 1941, Ch. Chia
Wan's Regent won BIS, a first for a Chow in Canada, owned by Mr. and Mrs. R. Spike, USA. Also, in 1941 at a show in Winnipeg, MB, Ch. Winnitoba's Rusty Waun, owned by Mr. and Mrs. H.W Fitchett, by winning BIS, has the honour to become the first Canadian-bred and owned Chow to win this award. It was 1946 before this award was won by our breed again. This was Am Ch. What A Boy, owned by Mr. and Mrs. Perry Furguson, California, USA. This show was in London, ON. In 1947 at the London show held in September, Ch. Winnitoba's Rusty Waun took top honours for his "new owner", Mrs. Gwendolin Kenyon. In 1946, the Winnitoba Kennels ceased activities, and Mrs. Kenyon purchased Rusty Waun, continuing his show career in Ontario.

In 1947, the owner of the Empress Hotel in Lacombe, AB, obtained a Chow. This information was supplied by Mr. Richard Watkinson, who purchased his first Chow in 1939 from Northern Saskatchewan. Further information as to breeders or names of the dogs has not been able to be located.
---
The 1950s
---
The honour of being the first Chow to take Best Puppy in Show All Breeds goes to Ch. Chi-Kwang's Su Ling, a red and cream shaded bitch, at the Ottawa Kennel Club show in May 1953.

Continuing with the notation of the demise of the Chow Chow Club in Canada, our breed had no official representation with the Canadian Kennel Club for many years.
---
The Beginnings of a Canadian Chow Chow Association
---
In the summer of 1959, a group of Chow owners and exhibitors in the Toronto area met, not with the intention of forming an official club but to stimulate interest in the breed and help each other and to create a better understanding between breeders, pet owners, and the general public. It was not until the winter of 1959 that the group selected a name for this group. We became the Chow Chow Fanciers of Canada.

In 1969, a formal application was made to the Canadian Kennel Club for recognition as an official club for the Chow Chow. The first elected officers were:
Chairperson – Mrs. M.J. Nattrass
Vice Chairperson – Mr. D. Schwoob
Secretary / Treasurer – Mrs. S. Waite
Directors – Mrs. Yan Paul, Mr. P. Odenkirchen

Over the years, changes to the constitution were made, the first to allow sections across the country. In Ontario, the original group became 'The South Central Section of the Chow Chow Fanciers of Canada'.
Several years later, the club was incorporated with a name change. "Fanciers" became the Chow Chow Club of Canada, our national club. With the incorporation, sections were no longer allowed. Therefore, the South Central section became the Chow Chow Fanciers of Ontario, the first provincial club for the breed.
---
The 1960's
---
During the 1960s, several firsts for our breed were achieved. In 1960, Currie's Tanya of Marhal attained her C.D. Obedience title with scores of 190, 194, and 181. Tanya was only 18 months old when she completed this title, making her the first Chow bitch in Canada to obtain a C.D. Tanya was owned and handled by Mrs. Pearl Currie, ON.

1960, the Chow Chow Fanciers of Canada hosted their first booster show in August at the Club VI specialty for Non-Sporting breeds. The entry of 12 Chows topped the Poodles, who traditionally had the largest entry. Minnie and Paul Odenkirchen arrived in Canada in 1958. Their kennel name, MiPao, was formally registered with the CKC in 1961, and the kennel was based on their import from Holland.

The Fanciers held their first sanction match in Canada for Chows in September 1961. This took place in Willowdale, Ontario, with an entry of 16 and was attended by new and seasoned owners, with many as a first-time experience and supported by a large gallery of spectators. Group placements at all breed shows were few for Chows during the early years of our breed. MiPao's Prawira, bred and owned by the Odenkirchens, won Best Canadian Bred Puppy in the group at the 1962 Barrie Kennel Club show. As
well, Soeka won Winners Bitch, Best of Breed, and 2nd in the Non-Sporting group at the Ontario County All-Breed show.

October 6, 1963, was the date of the first specialty show held by the Chow Chow Fanciers of Canada at the Air Limousine Building, with thanks to Minnie for securing such a convenient and spacious venue for the club's first specialty. Mr. Ed Holdham opened the show and then acted as emcee for the remainder of the day. With so many novice exhibitors and dogs, the judge, Mr. Whitmore, could have found his task tiring, but he took as much care and thoughtfulness at the end of the day as he had shown on his first class. Mr. Whitmore agreed to comment over the P.A. on placements of each class which was appreciated by exhibitors. The judge's reason for their placements allowed the spectators to understand why he made these decisions.

The following were the awards:
 Best of Breed, Winners Dog, Best of Winners: Nor-Ton's Tinsel Moon, Owner E. Janette Fleming, USA
 Best Opposite Sex: Minhow Miss Sadie Wu, Owner Mrs. M.P. Wiseman, BC
 Best Puppy in Breed: Foo H'Sing's Gimlet, Owner Dr. G.A.E. Snow, ON
 Best American Bred and Owned in Breed: Nor-Ton's Tinsel Moon, Owner E. Janette Fleming, USA
Mrs. I. Blesse established her kennel (Van Rhoeden) in 1962, and her first Chow, a black bitch, was Brubaral Tashaj, from Mr. S. Bailey
---
Statistics 1963
---
42 Chows were competing across Canada. Of these 42, 34 were Canadian-owned, and of the 34, 12 were Canadian-bred. The imported Chows were from England, Holland, and the USA. Chows took 19 group placements in 1963, 6 in Ontario, 5 in BC, 3 in Alberta, 2 in New Brunswick, 2 in Nova Scotia, and 1 in Newfoundland. There is no Best in Shows All Breed or Canadian Bred Puppy in Show for this year.

At the Barrie Kennel Club show in 1964, Mi Pao's Prawira won Best Canadian Bred Puppy in Group, bred and owned by Minnie and Paul Odenkirchen. Jim Campbell, a professional handler in BC, handled Ch. Starcrest Surmount did very well in Western Canada, owned by Mr. and Mrs. A.T. Williams, BC. Surmount's son, Ch. Champad Sinnerman was a black rough owned by Mrs. Jana Griger, AB. Sinnerman was the sire of Dr. Gail Forsythe's first litter and also the grandsire of American Ch. Pendleton's King Arthur, number 1 in the US for several years. Another of the Williams' dogs, Lam-Li's Chung-Ke-Tu, obtained his Confirmation and Obedience titles in 1965. It has not been verified if this was a first in Canadian for our breed.

Currie's Tanya of Marhal C. D. (Canadian and American) was the only Champion Dog dual title Chow in 1965.

Canadian and American Champion Cin-Dee's Man-Dee, owned by Robert and Alice Gram, Fort Erie, ON, completed her Canadian title in 1963 and her American title in 1964. It is believed that Man-Dee was the first female to obtain both championships in over 14
years.

Kin-Chi's Cee-Cee was Best Puppy in Group and placed 3rd in the Non-Sporting Group at the Quebec and Ottawa shows in 1966, owned and bred by Helen and Doug Schwoob.
In 1964, there were 64 shows with a Chow entry, and these shows were held in ON, BC, NB, and QC with an overall entry of 141 Chows, winning 19 Group Placements. One Best Puppy in Show was won by
Ch. Kin-Chi's Tien Tay, owned by Mr. and Mrs. Williams, North Surrey, BC.

Another Group first was taken by Ganti Biroe Allor's You Two (Dutch Import) at St. Catharine's, ON, in 1964, and was owned by Minnie and Paul Odenkirchen. Ch. MiPao's Djoeragen Toean, owned by Helen and Doug Schwoob, ON, and bred by Minnie and Paul Odenkirchen, was the first Canadian-owned and bred Chow to take the Non-Sporting group in many years.

These may seem like small achievements, but in the 1960s, it was a great leap for the breed in the conformation ring leading to more impressive wins such as the following

 June 1967 Ch. Foo H'Sing's Fu Tu took Best in Show All Breeds at the Ontario County Kennel Club Show in Oshawa, ON. This was the first Canadian-bred and owned Chow to win this coveted award in almost 20 years, bred by Madge Wiseman, BC, and owned by Pat and Tony Garwood, ON.
 October 1968 saw the same dog capture this award at the Greenwood Kennel Club All Breed Show in Toronto, ON.

Over the years, many new faces have joined the Chow ranks. Some passed through lightly, some to further the breed and leave their imprint.

During the 1960s and 1970s, our breed benefited when new Chow owners joined the ranks of enthusiasts for the Chow Chow. Regrettably, contact has been lost with some of these pioneers. To mention a few of those who joined us in those days and helped establish the breed, some sadly are no longer with us. Others are fortunate to have the benefit of their expertise still.

During a four-year stay in Toronto, Rose and Neil MacEachern were very involved with Chows since 1963 with the acquisition of Ch. Foo H'Sing's FuWinko as a puppy. In 1975, Neil acted as a sweepstakes judge for our specialty and, under the prefix "Sinkiang", built a line based on Foo H'Sing, and Kin-Chi Chi-Kwang bloodlines, all deeply rooted in English imports. Sinkiang set a record or two in Canada. Ch. Sinkiang's Wu Satu was the youngest Chow to obtain a title under the new point system at eight months. Satu was
Winners Bitch at the 1967 Chow Chow Fanciers of Canada Specialty show. At the same specialty, Satu's two little brothers won Winners Dog and Reserve Winners Dog, respectively, a record not as yet equaled. Satu was Canada's top-winning puppy in 1967. Her dam was top Winning Bitch in 1966. Neil's presidency of the club was the foundation cornerstone of the club.
---
The 1970s
---
Jean and Bev Guy bred Chows in the United Kingdom in the late 60s, and early 1970s. In 1973, the family, Jean, Bev, son Michael, and four Chows relocated to Canada in Brockville, ON. They were very active in conformation. Michael handled his parents' Chows very early and continued until his father's untimely death.

Michael still has three Chows, although he no longer competes. Bev and Chris Decairos organized an outstanding specialty show and annual awards, taking over a motel for the weekend in Gananoque.

Probably the best-known Chow in Canada and the USA was Canadian and American Ch. Mi-Tu's Han Su Shang, who accumulated during his show career the following:
 82 Best in Shows All Breed – Canada / USA
 12 Specialty Shows
 Canada's Top Dog in 1975
 Canada's Top Non-Sporting Dog in 1974, 1975 and 1976
 Top Non-Sporting Dog in the USA in 1976
 Group First in Non-Sporting at the prestigious Westminster Dog Show in New York
 Shang's photo was displayed on the side of Loblaw's grocery trucks and on their brand of dog food in 1976.
 1982 saw Shang become the logo for super dog shows. He was owned by Joan and Herb Williams and Fred Peddie, bred by Pat and Russ Robb, ON.

Dr. Gail Forsythe, AB, purchased a black bitch puppy from Jean Heatherton, USA, called Liontamer Lightheart (Panda), which was the best Chow Puppy in Canada in 1975. The resulting litter established Dr. Forsythe's kennel (Lionheart).
In the early 1980s, a red bitch was purchased from Alice and Larry Thomson of New York, USA. The dog's name, Am & Can Ch Laral's Shawnee, dam of MBIS Am Ch & MBISS MBIS Can Ch Lionheart Warrior #1 Chow 1986. , quickly gained her Canadian title. Changes in her professional career in the 1990s prevented Dr. Forsythe from continuing with Chows until 2018 when Pura Vida Djalo was imported from Minsk. Vida was Top Puppy in Canada in 2018 and quickly gained her Canadian title. Dr. Forsythe is an all-breed dog judge and is one of only two Chow breeder-judges in Canada.

Judith Tulloch, NS, met her first Chow in 1975, a red rough owned by her sister. This was an English import sold at a pet shop in Nova Scotia. Interestingly, this bitch had a gorgeous pedigree and a lot of very prominent English lines on three sides of her pedigree. Only her dam's side was a more "puppy mill" background. She was registered "of Kenstaff". Hanchow Baba Yaga entered Judith's life in 1977, bred by Hanna Kuester, ON, followed by Hanchow Hexe. In 1986, Kantung Bee Chin was purchased from Rose
Besser and this bitch finished her championship quickly, as did two of her puppies. Judith served as President of the National Club during some of the club's formative years.
---
The 1980s
---
Marg and John Schlievert had their first litter in 1982 under the prefix "Dragonslayer Tai". They were mentored by Bev and Jean Guy of Kialin Kennels. In 1992, Marg and John's daughter, Cindy, branched out on her own under the prefix "Tai." This family is still actively breeding and showing.

Suzanne and Harry Stains, Mission BC, entered the world of Chows in 1983, and China Bar Kennels was born. The Stains worked tirelessly for the club, Harry heading up a Breed Standard Committee, mentoring newcomers, and giving ring training lessons even before he retired as a correctional officer. Suzanne was a talented artist who painted all breeds of dogs and beautiful Chow items. Suzanne served in different positions in the club, and together, they were a driving force behind Chow owners, breeders, and exhibitors in BC. Their first Chow was a cream. Harry showed Ch. China Bar Tickle Me Elmo to an impressive show career.

Mrs. Kitty Egan was another breeder in BC who started in 1983 with the prefix "Sevenacres." The Stains and Egans became friends, growing together in their breeding program and show career over the years. Kitty is still showing but not breeding, although this may change.
---
The Smooth Chow
---
Ch. Ciao Close Shave of Wah-Hu, a red male bred by Mary Ann Chambers, USA, owned by Sharon and Bill Doucette, AB, was the first smooth champion in Canada in 1984. They also owned Ch. Ciao Tiny Dancer Foonying, a red bitch bred by Besty Profancik, USA. Pam Schmied bred and showed smooths in western Canada.

Ch. Lioning Gengis Khan was the second smooth to finish his championship in the late 1980s. He was bred by Nancy Meisner and Sam Henning and owned by Judy and Cliff Goucher, ON, from Quinton Kennels. The Gouchers imported a smooth bitch from England named Brosscraft Nigreta in the early 1990s.

Tanlap The Streaker, bred by Sheila Jakeman, England, was imported by Sam Henning and Nancy Meisner in 1986

In 1984, Pat and Russ Robb imported a smooth red bitch from Zola Coogan, USA. The Robb's Mi-Tu's Specialty Smooth, also Mi-Tu's Silky Smooth, and Mi-Tu's Smooth Solitare finished in 1988.

In Quebec, Ola Newton's Oban's Okete Boogie completed its title in 1988. Ch. Tanlap Thought Provoker, a cream male imported from England by Minnie and Paul Odenkirchen, did well in the conformation ring.
---
Fun Day 1982
---
In June, the first Fun Day was held for Ontario Chow Chows. Criscoken Kennels Ballantrae, ON, opened up their grounds to 30 Chows, approximately 70 people, as well as an Old English Sheepdog and three Belgian Sheepdogs.

The event included a beauty contest consisting of 20 categories, such as the most "bear-like expression." All classes were judged by a non-Chowist to ensure an unbiased opinion.

The Chow the judge said she would most like to take home was Pat Robb's English imported puppy, Moonbean, Miminic Kennels. The obstacle course consisted of a slalom course, a tunnel, a ride in a wagon (dog, not handler), several tires, a paddle in a pool, and a doggie-in-the-boot act. Seventeen Chows and owners competed in this event. The fastest time was won by "Chao" taking only 58 seconds to complete the course, owned by Carol and Bert Straus.

Margaret and Frank Crisson hosted a BBQ to end the day. The Falchuks continued the Fun Day for many years.

Bringing this article to a conclusion, here are the comments from the Directors of Canada's National Club, which impressively covers Canada coast to coast. I am only in PEI less than a year but for me, I am in show dog culture shock, haha! Coming from Calgary, we have lots of good dog shows with an average of 400+ entries to 3 shows with an average of 100. But you drive only an hour from any direction
to get there. And no Chows are shown. In fact, I think I have the record for most owned Chows on the island with two. I am not a breeder, unfortunately, but I have exhibited Chows from several top Chow kennels since 1989. I own an old gal and a soon-to-be two-year-old glorious male that I championed in Alberta as a young puppy. I want to show him in the Maritimes next year.

— Judy Watson, PEI Director
In the Maritimes, there has been just me out there in the show world. Next year, I hope to have some competition from Newfoundland. I have to travel anywhere from three to eight hours for shows.

— Joanna Parker, Maritimes Director
As the prairie region is quite large, encompassing three provinces, participation is quite varied, with the majority of activity in Alberta now. We have a couple of very successful breeders in this area who have produced and shown some outstanding Chows, capturing the top female and number two Chow awards in Canada last year and currently holding top male and number two female positions. These breeders, as well as the club members in our area, have been actively promoting the breed and have been encouraging Chow owners to join the Chow Chow Club of Canada and become involved in showing their dogs and promoting the breed we all love. We have one exhibitor from Manitoba who travels throughout the prairies; however, most exhibitors are from Alberta and attend shows within the area, with a few excursions into neighboring provinces, usually not exceeding 500 km.

Participation at the Alberta shows averages 6 – 8, with as many as 11 at the booster we held this summer in Edmonton.

— Brian McGregor, Prairie Region Director
My sincere thanks to Judith Tulloch, Pat Robb, and Dr. Gail Forsythe for their encouragement, support, and research. You contributed time, effort, and so much more. It has been my pleasure to stroll down memory lane with you. Having been born with a Chow under my bed and spending all of my life with the breed, showing, breeding, judging, and sharing my home, it has been important to me that I was able to share a small timeline of our Canadian Chow history. I truly hope someone will continue where I have left off.

— Marguerite Nattrass
Parts of the information for this article have been taken from the Chow Chow Newsletter Canada, published from 1957 to 1966. The period 1916 – 1940 is credited to the late Walter Kenyon from his articles for the newsletter.
---
ADDITIONS/ CORRECTIONS
Dr. Gail Forsythes Laral girl was Am & Can Ch Laral's Shawnee, dam of MBIS Am Ch & MBISS MBIS Can Ch Lionheart Warrior #1 Chow 1986.