CLICK IMAGE BELOW TO VIEW VIDEO IN ANOTHER WINDOW. BE PREPARED TO BE BLOWN AWAY!!!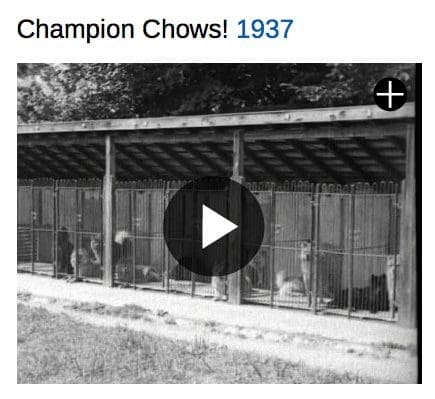 Chalfont St Peter, Buckinghamshire.
Various shots of chow dogs at Mrs. Mannoch's kennels. The adult dogs are seen in cages. Some little puppy Chow Chows are seen walking about the grass and posing for the camera with two women – very cute! The puppies feed from some little bowls.
Several dogs are walked across the lawn on leads. Various shots of a chow being groomed. M/S of numerous silver cups won by one of the dogs from the kennel – Champion Choonam Hung Kwong. Several shots of this prize-winning pooch.
CHOWS FEATURED IN FILM CLIPS AND NEWSREELS
Primo footage of a circa 1930's dog show features a large chow entry.

Find the chows in the 1930's video below at time marker 33. This is fantastic

This circa 1940's flick features "chowtime" in true chow fashion at marker 18-46