Mrs. Bernard Cuthbert of Omar Chows (England) in one of her amazing photoshoots around 1930
Its moments like this that take my breath away as a Chowist, historian, and archivist.  To have this rare opportunity to connect with a family member of a legend in Chow history is an absolute honor. To archive these invaluable records a great responsibility and privilege.  I will let you first read the email below, which I received from the great-grandaughter .   Kate Gemmell was named after the breeder pictured above, (Kate or Mrs Bernard Cuthbert) of the celebrated Omar Chows.  Thank you from the bottom of my heart to Kate and her family for allowing ChowTales to keep this valuable breed history alive!  I will be updating this page with more photos and dates as I find them in my albums.
---
"I'm the great-grandaughter of Kate Cuthbert (Mrs. Bernard Cuthbert), the 20th century English chow breeder (

Omar

chows). We spoke a few years ago. I've finally got round to going through all our family photos and history and I've got a few pictures here I thought you might like.
The man is her eldest son Bernie (short for Bernard, he was named after his father) and the baby is her other son, Don (22 years between her children!). Don was my grandfather, and I saw on your site you have a picture of him with a chow around his neck (bottom of the article).
The woman is Don's wife, (my grandmother) Pauline. And then there's a scan of a newspaper cutting we have. When I come across any more pictures of the chows I'll send them to you, I know there is an album at my mum's house with some more pictures in.

THIS ARTICLE BELOW SUPPLIED BY KATE GEMMELL IS VERY INTERESTING!  CAN YOU IMAGINE PRODUCING 400 PUPPIES IN 2 YEARS TIME?
This was fairly commonplace in those days for successful show kennels to have that kind of demand for their stock.  From the newspaper and dog magazine ads, I am guessing that Omar Chows was active from the mid 1920's, well into the 1950's.  I am not quite certain yet when the kennel was dispersed but what an incredible legacy for this family and our beloved Chow breed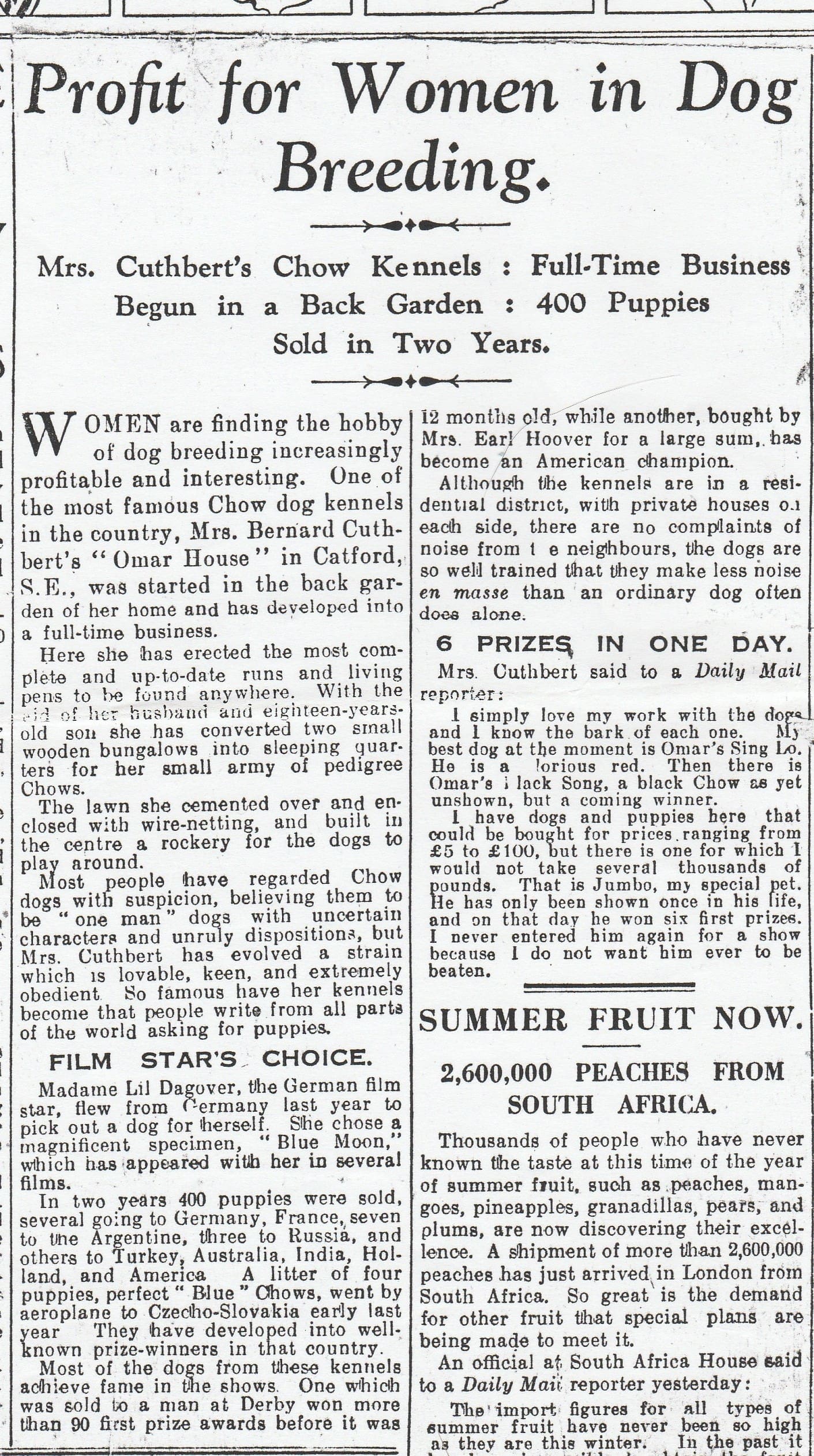 BELOW ARE 4 PHOTOS IN MY OWN PRIVATE COLLECTION OF THE GERMAN ACTRESS LIL DAGOVER, TO WHOM MRS. CUTHBERT SOLD HER CHOW "BLUE MOON" .  I WONDER WHICH ONE HE IS IN THE PHOTOS AND WHAT WERE THE MOVIES THAT "BLUE MOON" APPEARED IN?  I'M ON THE SEARCH!
---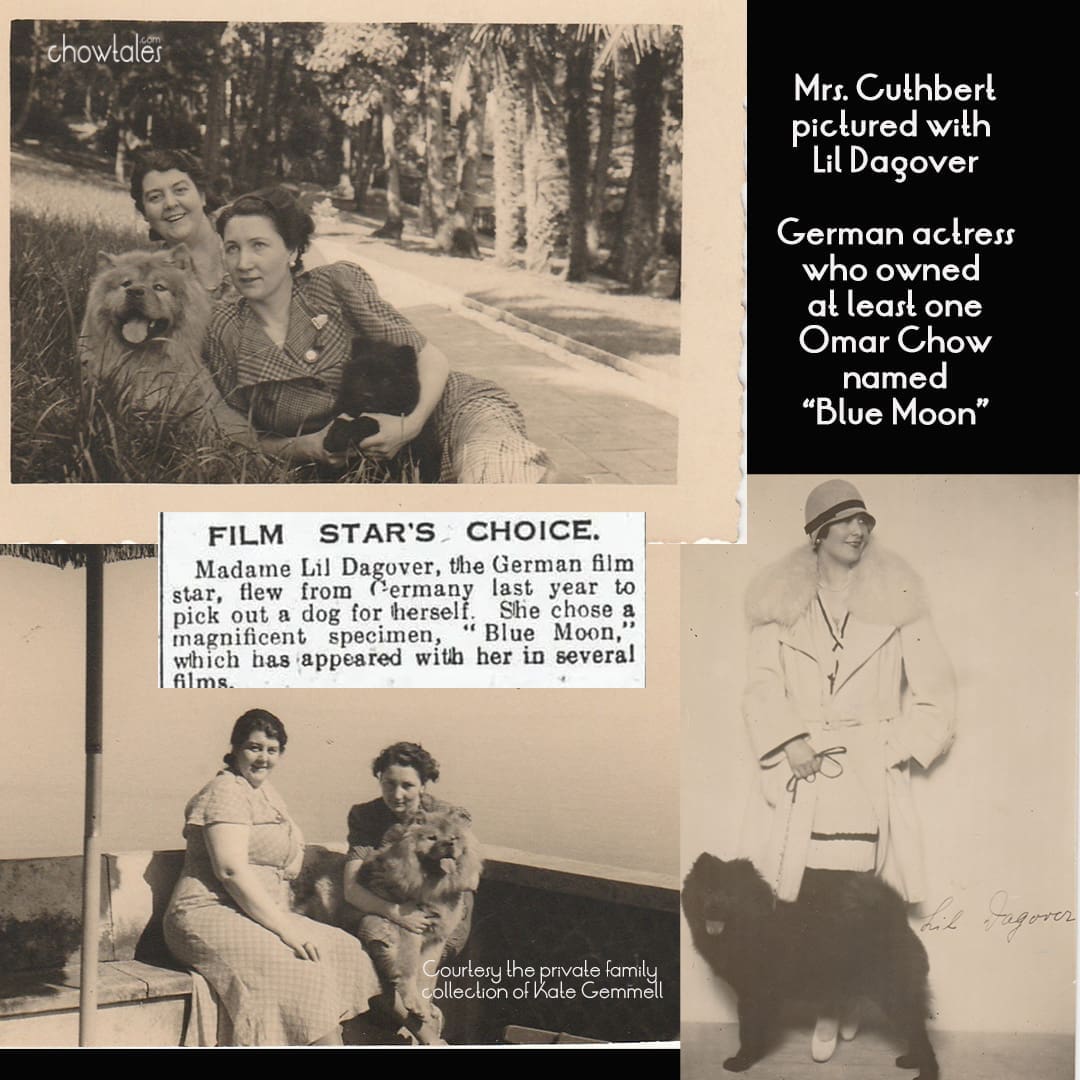 1930 NEWSPAPER SNIPPET BELOW AND FAMILY PHOTOS ABOVE SUPPLIED BY KATE GEMMELL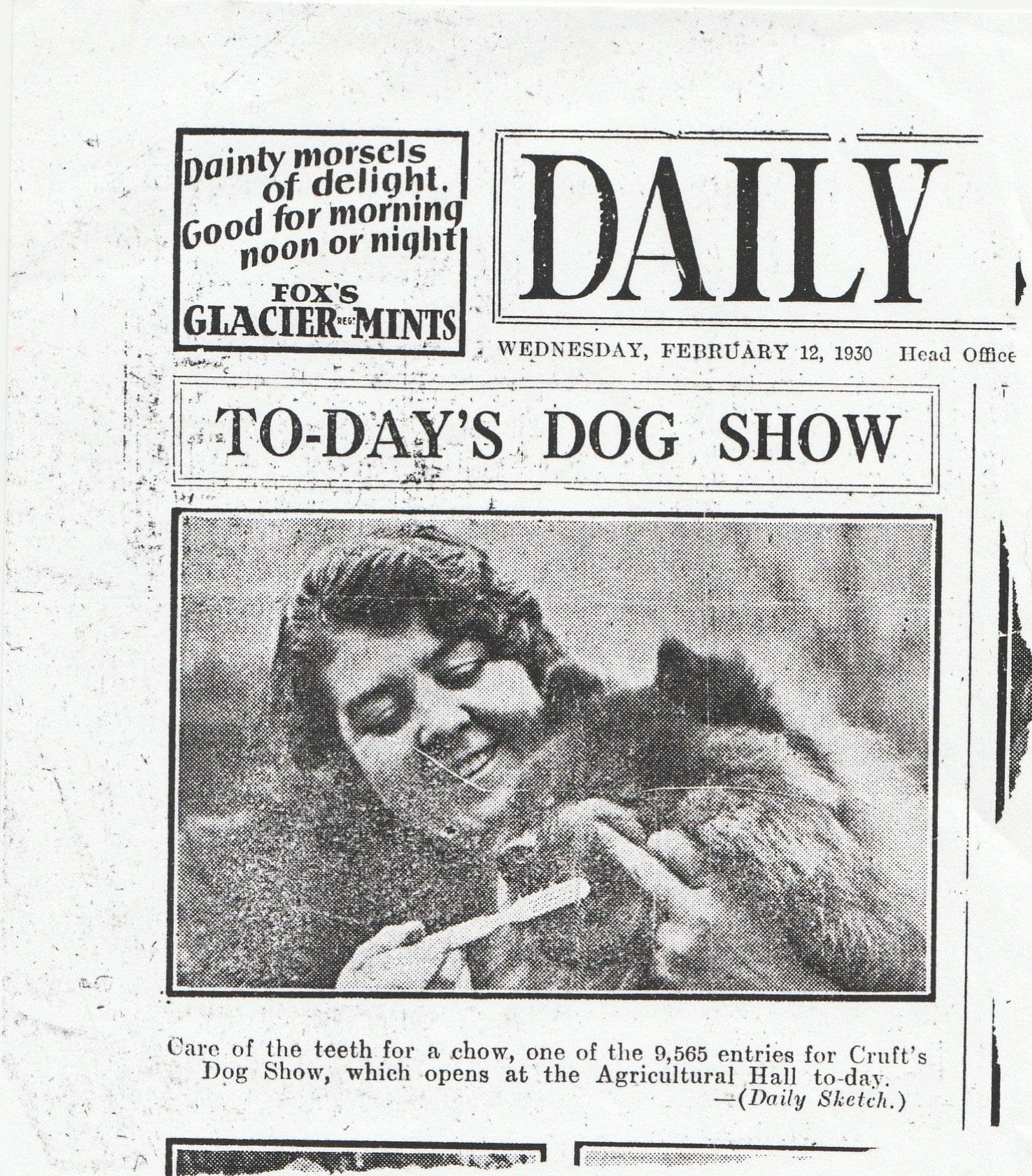 ---
BELOW ARE ADVERTISEMENTS AND ARTICLES FROM MY OWN COLLECTION  (SANDRA MILLER) WHICH HELP BRING MORE CONTEXT TO THE OMAR CHOWS SAGA
Click images to view larger
ABOVE IS "DON". KATE GEMMELLS GRANDFATHER