This is one of those fun unexpected surprises that came a few weeks ago as I was scanning in a few new images from my personal collection. This little 2×3″ photo from the 1920's packed a lot of information in a very small space.
This was just a random estate sale photo from California that I purchased because…of course it had a chow in it! It was faded and yellow so I worked on restoring the details and the wording on the building piqued my curiosity. The researcher came out in me and I was off and running!!
To make a long story short, I am quite sure this is Llewellyn George, Founder and author of todays Llewellyn Worldwide.
SOURCE:  THE LLEWELLYN WORLDWIDE WEBSITE:
"Llewellyn George started his publishing company in Portland, Oregon in 1901. At first, the company concentrated exclusively on Astrology, in the form of both books and annuals.
Later, Llewellyn began to branch out into other New Age topics, such as alternative health and healing, psychic development, and earth-centered religions, among others. Llewellyn Publications grew steadily and was moved from Portland to Los Angeles, California in 1920. Owner and founder Llewellyn George passed away in 1954.
A new era at Llewellyn Publications commenced in 1961, the year Carl L. Weschcke of St. Paul, Minnesota purchased the company and relocated it to the Midwest.
SANDRAS NOTE: Ironic that I lived the longest spans of time in the states mentioned…Minnesota, Oregon , and California.
THE PHOTOS ABOVE AND BELOW ARE FROM A HISTORY TRIBUTE TO GEORGE LLEWELLYN
The photo below is most certainly the same building my estate sale photo was taken in front of.  You can even see the arched door at the corner that the two men and chow are standing in front of with the signs in the background. ….what a find!!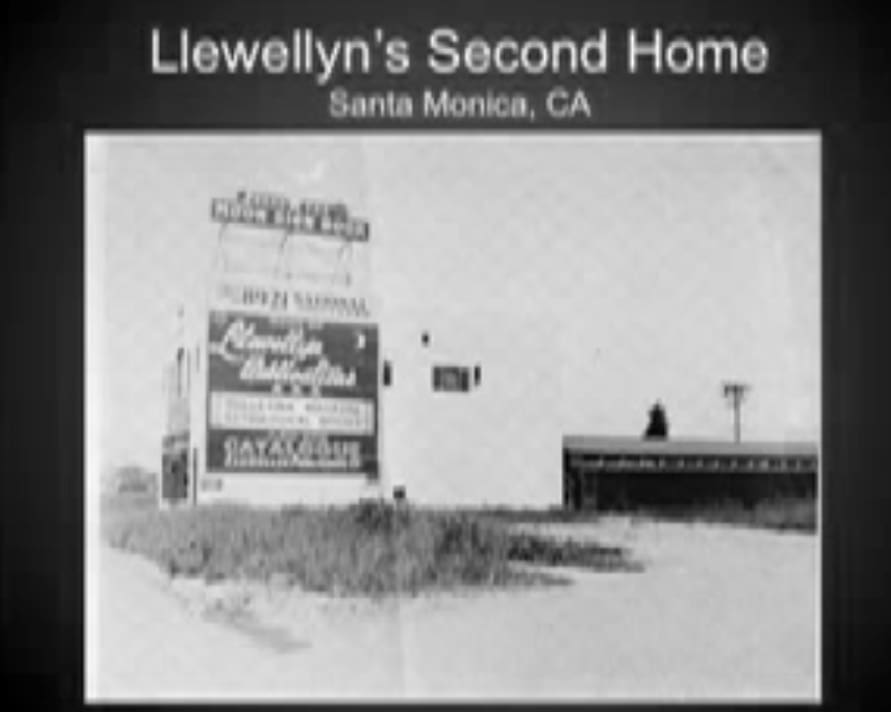 AND LAST BUT NOT LEAST..THE RESTORED IMAGE CROPPED TO SHOW A NICE CLOSEUP OF THE CHOW AND LLEWELLYN GEORGE