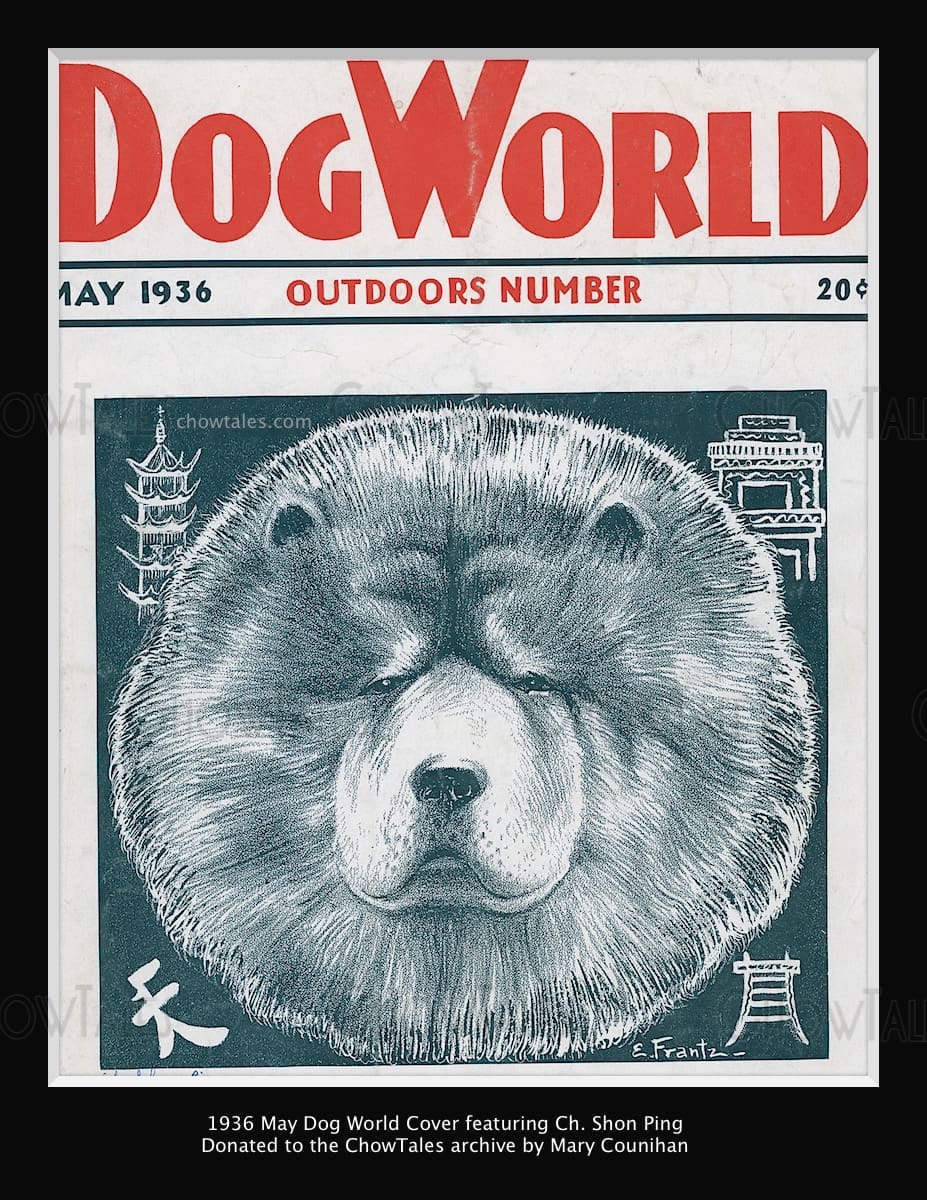 How I love these random contacts from family members of famous old time Chow breeders!   Cheryl Poliak emailed me at the suggestion of Vicki De Gruy of the CHOW CHOW CLUB INC., to pass on these photos and information she had of her great grandfather Perry Williams and his famous Shon-Ping Chow Kennels. As luck would have it I immediately remembered the name "Shon Ping" from a gorgeous Dog World cover 1936 (above) and I was off and running to find more info on his dogs.  Shon Ping had a long and successful career and from the clippings I found ,sounds to have had some wonderful obedience skills. A rarity in the 1930s!
BELOW IS CHERYLS EMAIL TO ME REGARDING HER FAMILY FINDS. THANK YOU SO MUCH TO CHERYL AND HER  MOM FOR SHARING THESE SPECIAL TREASURES WITH THE CHOW WORLD!!
PHOTO OF CHERYL'S MOM AS A TODDLER WITH THE FAMOUS CHOW, CH. SHON PING
My great-grandfather, Perry Williams, raised and showed Chows in the 1930s and 40s. I do not have a lot of information, because he passed away in 1977 and I didn't even find out about his showing until I became active in showing in the 1980s.
What little I know is what my mother told me after my grandfather passed away. My grandfather had inherited his parents' lake cottage, and when he passed away we found the memorabilia in the attic.  That is when my mother told me about the Chows. My mom had been very young while my great-grandfather raised his Chows. So she does not remember a lot.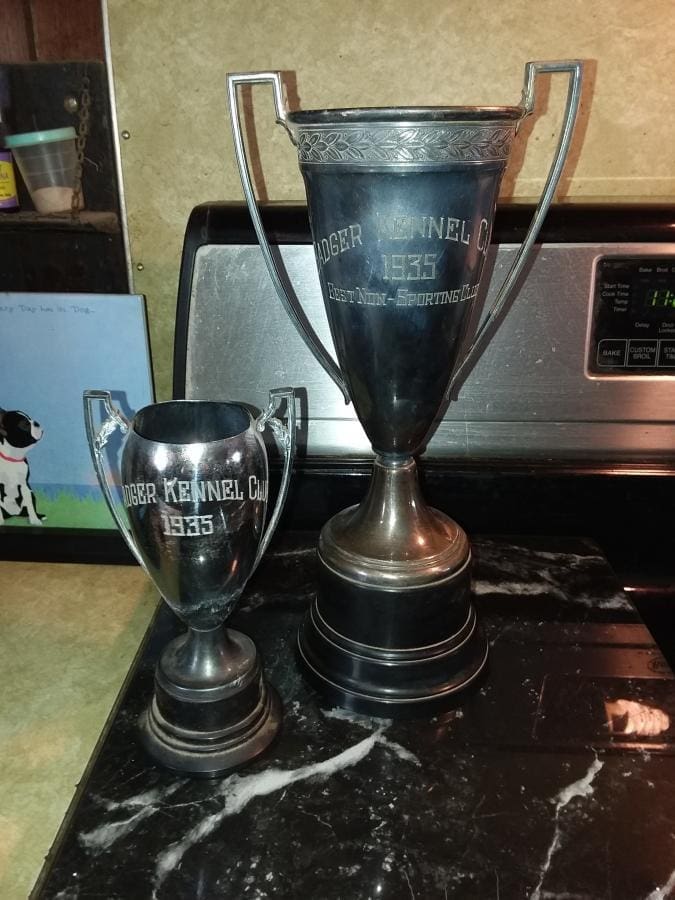 He started out in Milwaukee with the  Chows. They moved to Indianapolis to open a restaurant and still raise them there. That was in the 1940s. My mom said when the family would visit them, she and her sister would be put in the yard with the Chows, and the Chows would babysit them and protect them. Who knows, that is a memory of a toddler.
All I know is that at some point, he imported two Chows from China that he showed. His special one was a male named Ch Shon Ping that he named his kennel name after. The female was named Lulu Belle. That is all my mom remembers.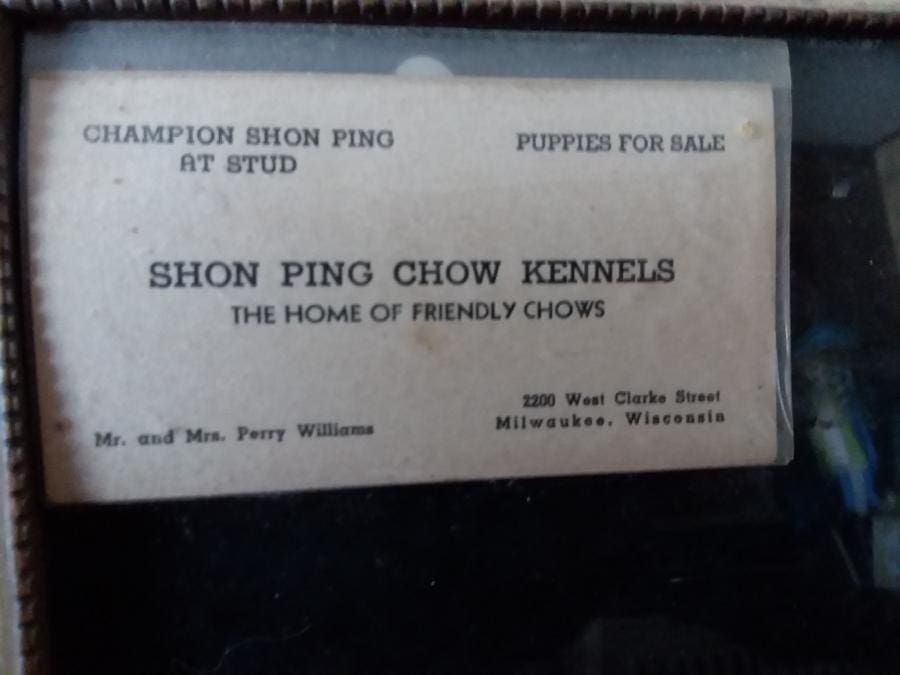 The photo I attached is labeled Shon Ping and that is my mother at 2 years old about. She was born in 1942. So I am guessing Shon Ping must have been quite old in that photo.  I had found a scrapbook with rosettes and ribbons in. Some were even from Westminster and there were group placing ribbons. But they were just plain too old and basically disintegrated.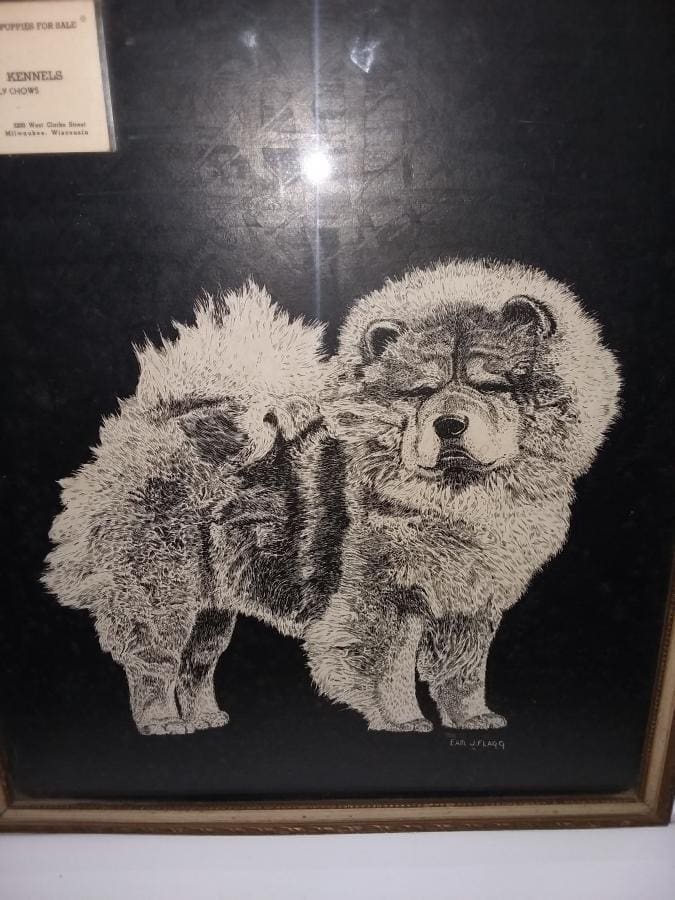 ---
---
---
BELOW ARE SNIPPETS I HAD IN THE CHOWTALES ARCHIVES ABOUT SHON PING . APPARENTLY HE WAS QUITE THE OBEDIENCE CHOW IN AN ERA WHERE THAT WAS NOT AT ALL COMMON
1937 NEWSCLIPPING -CHOW NATIONAL SPECIALTY- SHON PING BEING SHOWN WITHOUT LEAD