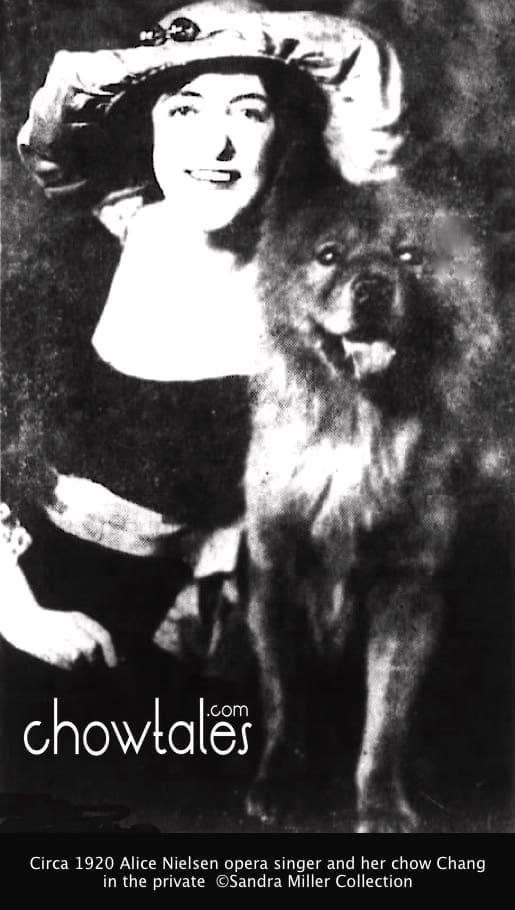 ---
BELOW IS A GREAT MENTION OF ALICE NIELSEN'S CHOW.
SOURCE: Alice Nielsen and the Gayety of Nations By Dall Wilson
I'm not certain if the dog in the photo above is the same  as book article below, as the photo  is dated 1920 and the article below shows 1912.  I have a feeling these are 2 different chows   that Alice Nielsen owned.
---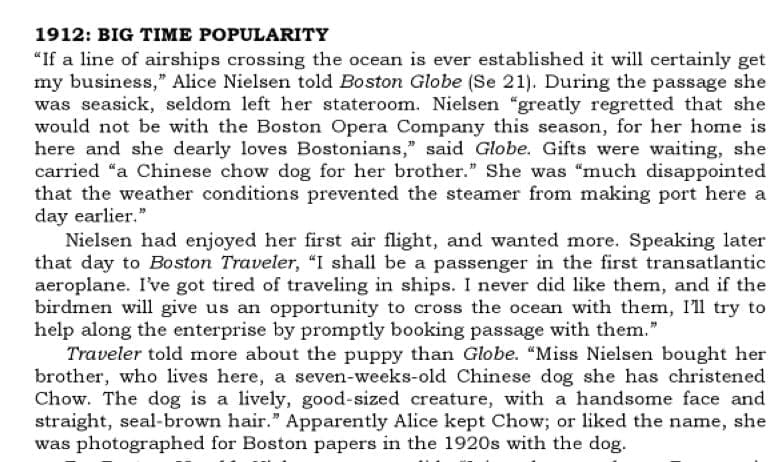 ALICE NIELSEN BIOGRAPHY
Alice Nielsen,  (born June 7, 1868?, Nashville, Tenn., U.S.—died March 8, 1943, New York, N.Y.),  American lyric soprano whose successful career in light opera was followed by a second one in grand opera.
Nielsen's first opera experience was in a touring production in 1886 of The Mikado by W.S. Gilbert and Arthur Sullivan. In 1896 Nielsen won a position with the Bostonians, a leading light opera company, and eventually won the female lead in Reginald De Koven's Robin Hood. In 1897 she formed the Alice Nielsen Comic Opera Company. Her greatest successes with her own company were Victor Herbert's The Fortune Teller (1898) and The Singing Girl (1899), both written for her.
From 1901 to 1903 Nielsen studied in Rome; she began singing lead roles in operas by composers such as Gioachino Rossini and Giuseppe Verdi. In 1909, after two successful tours of the United States, Nielsen joined the Boston Opera Company, with which she remained for five years. She continued to sing professionally until 1923
---
BELOW NOTE ALICE NIELSEN'S DOGS FULL NAME AND THAT HE WAS A CHAMPION
---