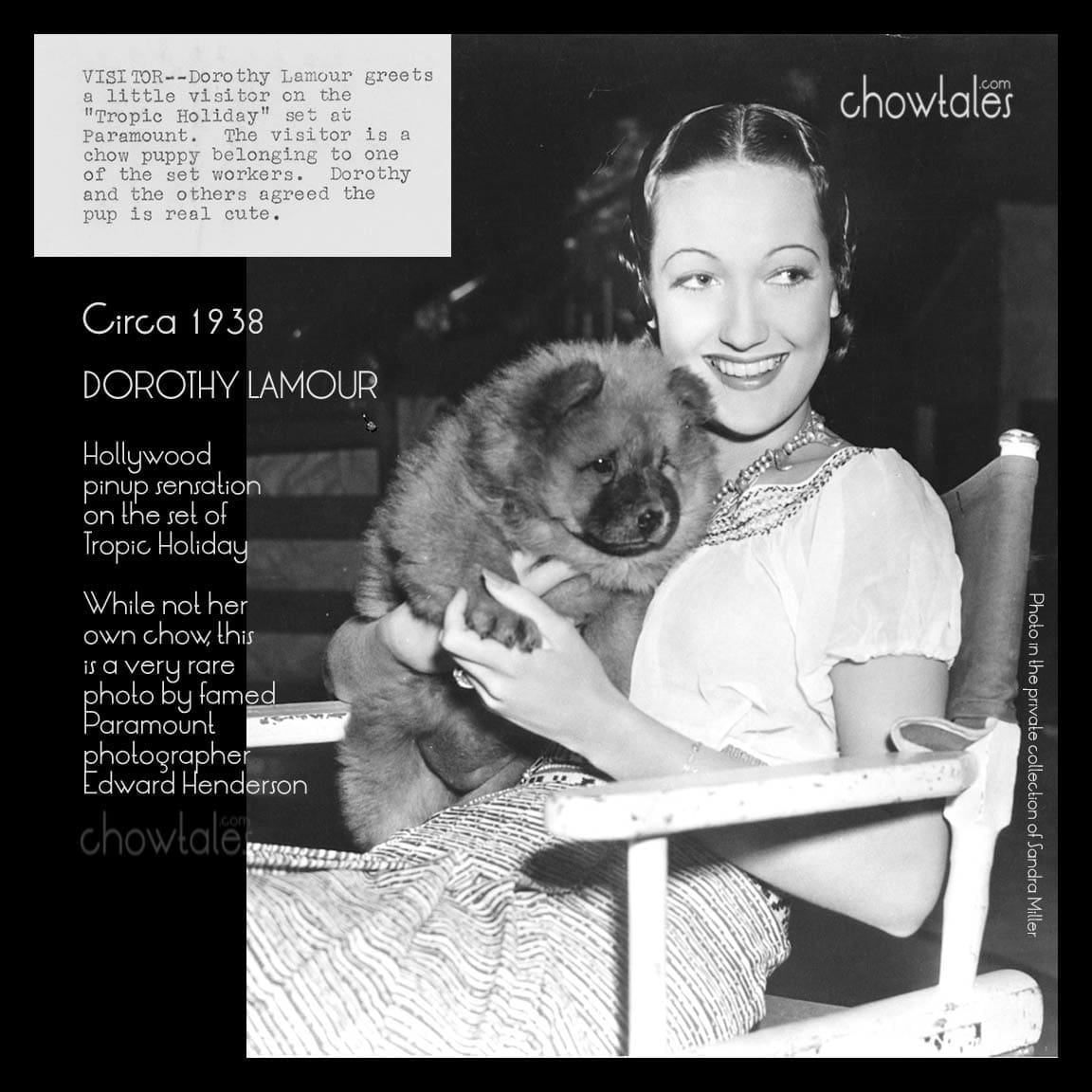 What an amazing and rare chow photo  featuring the star of the "Road to " series of films with Bob Hope and Bing Crosby.  This unique original 8×10 studio photo is in my own private collection.
---
Dorothy Lamour  I940
---
Few Golden Age actresses looked better in a sarong than Dorothy Lamour, but the New Orleans native had more to offer the entertainment world than just her striking multinational beauty. She began her entertainment career as a singer and it was in that capacity that she first attracted the attention of Hollywood. Lamour found early fame in the adventure yarns "The Jungle Princess" (1936) and "The Hurricane" (1937), and proved to be an appealing romantic interest for Bob Hope and Bing Crosby in "Road to Singapore" (1940). The success of the latter launched a popular series of "Road" movies and Lamour soon found herself known as "The Sarong Girl," even though she only sported one in six of her more than 50 films.
---
---
During World War II, Lamour was among the most popular pinup girls among American servicemen, along with Betty Grable, Rita Hayworth, Lana Turner, and Veronica Lake. Lamour was also known for her volunteer work, selling war bonds during tours in which movie stars would travel the country selling U.S. government bonds to the public. Lamour reportedly sold $300 million worth of bonds earning her the nickname "The Bombshell of Bombs." She also volunteered at the Hollywood Canteen where she would dance and talk to soldiers. In 1965, Lamour was awarded a belated citation from the United States Department of the Treasury for her war bond sales
---