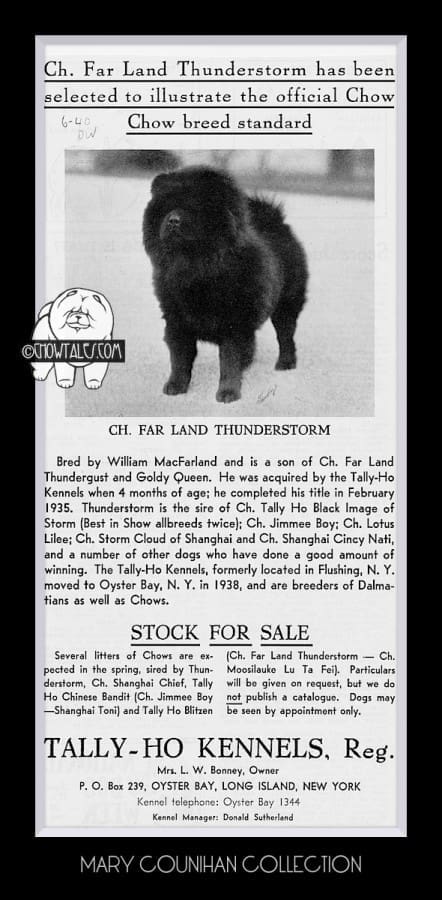 What a red letter day it was yesterday when a surprise package arrived in the mail from long time chowist Mary Counihan.  Lo and behold a large priority mail box packed to the gills with historical chow ephemera, articles, photographs….you name it!!!    I was like a kid in a candy store.  As I excitedly paged through this time capsule full of precious treasures, I kept saying to my husband….. OOOOOH Steve look at  THIS…OMG Steve look at THIS over each item.
Among the standouts in the lot was something I had been searching for with no luck for months.   I have been wondering who may have modeled for any of the chow standards other than the known first 1906  AKC Standard which was CHOW VIII.    To my shock…here in black and white from the pages of Dog World, circa 1940 was an advertisement by Tally -Ho Chow kennels stating
CH. FAR LAND THUNDERSTORM HAS BEEN SELECTED TO ILLUSTRATED THE OFFICIAL CHOW CHOW BREED STANDARD
Interestingly enough, this 1941 STANDARD revision of the  previous 1925 STANDARD  ,omitted the smooth coated chow, which was later added back in during the 1986 STANDARD rewrite

BELOW WAS PART OF THE DOGWORLD PAGE ATTACHED TO THE ADVERTISEMENT
Words cannot express my gratitude for this incredible surprise gift Mary. Thank you on behalf of myself, Chowtales, and the Chow community for your generous donation to these historical archives.  You  can be sure each and every  morsel of this package will be carefully preserved both for the public as well as for  the future in archival storage.   I'm overwhelmed!