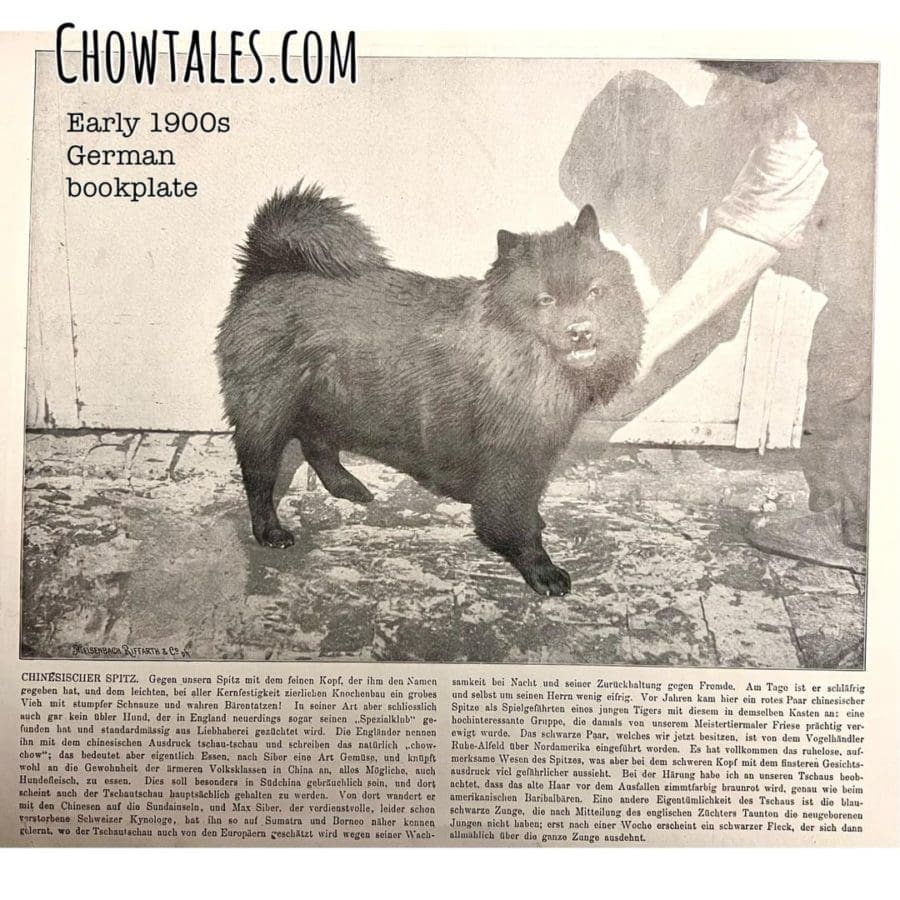 This late 1800s German bookplate shows a wonderful example of a very early Chinese chow. Thank you to Sandra Lindberg (a friend in Chinese Shar-Pei history circles) for the translation and to all those who generously offered to help !
This is such a very interesting article which had no date on the pages but Sandra's translation pointed to the England Chow club being recently formed which I added in parentheses as 1895. Enjoy!!!!
---
TRANSLATION BELOW by Sandra Lindberg
---
As the German is already a little "stiff", the translation probably does reflect that ;):
CHINESE SPITZ
Compared to our fine-headed Spitz with delicate yet sturdy bone structure, this rough animal with a blunt snout and true bear paws is quite different. However, in its own way, it is not a bad dog, and recently in England, it has even gained its "special club" (est. 1895) and is bred as a standard by enthusiasts. The English call it the Chow Chow with the Chinese expression "Tschau Tschau", and spell it as "Chow-Chow"; but it actually means food, according to Siber some kind of vegetables, and probably refers to the habit of poorer classes in China, who eat all kinds of things, including dog meat.
This is particularly common in southern China, where the Chow Chow seems to have been mainly kept. From there, it migrates with the Chinese to the Sundanese islands, and Max Siber, the meritorious, unfortunately already deceased Swiss cynologist, got to know him better on Sumatra and Borneo, where the Chow Chow is also appreciated by Europeans for its vigilance at night and its restraint towards strangers. During the day, it is drowsy and not very active even around its owner.
Years ago, a red pair of Chinese Spitzes arrived here in the same box as a young tiger, as playmates. It was a highly interesting group that was magnificently immortalized by our master animal painter Friese at the time. The black pair that we currently own was imported by bird trader Ruhe-Alfeld via North America. It has the same restless, attentive nature as the Spitz, but looks much more dangerous with its heavy head and grim expression.
When shedding, I observed on our Chow Chows that the old hair turns cinnamon brown-red before falling out, just like with the American Baribal bear. Another characteristic of the Chow Chow is its blue-black tongue, which, according to English breeder Taunton, newborn puppies do not have; a black spot only appears after a week, which then gradually spreads over the entire tongue.