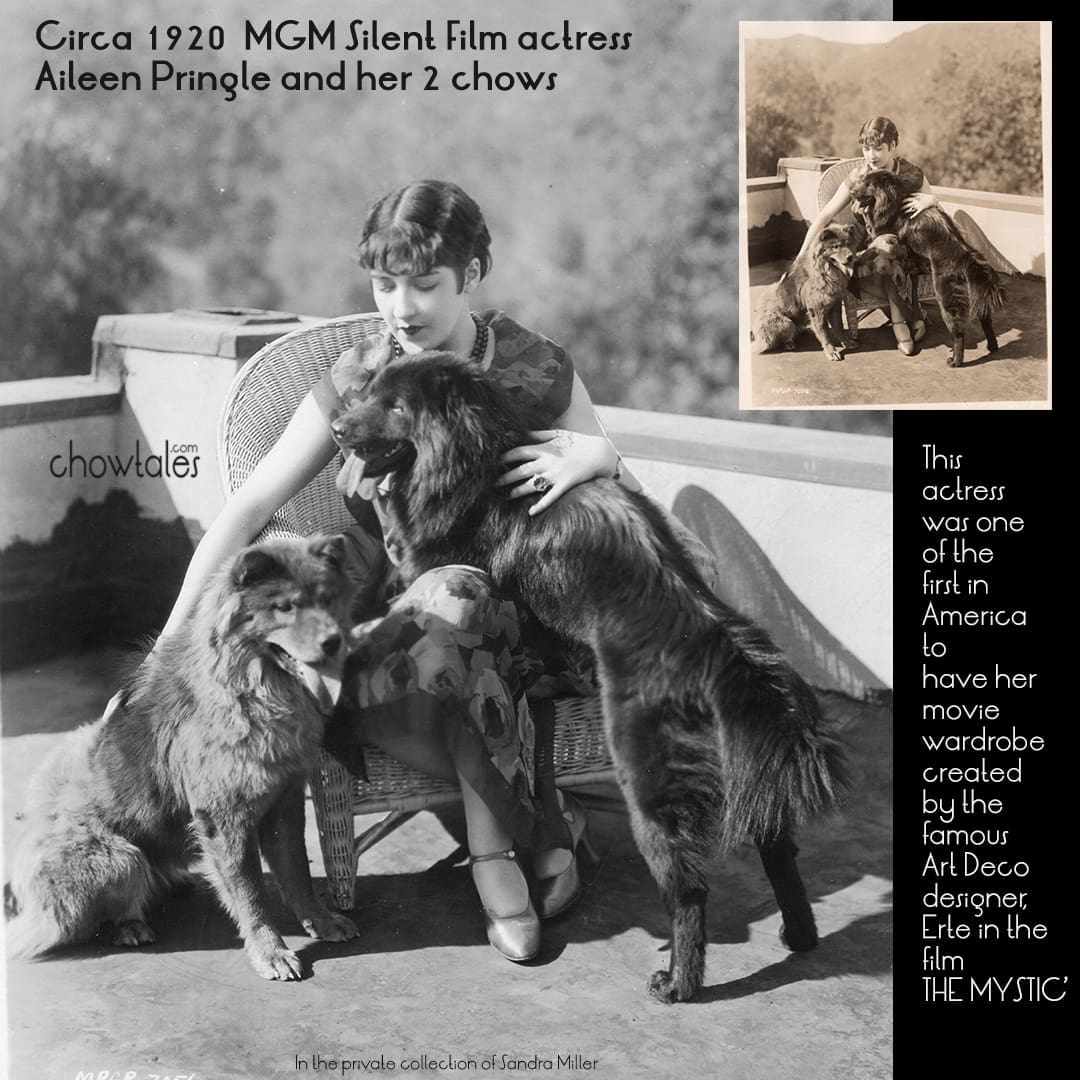 What an amazing photo this is featuring silent film star Aileen Pringle (1895-1989) and her two chows.  On the back of this photo reads:    "AILEEN'S PETS- Aileen Pringle, Metro-Goldwyn-Mayer' player, with her two pet chows.  Miss Pringle has owned both of them from since they were puppies" . They were photographed at the actress's home with a picturesque rolling hills landscape in the background.    I am still looking through the AKC stud books to see if I can find the breeder of these two lovely chows.  I have a hunch they may have come from the famous chow breeder and silent movie actor/director E.K. Lincoln. 
This image is one of the most treasured in my private collection because it represents so many facets of my love of chows, art, and history and the silent film era.  When I saw this original 8×10 Metro Goldwyn Mayer publicity photo was available I knew exactly who the silent film actress was as well as her connection to one of my favorite artists and designers,  Erte'.   Erte' designed  Aileen Pringles' costumes for the silent film  The Mystic 1925.  You can find the movie HERE if you would like to see Aileen and her amazing wardrobe in action. I certainly have!!!   I HAD to have this photo and am so glad the bidding didn't get too out of control!!!
Center is silent film star Aileen Pringle posing with (left) the father of Art Deco , designer Erte' (Romain de Tirtoff)
"The Russian-born, Paris-based artist Erté (Romain de Tirtoff – 1892-1990) is best known for his fashion created in his signature ART DECO style, and theater designs of the 1910s and 1920s. From 1915 to 1936 Erté was associated with Harper's Bazar, furnishing readers with fashion designs, cover art, and word-pictures of the European fashion scenes."  (from "Designs by Erte" book)
Above: Aileen Pringle as "the MYSTIC" 1925 silent film.  Costumed by the famous designer Erte'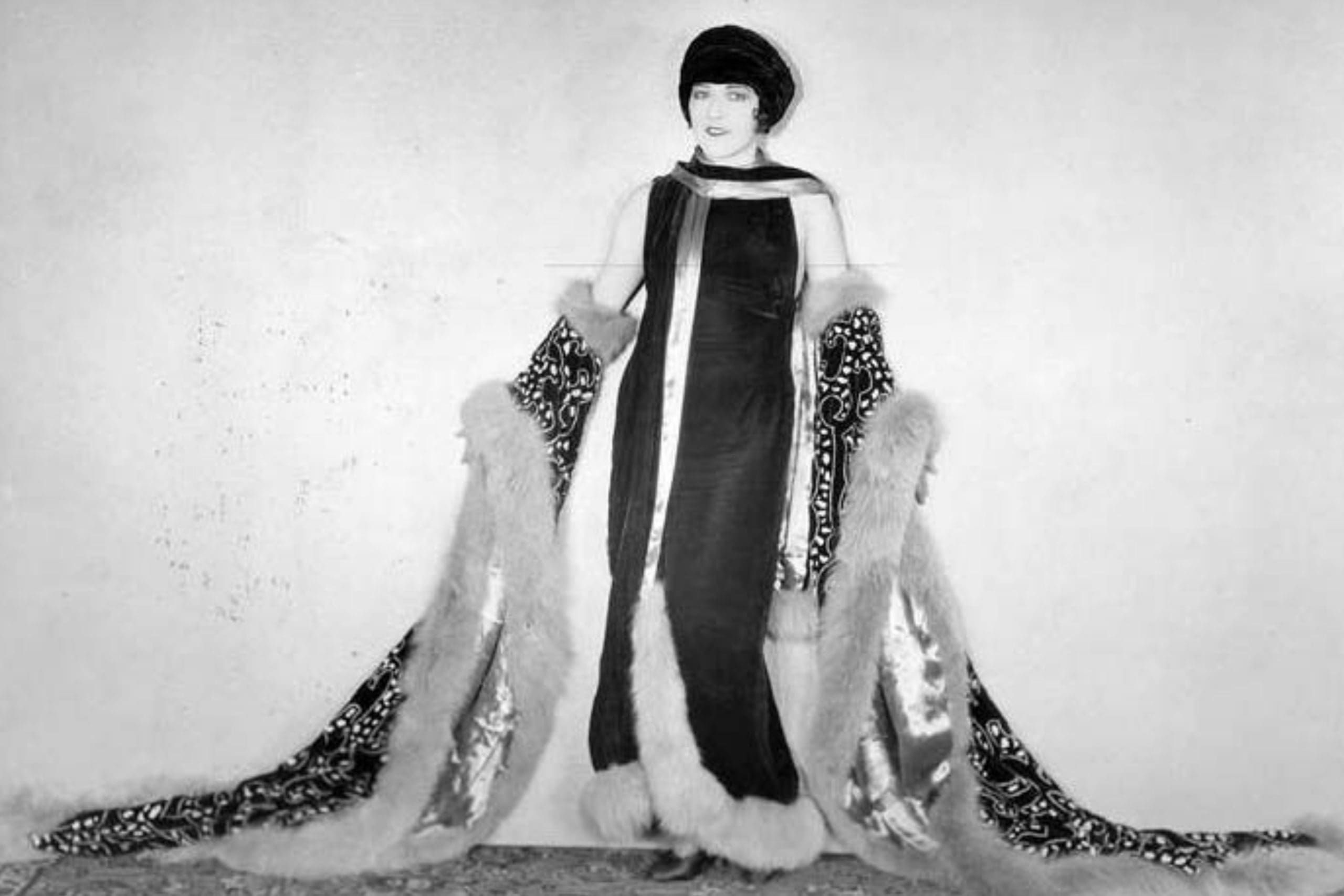 Above: another infamous gown designed by Erte for the silent movie The Mystic starring Aileen Pringle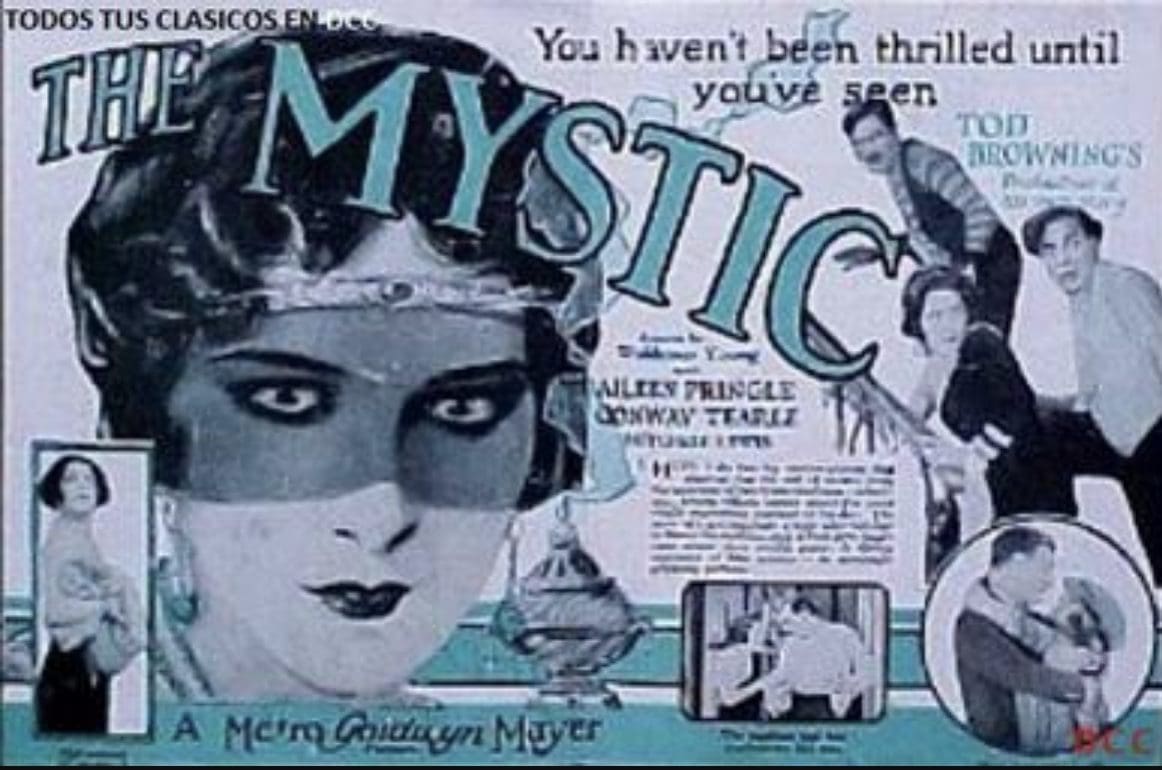 Above is the movie poster from The Mystic silent film  1925
---
Now let me tell you about how I have had an OBSESSION with the designer Erte' ever since I was a teenager.  His signature "Art Deco" style (he's known as the father of art deco) was a huge influence on my artwork over the years.  I even did a linoleum block print years ago featuring an art deco woman with her chow.  (see below).   At one point I took apart an inexpensive book of his black and white fashion illustrations to put in simple frames and cover my bathroom walls.   I painted the bathroom black and silver.  I learned from Erte how keeping things simple can sometimes be the most complex and challenging to create.  To this day when I create my illustrations, I think of his magazine covers and magical touch as I work.  Learn much more about Russian born, French artist/designer  Erte'  (Romain de Tirtoff) at THIS LINK
BELOW is the carved linoleum block I created in an art deco style.  The block is 11×14 and doesn't look like much but from it I produced  a very small edition of black and white hand pulled prints
---
Below find a sampling of Erte's work from illustration and fashion design to sculpture and magazine covers, which I did a screenshot from a Pinterest search.