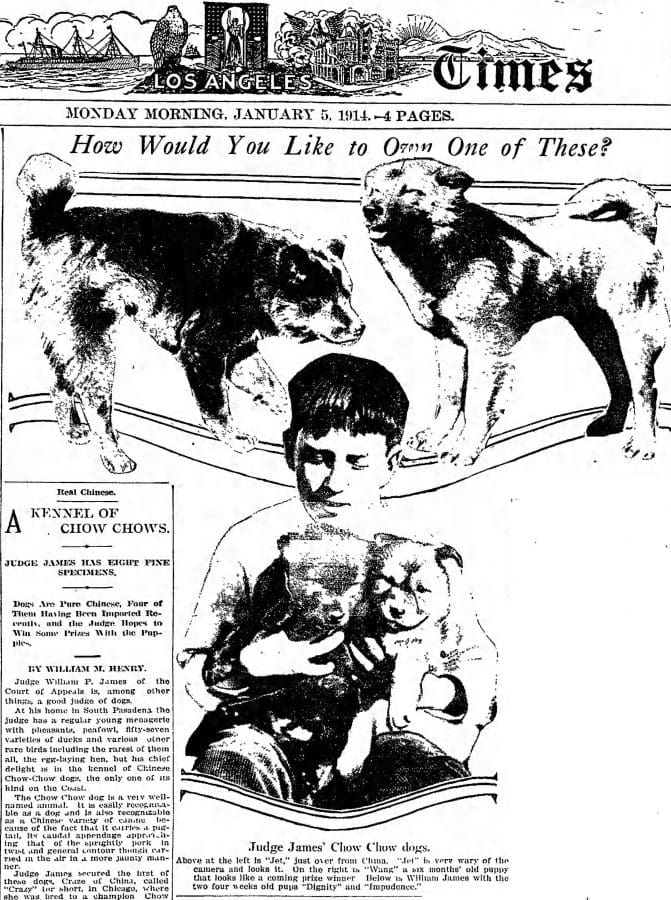 This 1914 article from the Los Angeles times is really interesting in  the number of imports the Judge brought from China during a time when the chow was rarely seen on the west coast, in fact the article states the judge had the ONLY kennel of chows on the west coast.  Most chows in these early years of the breed in America were located on the east coast in New York , Rhode Island…a couple in Pennsylvania.
After a bit or research I discovered that Judge James ended up 9 years following this article,  serving on the Southern California district court.   (details below the article)
---
---
SOURCE :WIKIPEDIA
William P. James (January 10, 1870 – July 28, 1940) was a United States federal judge.
Born in Buffalo, New York, James began his career in private practice in Los Angeles, California. He was a judge on the Superior Court of Los Angeles County, California from 1905 to 1910, and on the California Court of Appeals from 1910 to 1923.
On March 2, 1923, James was nominated by President Warren G. Harding to a new seat on the United States District Court for the Southern District of California created by 42 Stat. 837. He was confirmed by the United States Senate on March 3, 1923, and received his commission the same day. James served in that capacity until his death, in 1940.
Save
Save
Save
Save