---

Below you will find articles from  my personal collection discovered in  a variety of all breed
BRITISH MAGAZINES AND NEWSPAPERS DATED AFTER 1931
---
1936 HUTCHINSON'S DOG ENCYCLOPEDIA
Hutchinsons Dog Encyclopaedia was at the end published in 52 Parts. magazines were produced in alphabetical order and each magazine featured two or three breeds of dogs…Part 9 being the chow edition. Each magazine has a full color artwork print in the front with a short paragraph on the rear about the particular breed which was intended to be removed and framed.
---
1942 DOG WORLD – WESTWOOD ARTICLE
The great Westwood Kennel of Chows featuring a group shot and smooths
---
1946 OUR DOGS XMAS ISSUE CHOWS
6 pages of chows in this special Christmas issue feature.  A must read!
---
1947 OUR DOGS XMAS ISSUE CHOWS
9 pages of Chows in this Xmas issue feature of OUR DOGS
---
1948 OUR DOGS XMAS ISSUE CHOWS
2 pages of Chows in this Xmas issue feature of OUR DOGS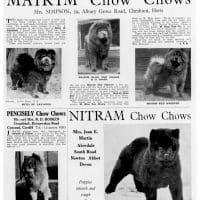 ---
1949 OUR DOGS XMAS ISSUE CHOWS
4 pages of Chows in this Xmas issue feature of OUR DOGS