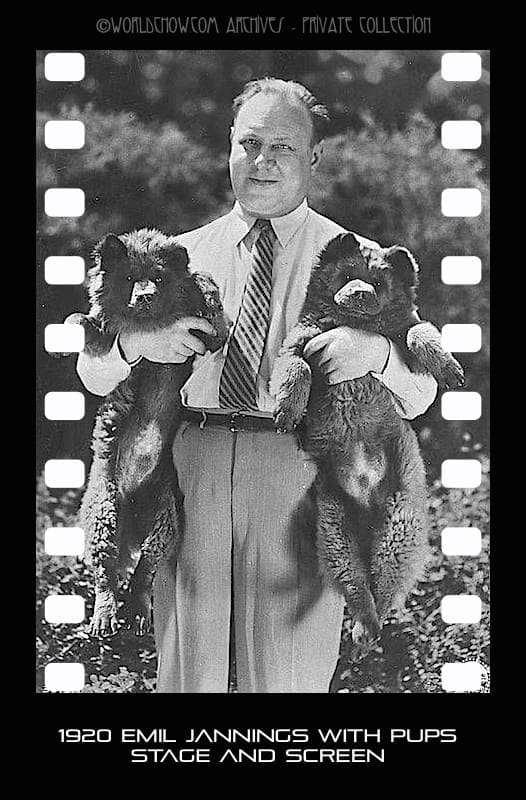 I'm so glad I sat on writing about this actor for a while because recently I found an incredible treasury of photos in an online archive depicting Emil Jannings at home with his chows and family in Austria. What could have been a post with just one photo of unknown puppies with the actor turned into a photo essay of the passion this man had for the breed the press described as his "Polar Chow Dogs".  The only other chowist I know besides myself who has a copy of this photo above in their collection, is Mary Counihan, a Chowtales contributor.
PHOTO SOURCE FOR THE 5 IMAGES BELOW…CLICK HERE TO SEE IMAGES LARGER  AT THE PALLAS WEBSITE
Emil Jannings (23 July 1884 – 2 January 1950) was a Swiss-born German/Austrian actor and the very first actor to win the Academy Award for Best Actor.  Back then, actors received one Oscar for multiple films and Jannings won for The Way of All Flesh (1927) and The Last Command (1928). The Award is exhibited in the Berlin Film Museum.
BELOW IS A SNIPPET REFERRING TO ONE OF EMIL JANNING' CHOWS BY NAME "GILGI"


 BELOW IS AN INTERESTING SNIPPET REFERRING TO THE JANNINGS GIVING GRETA GARBO A CHOW

BELOW ANOTHER REFERENCE TO THE JANNINGS GIVING CHOWS AWAY AS FAREWELL GIFTS TO FRIENDS