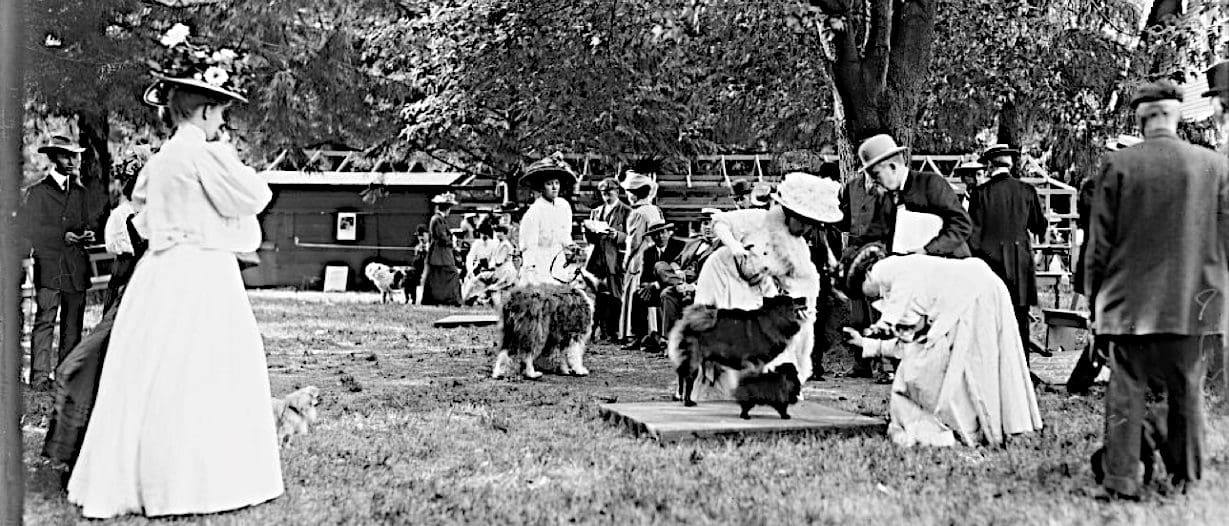 ABOVE IS A RARE PHOTO OF CHOW AND POMERANIAN JUDGING  IN THE EARLY 1900'S AT THE MINEOLA DOG SHOW IN NEW YORK
Below you will find a timeline I created of the earliest chows, breeders and importers in America .  The first 3 entries show some conflicting information  as to who the first chows shown might have been.  My research in antique publications, AKC, and newspaper records have produced different results so I put them all here for  here for you read along with my personal research notes.
Following the outline are actual clippings of the earliest stud book entries and winners from the AKC Gazette through 1906 when the Chow Chow Club  of America was formed.  This has been a wild and crazy labor of love tracking all this info down and trying to make sense of it!      I have more to add to this page so stay tuned!!!

1880-1899
1880    LAGER BEER was supposedly the first chow shown at the  4th annual Westminster KC – CURATOR NOTE: (from

an article by Charles G. Hopton early breeder/exhibitor/judge)

1883  

CURATOR NOTE:  First year a chow was entered at the Westminster KC according to Westminster history on their site…no name given and I'm still searching



1890   TAKYA  was the first Chow Chow exhibited in America (after Lager Beer?), by a Miss A. C. Derby. Takya took third place at the Westminster Kennel Club show that year
1896    Westminster KC (from New York Times clipping) Mrs. J. L.  Kernochan's Chinese dog "CHOW CHOW"  wins 3rd place   CLICK FOR  NEWSCLIPPING

1896  A chow named COLUMBUS shows in the Miscellaneous class owned by Charles J. Wohlander, SanFrancisco winning 3rd place (per San Francisco Newspaper May 21, 1898)
1897   2 Chows shown in San Francisco KC show.  COLUMBUS wins  1st place. Shown again in 1898-1899   4 Chinese imported chows shown. Names SULTAN, CHOW, CARIT and GYP. 
1899   4 Chinese imported chows shown. Names SULTAN, CHOW, CARIT and GYP.
1900
CURATOR FIND: 4 chows I recently discovered being shown entered in AKC stud book – CHAW (San Francisco), CHIN CHIN (Boston), JUDY (Tanforan) , PI WEI (New York)
1901
 DR. AND MRS HENRY JARRETT obtain their first chow puppy  YEN HOW from a San Francisco exotic animal show and import 6 or 7 more chows from China.  The Jarretts  establish the 

CHESTNUT HILLS KENNEL

, the first Chow kennel on east coast
 3 Chows were exhibited in New York .  Names SINGAPORE and HONG KONG  Shown by W.P. Burden, and WANK, was owned by Mr. Fred Senn
1902
 The Jarretts'  puppy YEN HOW wins in Philadelphia . Credited  by  many sources as the first American Chow Champion of Record.   Yen How-Parents unknown   

CURATOR FIND

: I see that Yen How was still entered after 1903 in Miscellaneous Classes  (not the Chow classes in the AKC stats below which may explain the confusion. A Newspaper of the period  called Yen How the little Chinese terrier if in fact this is the same Yen How    CLICK FOR NEWS CLIPPING

 The Jarretts'  import a bitch named ILLSWUNGA ,  from the English kennel of MRS FABER, sired by the great CHOW VIII
MISS MARGUERUTE  LEWIS  exhibited 2 chows named CHAH and YARTA.  Yarta was a daughter of  the English sire SHYLOCK who is a very influential dog in U.S. pedigrees.
1903
The American Kennel Club officially recognizes the Chow Chow breed
A number of new chows and exhibitors arrive on the scene….see AKC show results and registrations below
1904 
 BLUE DRAGON KENNELS  of Mr and Mrs Charles E. Proctor imported another son of "Shylock" named "Chinese Chum.   Many write  that  Chinese  Chum, not Yen How was officially the first Chow  Champion in America  (in 1905) AKN
1905
 "Chinese Chum"  becomes the first American Champion to sire a Champion  -"Night of Asia"
1906
 "Chinese Chum " wins Best of Breed at Westminster Kennel club in keen competition
The first  USA STANDARDS FOR THE CHOW were penned and published-  authors unknown
The CHOW CHOW CLUB OF AMERICA was formed.  Belgian Princess Montglyon was president
Dr Jarrett served as Secretary of the Chow Chow Club for its first 35 years

BELOW  FIND  OFFICIAL EARLIEST CHOW REGISTRATION & WIN RECORDS  CLIPPED FROM THE AKC STUD BOOKS.  THIS IS ONLY WHAT I HAVE FOUND SO FAR AND WILL ADD OTHERS AS THEY SURFACE.

1897 AKC STUD BOOK ENTRIES


1898 AKC STUD BOOK ENTRIES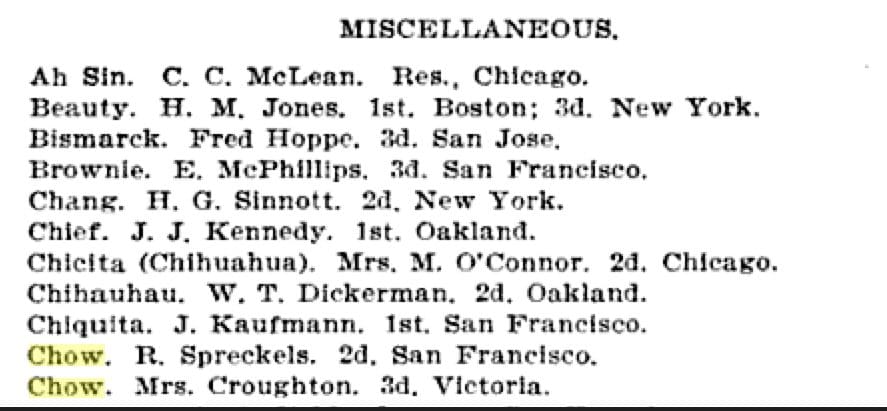 1899 AKC STUD BOOK ENTRIES

1900 AKC STUD BOOK ENTRIES


1901 AKC STUD BOOK ENTRIES

1902 AKC STUD BOOK ENTRIES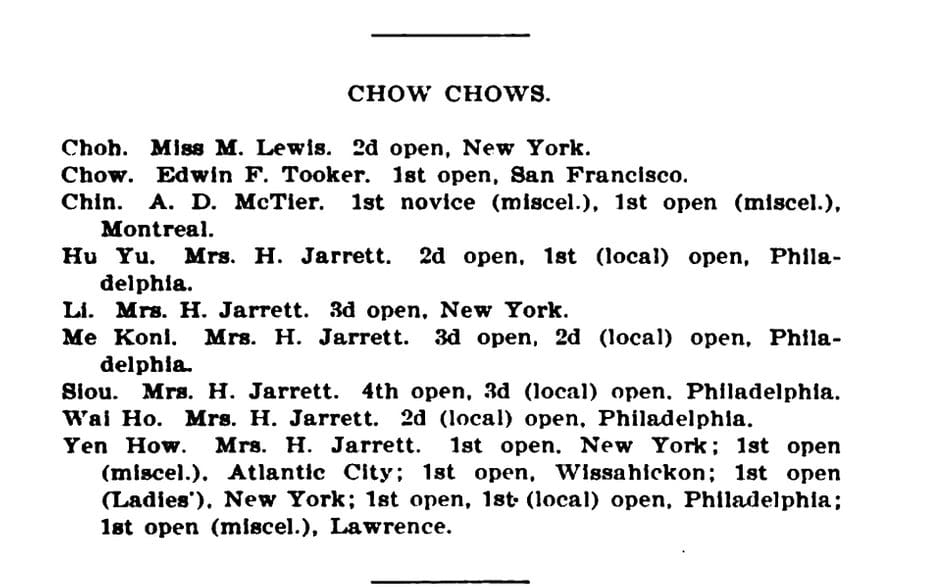 1903 AKC STUD BOOK ENTRIES

1904 AKC STUD BOOK ENTRIES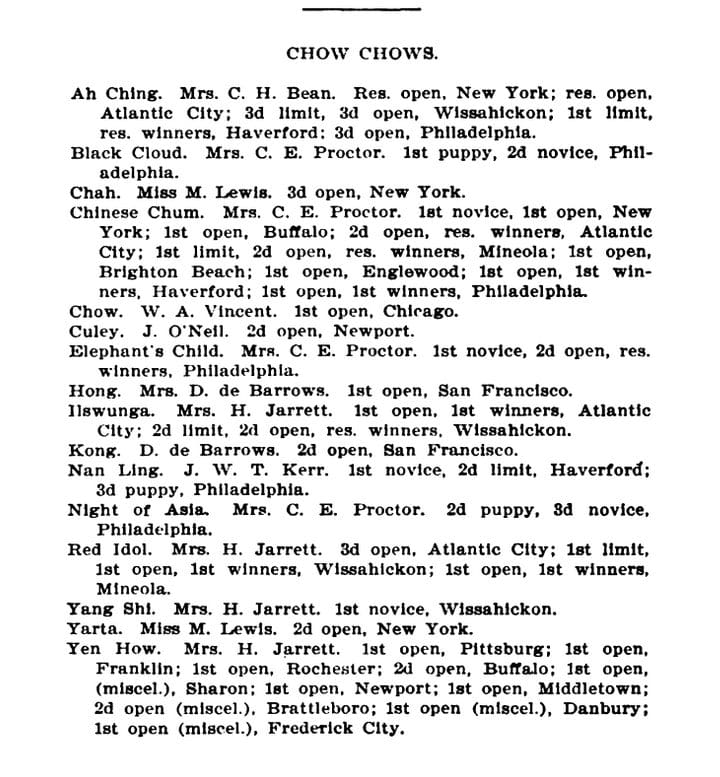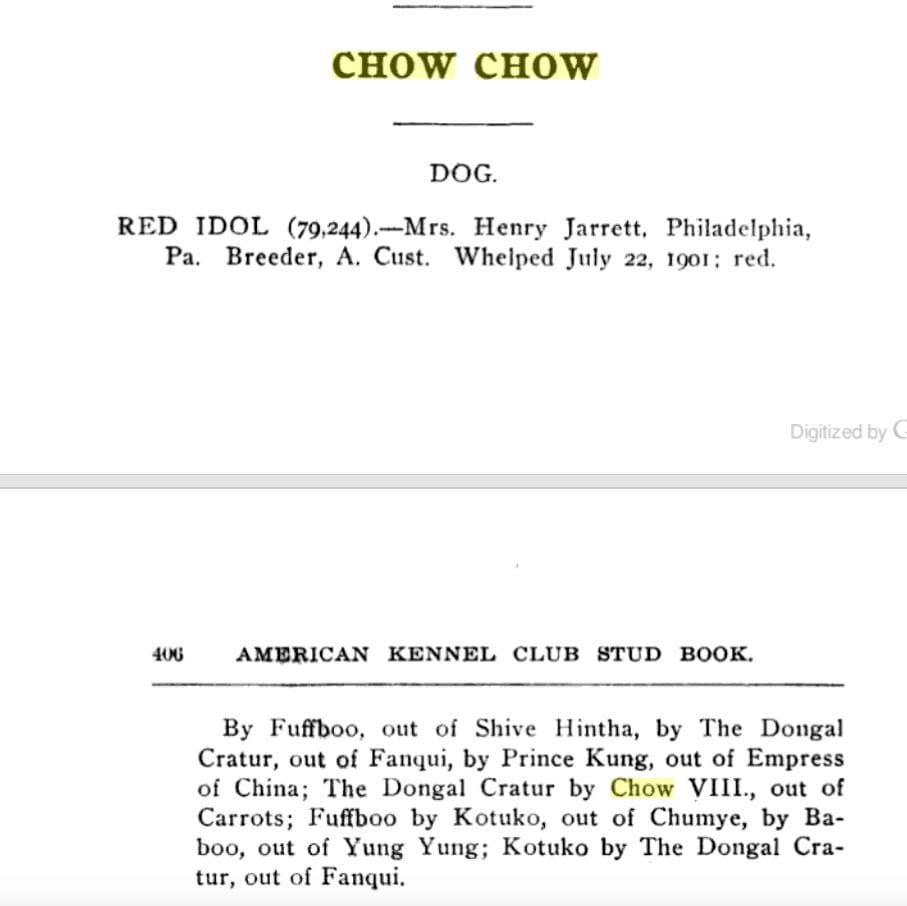 1905 AKC STUD BOOK ENTRIES

1906 AKC STUD BOOK ENTRIES
THIS IS THE YEAR THE CHOW CHOW CLUB OF AMERICA WAS FORMED